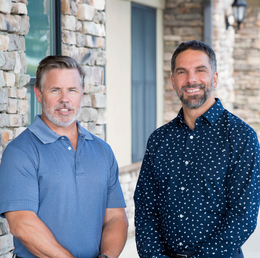 High-Quality Care for the Community
Neurosurgeons at Inspira Health treat the most common conditions affecting the brain and spine carefully and conservatively.
For medical conditions involving the brain or spine, hearing that surgery may be necessary can put patients on edge as they weigh the risks and rewards. Additionally, there's the question of where to have the procedure. While major medical centers in Philadelphia may have previously been the only options, Inspira Health in South Jersey provides high-quality, advanced surgery with minimally invasive techniques for successful outcomes.
As a community hospital, Inspira sees the most common conditions impacting the local population, including brain tumors and cysts, brain trauma, compression fractures, degenerative spondylolisthesis, herniated and bulging discs, spinal stenosis and all areas of central and peripheral nerve injury. Treatment includes surgery and administration of epidural steroids and other medication for pain.
Assessing patients is among the most important aspects of the surgeon's role, says Dr. Richard Strauss. "Surgery can be very helpful to well-selected patients; it is certainly not for everybody," he says. "Most of my day is spent using my knowledge and experience to select patients who have a good chance of really benefitting from surgery. … When this approach isn't taken, that contributes to the reason back surgery has a poor reputation in the community."
Dr. Strauss is board-certified by the American Board of Neurological Surgery and completed his residency at Mount Sinai Hospital in New York City. He has been practicing in the Inspira Hospital system since 2002, and became an employee of the hospital in 2010. Where others in the medical community may be quick to suggest surgery, Dr. Strauss believes it should only be a last resort.
Dr. RJ Meagher (pronounced Maar) joins Dr. Strauss in the neurosurgery department. Also board-certified, Dr. Meagher completed his residency in neurosurgery and neurotrauma research at Temple University Hospital. His clinical research has been published in medical journals and textbooks. In addition to his partnership with Inspira, Dr. Meagher is a practicing member of Princeton Brain & Spine, seeing patients in his Woodbury office.
He shares Dr. Strauss' view of conservative surgery. "Patients do tend to seek out surgery, especially now that so many will use the internet to evaluate their health care options," he says. "I'll have patients come in specifically asking if they are candidates and they are sometimes disappointed if I tell them surgery might not be needed at all."
Dr. Strauss says all surgeons should first treat patients non-surgically. For example, a patient exhibiting sciatica—pain in the lower back and legs caused by the sciatic nerve—may get treatment from their primary care physician initially, which could include an anti-inflammatory and oral steroids. Physical therapy and injections may also help. If after several weeks of this, the patient is still miserable—missing work because of the pain and unable to do anything active—Dr. Meagher says they will consider surgery.
Here is where the advances in surgery over the last decade are truly evident. "Minimally invasive procedures are really up-and-coming and will eventually supplant what many doctors consider conventional these days," Dr. Meagher says, adding that many of the most recognized surgeons at major institutions aren't doing this yet.
"When I was training [in school], we had to make large incisions over the spine, and the muscles covering it had to be stripped back and dissected," says Dr. Meagher. "Over the years as the less invasive approaches developed, I saw the advantages to it and forced myself to learn how to do it a new way. The results confirmed the advantages—the incisions are smaller, there is less manipulation of the back muscles, recovery time is shorter."
Dr. Strauss highlights stereotactic image guidance as a groundbreaking technology that plays a significant role in locating tumors below the brain's surface. "We can load the information from an MRI onto a computer and register external landmarks on the patient's body, such as forehead and ears, and the computer takes that information and can explain exactly where the incision should be," Dr. Strauss says, adding that this will be available at the hospital's new Mullica Hill location.
Technology cannot take the place of the compassion and attention provided by doctors though. "We're fully accountable for all of our patients," says Dr. Meagher. "I'm able to collaborate and bounce ideas off Dr. Strauss and we work together for the benefit of patients."
"High-quality care is also about the personal touch," says Dr. Strauss. "In larger medical centers, patients may only see their doctors once or twice and always surrounded by an entourage of residents. When a patient comes here, they see me—before surgery, when they wake up, for the follow-up—I'm here every step of the way."
Inspira Health
LOCATIONS IN BRIDGETON, ELMER, VINELAND AND WOODBURY
(800) INSPIRA
InspiraHealthNetwork.org
Photography by Alison Dunlap
Published (and copyrighted) in Suburban Family Magazine, Volume 10, Issue 6 (August 2019).
For more info on Suburban Family Magazine, click here.
For information about advertising in Suburban Family Magazine, click here.
To find out where to pick up your copy of Suburban Family Magazine, click here.