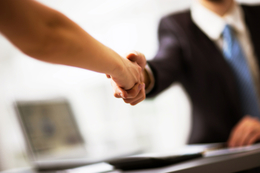 Untying the Knot: By Your Side
Take a look at these South Jersey professionals who will get you through your divorce with ease.
Making the decision to part ways with your spouse is never easy. There are obviously some challenges that go along with the process, which can be long and grueling. Oftentimes children are involved and getting them what they need out of their parents is vital. On top of the legalities, it's a highly emotional transition. Having an attorney or financial planner who knows what you're going through and has experience in family law can take the stress off your shoulders. Suburban Family Magazine decided to highlight some of the best South Jersey professionals who will stick by your side while you go through a low point in life and give you the confidence to push toward a brighter future.
Antoinette Chiulli
Sole Practitioner
E. ANTOINETTE CHIULLI ATTORNEY AT LAW
Chiulli is a sole practitioner based out of Haddonfield who has an excess of 25 years' experience in general civil law with emphasis on family law and workers' compensation. She started her career serving under Judge Manuel Greenberg in Atlantic City. She then worked for a firm in Cherry Hill before heading out on her own. More than half of her cases are family law-focused, and she takes pride in her boutique firm where clients deal with her and only her as their attorney. Chiulli's approach is to effect a fair and equitable settlement in an amicable manner.
Anthony Valenti
Attorney
BOYLE & VALENTI LAW, P.C.
The Haddonfield-based attorney has offered family law services at his firm for the last 15 years and he believes his diverse practice background has helped address the various issues that can arrive in a divorce. Valenti's philosophy is to find an amicable resolution for his clients in order to limit their legal fees and high expenses. He understands that a divorce is stressful and emotional; he advises his party to be cautious in not letting emotions and bitterness impact their decision making. Because he is looking out for his clients' best interest, Valenti believes this is what ultimately sets his firm apart from the rest.
Matt Podolnick
Attorney, Shareholder
SHERMAN, SILVERSTEIN, KOHL, ROSE & PODOLSKY, P.A.
Podolnick has been practicing family law for 25 years. He concentrates his practice in divorce and family law specifically and is adamant about receiving the details about every one of his cases. From there, he and his client can approach the divorce from a team perspective. He understands there are certain issues not worth fighting for, and as for the essential issues, he will fight hard to get his clients what they need. His working hours are what set his firm apart from the rest. Podolnick knows that family law is not a 9-5 job, so his clients can reach him at any time, any day of the week.
Salvatore Cocivera, CFP, CDFA
Financial Planner
BARATZ & ASSOCIATES, P.A.
Cocivera has more than 25 years of experience and holds several industry accreditations such as Certified Financial Planner, Certified Divorce Financial Analyst and Chartered Retirement Planning Counselor. He has provided guidance to small business owners and corporate execu- ives and his practice focuses on women who are experiencing a life-changing event. Cocivera offers comprehensive financial planning and examines all facets in his clients' financial life while working with a team of professionals for an optimal financial future. He suggests clients who are gong through a divorce do not make assumptions and be certain that their retirement is secure.
Gregory Dibsie
Attorney
LAW OFFICE OF GREGORY C. DIBSIE
For 22 years, Dibsie has been practicing law and in the last 10 years has grown his practice by incorporating family law focusing on family law divorce, child support and custody, restraining orders, domestic violence, property settlement agreements and more. Dibsie has built up a reputation as an aggressive adversary, expert litigator and fair negotiator. He uses rationality and reason to work toward an amicable solution between parties. However, he is always prepared to go to trial if the issue is not resolved. Dibsie advises his clients to remember that their children are the true victims of he divorce and to never use them as pawns against one another—to stay unified as co-parents and keep from involving the children in the divorce proceeding.
Kelli Martone, Esq.
MARTONE LAW GROUP, LLC
Martone has been practicing family law for 14 years specializing in divorce and family law in general including high-end financial asset matters, contested custody as well as abuse and neglect. Martone knows that family law matters are sensitive and can bring out fears of rejection, flaws and from time to time someone's worst behavior. Using the situation as a life lesson and coming out as the best possible version of yourself can be the ultimate win in the end. Through that, she advises her clients to focus on themselves and not the negative energy that can come about in a divorce.
Jim Turpin
President
CHELSEA WEALTH MANAGEMENT
For more than 25 years, Turpin has been in the financial services industry and an independent financial advisor for the last seven years. Being an independent financial advisor lets Turpin focus on his clients' needs first and foremost. He can determine his clients' needs and goals, and from there determine their risk potential and customize an investment and income strategy—there is not "one size fits all" when it comes to investing. Spending time getting to know his clients and letting the clients come to him on their own time without the pressure is what sets him apart from other advisors in the area.
Melissa Spears, Esq.
HOFFMAN LAW FIRM, PC
After going through her own divorce nearly 10 years ago, Spears realized that people need attorneys who not only know the law but who genuinely care about their clients when the divorce is settled. Since then, Spears has been dedicated to handling only family law and divorce cases at her firm. She has been where her clients are when going through a divorce, so she advises to know goals and keep patience because getting a divorce is a process. Spears takes her personal experiences and can relate to her clients, making her firm unique in that aspect.
David Reinherz
Attorney
LAW OFFICES OF REINHERZ & REINHERZ
As a child, Reinherz would watch his father, Robert, help clients get their lives back on track and wanted to follow in his father's foot- steps. Reinherz focused on divorce, bankruptcy, immigration and real estate and now the firm specializes in divorce, divorce mediation and bankruptcy. Providing help for people in difficult situations and bringing a solution to clients at a reasonable flat rate is what sets this firm apart from the rest in the area.
Published (and copyrighted) in Suburban Family Magazine, Volume 10, Issue 6 (August 2019).
For more info on Suburban Family Magazine, click here.
For information about advertising in Suburban Family Magazine, click here.
To find out where to pick up your copy of Suburban Family Magazine, click here.