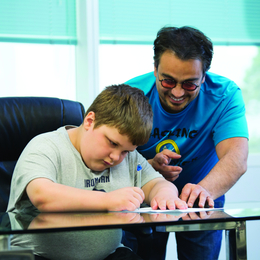 The Power of Science
Brett DiNovi & Associates is improving the lives of individuals with autism and behavioral issues with the help of science.
For any parent with a child who has autism or behavioral problems, finding the right therapy and space for their child to feel safe and to succeed can be difficult. Board-certified behavior analyst Brett DiNovi saw this firsthand when he worked in residential programs in group homes—individuals were constantly restrained and officials used physical techniques on them.
"I found it to be somewhat unethical," DiNovi recalls. "By having those revelations of how concerning it was, these kids being forced into group homes and being handled with a lot of punishment procedures, we wanted to do something different. So I quit those group homes and created a company where we could keep kids in a safer, less restrictive setting."
Started in 2004, Brett DiNovi & Associates is the largest award- winning behavioral consultation group on the East Coast, with over 450 clinicians providing behavioral and educational consultation in over 180 school districts and agencies, including California. DiNovi and his team use applied behavior analysis (ABA), a therapy based on the science of learning and behavior.
"In a nutshell, we use it basically for as many and any way we can to change people's lives," DiNovi says. "Two-thirds of our services are working with children in schools and homes with behavior problems. The other third of our time we have a lot of different applications of ABA."
The ABA treatment starts with developing a personalized plan for each individual through a detailed assessment of behaviors, skills and preferences, and can help reduce challenging behaviors, strengthen and maintain replacement behaviors, teach functional life skills, strengthen academic skills and verbal behavior.
Additionally, Brett DiNovi & Associates has a physical fitness wellness program called Movement Matters, which also uses ABA to promote physical activity amongst the individuals in their program. The goal was to get their students not only moving around doing physical activity, but be involved in team sports—something that hasn't always been an option to them. Movement Matters started out with one to two classes a week and now has multiple classes each week and numerous teams—basketball, soccer, track, bowling, swimming, volleyball and kickball, along with yoga and functional fitness.
"It's structured play and gets the kids engaged and moving," says Mark Bradley, who leads Movement Matters and has a partnership with Special Olympics. "We have established a culture of health and children can experience all the different services we offer under one umbrella."
Bradley says adding this program is life-changing for both students and their parents.
"They are able to engage with peers and do things they may not have been able to do before coming to us, from a sit-up to a push-up to using other equipment," he says. "Seeing the reactions on their faces is priceless, and we get comments from their parents saying how happy and relieved they are that they can send their kid to different activities and see them participate, something a lot of them only dreamed could happen. Being able to see their kid engaged has been mindblowing. Seeing these kids develop and increase confidence, it gets them to keep pushing forward."
DiNovi says the key theme to his company's success is applying ABA in each service they offer, including organizational behavioral management—which is a form of ABA—to his employees for leadership training; motivating and encouraging them and making Brett DiNovi & Associates an exciting place to work.
"The whole theme of behavior science, or ABA, runs through education, fitness and leadership training. Recently, the business industry is recognizing that behavior science works for running businesses," DiNovi says. "Behavioral organizational management inspires and motivates people. By doing this, we've been able to grow the company massively. Our employee turnover rate is less than five percent, which is great compared to the industry standard. Science inspires people, not just kids with behavioral problems."
Brett DiNovi & Associates
1000 Crawford Place
Suite 260
Mount Laurel
(267) 982-0001
BrettDAssociates.com
Photography by Alison Dunlap
Published (and copyrighted) in Suburban Family Magazine, Volume 10, Issue 3 (May 2019).
For more info on Suburban Family Magazine, click here.
For information about advertising in Suburban Family Magazine, click here.
To find out where to pick up your copy of Suburban Family Magazine, click here.