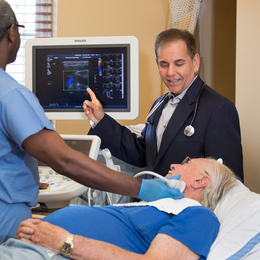 Wave of the Future
Treating the root cause of heart disease produces better outcomes for patients at Advanced Cardiology of South Jersey.
It's 2019 and cardiovascular disease remains the leading cause of death in men and women. This statistic doesn't sit right with Dr. Vic Bahal, founder of Advanced Cardiology of South Jersey, along with Nurse Practitioner Grace Flynn, who say too many doctors are treating patients after the damage is done and not putting enough emphasis on prevention.
"Right now, we're not addressing heart disease at its root cause: Inflammation," Dr. Bahal says. "If we can control inflammation, we can reduce the risks."
Advanced Cardiology of South Jersey is at the forefront of identifying inflammation before it translates into other issues. Common causes of inflammation include obesity, stress of daily life, artificial sweeteners, unhealthy food and beverages, smoking, pollution and genetics (to a certain extent), and sleep apnea to mention a few.
These factors create toxins, or cytokines, that are released into the body and bring on plaque production in arteries, high blood pressure, anxiety, depression and diabetes, among others.
"Plaque doesn't discriminate. It can form in the artery going to your brain, legs, aorta, etc.— plaque begets plaque and once there is enough present, it ruptures. A clot formed on top of plaque narrows the artery, which could cause a stroke or a vascular occlusion," Dr. Bahal says.
In medical terms, inflammation is identified as endothelial dysfunction, and Dr. Bahal is one of only three cardiologists in New Jersey who offers Endothelial Function Testing. This 15-minute, noninvasive test is covered by most insurance plans and can identify damage from chronic inflammation. Testing can also be used in patients with existing heart disease to help adjust treatment accordingly.
At whatever stage of your health, Dr. Bahal works to customize a plan for each individual patient. Once identified, Dr. Bahal approaches treatment with Integrative Cardiology, which he sees as the wave of the future. Integrative cardiology means using a variety of conventional medicine, along with lifestyle modifications, and other practices one might not expect, such as yoga and hormone balancing.
"Yoga is one of the best ways to reduce inflammation, along with Pranayama deep breathing exercises that help with stress," he says. "I also recommend spices like cumin, black pepper, onions, cayenne and garlic for their anti-inflammatory benefits."
Supplements such as CoQ10, combined with L-Carnitine (an amino acid), fish oil and Berberine help reduce inflammation, and Dr. Bahal has even developed his own Nitric Oxide support capsules. "Supplements are tailored to each patient," he says. "We take into account the social factors and spend time going over it with the patients who often don't know these supplements are out there."
Quadruple board certified in Internal Medicine, Cardiology, Vascular Medicine, Anti-Aging/Functional/Regenerative Medicine and Integrative Cardiology, Dr. Bahal says that cardiologists need to be more attentive regarding the avenues of risk factors. He has learned so much about how different supplements can be applied to treat different ailments not just for the heart, but in the whole body.
"Congestive heart failure strikes millions of people and the pharmaceutical industry is making billions of dollars on prescriptions that strengthen the heart muscle and delay the death of cardiac cells," he says. "If you supplement with CoQ10, L-Carnitine, Magnesium, Berberine, Taurine and Alpha Lipoic Acid you can preserve the bioenergetic cell and reduce the rate of rehospitalization. Not only do these things help your heart, but they can help delay the onset of dementia and aid in memory."
Proper nutrition and exercise are other areas emphasized by Dr. Bahal, not just for maintaining a healthy weight, but also to reduce stress. For over 13 years, Advanced Cardiology of South Jersey has offered a very successful formal weight loss program. "Grace Flynn, our cardiac nurse practitioner who has considerable amount of experience in nutrition counseling, is an asset to the practice who helps patients manage this portion of their treatment," says Dr. Bahal.
Ultimately, something has to change in the conventional methods being applied in cardiology today, he says. Unique to Advanced Cardiology of South Jersey is that Dr. Bahal and Flynn are one of the few cardiology teams in the country practicing integrative cardiology.
"Conventional methods haven't made an impact. Research should be more heavily weighted on inflammation than stents," Dr. Bahal says. "There is no one else in the area looking at the root cause and using this new branch of cardiology."
Advanced Cardiology of South Jersey
4 Burton Lane, Suite 100 | Mullica Hill | (856) 241-3838 | AdvancedCardiologySJ.com
Photography by Alison Dunlap
Published (and copyrighted) in Suburban Family Magazine, Volume 10, Issue 3 (May 2019).
For more info on Suburban Family Magazine, click here.
For information about advertising in Suburban Family Magazine, click here.
To find out where to pick up your copy of Suburban Family Magazine, click here.