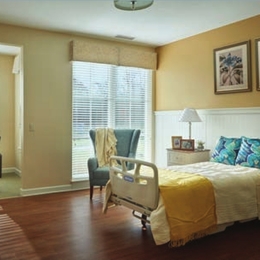 Support in a Difficult Time
For loved ones with a serious illness or end-of-life diagnosis, Samaritan Healthcare & Hospice can provide comfort, dignity and peace of mind.
THERE ARE FEW THINGS MORE UPSETTING THAN A DOCTOR DELIVERING NEWS THAT A LOVED ONE HAS ONLY MONTHS TO LIVE. IN THAT MOMENT, A FAMILY IS F ACED WITH DOZENS OF DECISIONS ABOUT CARE, TREATMENT AND WHAT TO DO NEXT. It's an overwhelming feeling that only compounds a family's grief. When it seems like there is nowhere else to turn, Samaritan Healthcare & Hospice provides the support and resources families need.
Founded nearly 40 years ago, Samaritan is South Jersey's first, and most experienced hospice provider. From its humble beginnings in Moorestown, the not-for-profit provider, now based in Marlton, provides hospice care, palliative medicine and grief support, along with education and advocacy for patients living with advanced illness or facing the end of life in five South Jersey counties.
Samaritan's comprehensive offerings set it apart from others. Joanne Rosen, VP of marketing and public affairs, says that most of its patients are cared for in their own homes, which could include assisted living communities or nursing homes. When round-the-clock hospice care is necessary, patients can also access one of Samaritan's two inpatient centers, located in Mount Holly and Voorhees.
Samaritan's free-standing center in Voorhees includes 18 private rooms, along with additional areas for families to gather, including kitchens, dining rooms and a meditation room all surrounded by beautiful gardens to create a peaceful, home-like setting. The Samaritan Center at Voorhees also features a community education center, with seating for up to 100 people for meetings and conferences.
Samaritan's Mount Holly inpatient hospice center is located within Virtua Memorial Hospital. This setting includes 12 private rooms with comfortable home-like décor and amenities such as a children's area, spacious family room and kitchen, among others.
No matter where a patient receives care, Samaritan's goals are always to provide the best quality of life as possible, not only for the patient, but the family, too. "We have a team approach that responds to the physical, emotional, spiritual and practical needs of our patients, and their families," says Rosen. "Hospice care is provided by an interdisciplinary team that includes our compassionate physicians, nurses, social workers, certified home health aides, spiritual support counselors and specially trained volunteers. In collaboration with the patient's own physician, the hospice team works closely together to help assure our patients can live each day as fully as possible with the care and support they need."
Rosen says the comprehensive, fully covered hospice benefit may be appropriate when a person has a life expectancy of six months or less. Yet the average time that patients and families actually benefit from hospice care is only about two months. "So many people misunderstand hospice care until they actually experience the comfort, dignity and peace of mind, and then often say they wish they had called us sooner," she says.
Samaritan also provides palliative care services, which add an extra layer of support for people living with any serious illness at any stage of life. Palliative care experts help relieve distressing pain and symptoms to support the patient's goals for care, treatment and quality of life. Samaritan's palliative team of board-certified physicians and nurse practitioners provides consultations at the Virtua, Lourdes and Jefferson NJ hospitals along with two outpatient clinics.
Rosen encourages families to learn more about what sets Samaritan apart, including its four-star designation in the "We Honor Veterans" program, Commitment to Inclusion and Diversity and Community Benefit program, all made possible by the generous support of the local community.
"We are proud of the community support that enables us to provide many added benefits for the people of South Jersey including grief support services, hospice care for the uninsured, complementary therapies like massage and music therapy, which can be comforting to our patients and their families," Rosen says.
She adds that Consumer Reports highlighted the key areas of a quality hospice program, including nonprofit status, over 20 years of experience, hospice-certified staff, care in nursing homes and assisted living residences, and palliative care services— all of which directly apply to Samaritan. Rosen says, "We encourage people to speak with our nursing coordinators to learn about Samaritan's many care options to support the goals and wishes of people living with advanced illness."
Importance of Advance Care Planning
According to The Conversation Project, only 27 percent of people have actually talked with their loved ones about end-of-life care. It's a conversation people know is important to have, but one they are reluctant to initiate. "We talk about wills and powers of attorney. But we don't always tackle the hard questions about end-of-life care–like, what does quality of life mean to you if you were too ill to speak for yourself? Or, what are your own goals of care?" explains Stephen Goldfine, MD, chief medical officer of Samaritan Healthcare & Hospice.
Advance care planning helps get the uncomfortable and difficult conversations started. Individuals and families can discuss their personal goals of care and then formally document what those preferences would be if needed at some point in the future.
"Sometimes families are so focused on treatments, that they don't always take the time and effort it takes to talk, and may miss opportunities to discuss their goals, wishes and values," says Dr. Goldfine. "Creating advance directives early on in good health can greatly help families understand how to honor their loved ones' wishes at the end with peace of mind."
There are many advance care planning tools and resources available, including Practitioner Orders for Life-Sustaining Treatment (POLST) forms, advance directives, living wills, Five Wishes and more. Samaritan Healthcare & Hospice has many of these tools and resources available online to help individuals and families establish their own advance care plans.
For more information, visit SamaritanNJ.org/resources/end-of-lifeconversation-starters/.
Samaritan Healthcare & Hospice
5 Eves Drive, Suite 300 | Marlton
(800) 229-8183 | SamaritanNJ.org
Published (and copyrighted) in Suburban Family Magazine, Volume 9, Issue 10 (December 2018).
For more info on Suburban Family Magazine, click here.
For information about advertising in Suburban Family Magazine, click here.
To find out where to pick up your copy of Suburban Family Magazine, click here.