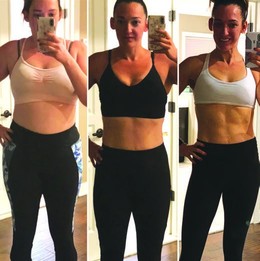 The Best Kept Secret in Medford Uncovered
Medford Core is helping people achieve their fitness and healthy lifestyle goals.
BILLIONS OF DOLLARS ARE SPENT EVERY YEAR ON DIETS AND GYM MEMBERSHIPS. So why do so many people start every January off with great intentions, yet more than 90 percent fail at attaining their goals? According to James Jefferson, a licensed wellcoach and owner of Medford Core, it all comes down to science and fine tuning. In other words, it's not just your exercise regimen that may need to be revamped, but your diet, sleep routine and lifestyle choices.
"It's like a combination lock," Jefferson says. "If you don't get all of the numbers just right, you can't unlock the results you want."
Jefferson, M.E.S., has 32 years of experience helping people reach their fitness goals. He has a master's degree in exercise physiology and multiple exercise and nutrition certifications.
Medford Core, a private exercise facility, is not a typical gym. There are no memberships or contracts, only results. Jefferson, a master personal trainer with over 200,000 hours of training, is not like any other trainer in the area and the facility is very private, clean and organized.
"I use a scientific approach to get you where you want to be," Jefferson says. "I only take on 30 customers at any one time so that I can be 100 percent successful helping you." Before you begin your fitness journey at Medford Core, you must do a personal interview with Jefferson, so he can assess whether you are a fit for the program. If you're taken on as a client, then your initial investment is $1,500, so that Jefferson can spend every day for the first 30 days coaching you on how to shop for food, prepare healthy meals, breathe correctly, achieve mental focus, maintain a proper sleep routine and, of course, train effectively.
After the first month, the cost decreases as your knowledge increases. If you're ready to make a change, transform your body and finally reach the healthy lifestyle you've been trying in vain to attain, don't wait any longer as space is very limited. Take the first step in committing to a better you by setting up an interview with James Jefferson at Medford Core.
Here are some comments from a few of Jefferson's clients:
"I am a successful business owner and mother to four extremely busy children. I always struggled to find the time to dedicate to my health and fitness. I had a million credible excuses as to why I didn't have the time. James helped me realize how important my health is! We worked together to develop a personalized plan and approach for me to reach my goals. We adjusted our strategy as needed and continued to improve and tweak goals when necessary. I was able to transform not only my body but my lifestyle. I am extremely grateful and will continue now to make the best decisions for me!"– Stacey Rock, CEO of Solvix Solutions
"I have a busy career that is very physical. James has been a blessing with keeping me injury free from repetitive use strains. His knowledge has kept my body balanced by strengthening the muscles I don't use in my daily work activity. His daily accountability with meals and motivating me to my next workout has made it easier for me to stay focused on my health. I'm in the best shape of my life thanks to James' help, knowledge and motivation." – Nicole Webb, LMT, owner of Life Essential Massage
"As an emergency room physician, I value education, knowledge and accountability. James provides all of this and more with his holistic approach and comprehensive fitness program. With his help, I'm confident that I will be able to reach my full potential." – Dr. Andrew Caravello, emergency room physician
Medford Core | 35 Jackson Road | Medford | (609) 923-2663 | MedfordCore.com
Published (and copyrighted) in Suburban Family Magazine, Volume 9, Issue 10 (December 2018).
For more info on Suburban Family Magazine, click here.
For information about advertising in Suburban Family Magazine, click here.
To find out where to pick up your copy of Suburban Family Magazine, click here.