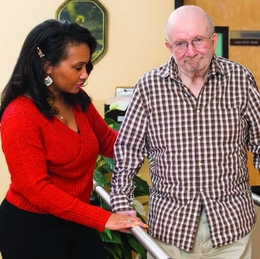 Care, Compassion, Community
At Lutheran Crossings at Moorestown, aging loved ones will find a range of services, including rehabilitation, nursing care and assisted living.
AS PEOPLE AGE, THEIR ABILITIES AND NEEDS CHANGE. Little things like driving, shopping, even getting dressed in the morning could be done independently, but now require assistance from a family member or caregiver. And for those struggling with memory loss, there is daily worry by loved ones, wondering if mom or dad will take their medicine in the right doses, or at all. These factors and more may have families seeking long-term care options.
Part of Lutheran Social Ministries of New Jersey (LSMNJ), Lutheran Crossings at Moorestown is one of the faith-based, nonprofit organization's 19 locations across the state, serving a range of populations from social services to senior care. Lutheran Crossings has been a part of Moorestown's downtown community since 1947 and provides assisted living, sub-acute rehabilitation and nursing care within the same community.
An individual can be referred to Lutheran Crossings by their primary care physician, other health care professionals or personal referral sources. Anyone who has noticed a decline in function, whether physical or cognitive, can reach out and inquire about such services. The team at Lutheran Crossings reviews a resident's background with their medical history, activities, routines and daily living capabilities to find out how to make them most comfortable and successful in their rehabilitation and daily lives.
According to Karia Fortune, occupational therapist and therapy program manager at Lutheran Crossings, rehabilitation programs are tailored individually to each person and are always aimed at helping them return to their normal activity level. This care is available to those who need short-term, post-hospital care or outpatient rehabilitation. "We take a holistic approach," she says. "We're not just treating you for therapy and sending you along. We want to build a rapport, find out what activities are important to you and the daily routines you need to accomplish in order to return home.
"Our team includes physical, occupational and speech/language pathologists, and is trained in our Dementia Pathways to work with those who have memory loss or cognitive impairments. We have a pulmonary and cardiac program, a wheelchair positioning program. … It's all specific to that individual and designed to maximize their abilities," says Fortune.
And because Lutheran Crossings has such a comprehensive suite of care services, these therapies are supported by additional staff of registered dieticians, nurses, psychologists and more, who are all dedicated to helping residents achieve full recovery.
Having the family involved and informed is also important. "Family members are very involved, especially in short-term rehabilitation because they may want us to work on something specific," Fortune says. "For instance, if the caregiver says she needs to leave the home for a few hours a day and needs her loved one to be able to use the bathroom alone during that time, then we'll work on those elements and help to decrease the caregiver's burden. … Overall we take the goals of the resident and the family into consideration and assess what is priority and create a plan from there."
If and when a person's needs change, at Lutheran Crossings there is no need to uproot a resident from the community. "If a resident goes to the hospital and returns needing rehab services, we can take care of them right in their home environment where they are familiar with the staff. Or if they begin to need memory care, that's just a move to the other side of the building," says Fortune.
The social and safety aspects of Lutheran Crossings can provide a lot of peace of mind to families and caregivers. With 24-hour care from nurses and LPNs, along with a medical director and visiting specialists for optometry, podiatry and dental, everything is convenient for residents. There is a chapel on the premises with non-denominational services offered every Sunday.
Linda Menighan, director of sales and marketing at Lutheran Crossings, says ultimately, the goal is for residents to live healthy, independent lives as safely as they can. "We encourage as much independence as possible based on their level of care," she says. "We have activities throughout the day—such as music, trivia, arts and crafts, outings to restaurants or Phillies games—and we encourage them to take part. We have common areas throughout the community where we can host parties, and a lot of outdoor space where residents can garden and just appreciate nature. We also have a pet therapy program with certified therapy animals that visit twice a week."
For those feeling the pressure of making the best choice for care, rest assured that the staff at Lutheran Crossings understands how difficult it can be. "Safety and quality of life are most important," says Fortune, who highlights the community aspect. "Some people don't have family who visits them. Here, there is a community they'd otherwise be missing at home. Here, they make their decisions on what to do for the day. They have the autonomy to decide."
Lutheran Crossings at Moorestown
255 E. Main St. | Moorestown
Office: (856) 235-1214 | LutheranCrossings.org
Photography by Alison Dunlap
Published (and copyrighted) in Suburban Family Magazine, Volume 9, Issue 10 (December 2018).
For more info on Suburban Family Magazine, click here.
For information about advertising in Suburban Family Magazine, click here.
To find out where to pick up your copy of Suburban Family Magazine, click here.