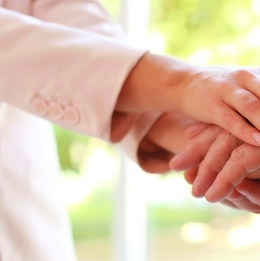 Stuck in the Middle
As more adult children care for their aging parents while raising their own family, they find themselves caught in a juggling act between generations.
On any given week of the month, our calendars are packed. Between full-time jobs, shuttling the kids to and from sports and activities, putting dinner on the table and somehow finishing all of the other chores and err ands, it sometimes feels like we'll never get it all done. Schedules only become more complicated as our own parents age and need more care, and we find ourselves stopping over with meals, setting out medicine doses and accompanying them to doctors' visits. If you have found yourself raising your own children while caring for your parents, welcome to what's commonly called the "sandwich generation."
According to a report from the University of California Berkeley, sandwich-agers put in between 16 and 26 hours per week caring for older loved ones, and women tend to put in more time than men.
"Oftentimes, children of seniors are now still members of the workforce," says Kathy Leypoldt, assisted living administrator at Lutheran Crossings at Moorestown. "They are trying to balance a career with caring for a loved one. Years ago, these children were able to stay home and care for aging parents. Today, they are trying to manage this before or after work and on weekends."
This can be a labor-intensive role for the child, says Barbara Wrzeszcz, sales director of United Methodist Communities (formerly Collingswood Manor). "These adult children now have to think about getting their mom or dad dinner and bringing it to them, so you might find them cooking on Sundays for the whole week," she says. "They only have a few hours of time at home with their own families but in this time they are using it to see what they can do for mom and dad."
These sandwich children can often begin to experience chronic stress, which can trickle down to their own children and spouse. But the aging parents also begin to feel the strain, and may often feel like a burden to their child who is now being asked to do so much.
"There are stress factors from two perspectives—from the child caring for the parent and from the parent being cared for. Children wonder how to best care for their parents without infantilizing them, and parents worry about losing their independence," says Dr. Stephen Goldfine, chief medical officer at Samaritan Healthcare & Hospice.
"I encourage parents to talk to their children about what the word 'burden' means to them—it may mean something different to each party," Goldfine continues. "Parents might not want to ask their child to take them to a doctor appointment because they think it will be a burden. However, the child may really want to go because they want to hear what the doctor says— they don't want to be left out."
There are several ways to alleviate this stress and help care for parents in a way that's best for them and you, whether that care is happening at home or in a community.
"Many people don't realize the services that are out there," says Dr. Carolyn Cavuto, physician with Mobile Physician Group. She highlights some of the barriers that can prevent aging adults with getting the care they need, from needing transportation to appointments to medication monitoring.
In her practice, Cavuto delivers medical and other specialty services in the patient's home, including nurses, physical and occupational therapy, wound care, and even labs, Xrays and EKGs. "This eases the burden of care for the family all around," she says. "The patient doesn't feel like a burden because he or she doesn't need a ride to an appointment, often provided by their child, and the child feels reassured knowing their loved one is being cared for in their own home on their schedule."
Along with county services and home care agencies, Cavuto is just a small part of the entire picture, she says. "In-home services may not be for everybody, but at some point in time [they can be beneficial] when you can't get to the doctor's office or can't get food due to bad weather or other circumstances. There are so many things we can help coordinate to make the experience positive and keep the family involved as well."
As an aging person's condition progresses, however, living alone at home may pose its own risks.
"When home alone, they are at great risk for falls, trying to accomplish tasks that put them at high risk," says Leypoldt. "Additionally, they become socially isolated, sometimes becoming depressed or confused. Oftentimes, their nutrition and hydration are compromised."
It only takes one incident for a child to see that maybe the living environment wasn't ideal. "Many times an episode will occur, leaving mom or dad worse off, and children feel blame and guilt, saying they wish they had realized sooner," says Wrzeszcz. "Their condition may make them unable to return home and there is this urgent need to find a community for them to live and receive proper care."
Lack of planning is one of the most common mistakes those in the assisted living and senior care industries see. "We know that as people age, they will require additional care—yet, still we don't plan for it," says Goldfine. "We can alleviate this stress by incorporating advanced care planning—the process where you discuss a goal of care for yourself and your family, then set what those preferences are.
"It is best to make an advance care plan early in life before you are forced to make health decisions in a stressful situation. For children, it is much easier to honor parents' wishes than it is to make a life-changing decision for them once they physically cannot decide for themselves," he says.
Proper education on what assisted living and other long-term care facilities involve is paramount, says Leypoldt. "Movies, media and news stories often portray long-term care and assisted living in a negative manner. We don't hear about the success stories and 'feelgood' moments in general in the media," she says. "Old stereotypical institution-like settings are being replaced with more home-like environments, particularly in assisted living. Many families and potential residents are pleasantly surprised when touring our assisted living because of how much it feels like their own home."
Assisted living encompasses so much, it's hard to sum up in one conversation. "During our contact, whether on the phone or in person, we stress the importance of catering to the individual needs and wants of the potential resident," Leypoldt says. "We try to stress the fact that our assisted living is in fact the resident's home, and we want them to make decisions about how they will be cared for. We have a wide range of care services available, from reminders for activities and ADLs to full assistance with all ADLs, medication administration assistance and end-of-life care. Everyone who lives here has their level of care plan individually catered to their needs."
While the 24-hour care component is a cornerstone of assisted living, there is no denying that the social aspect contributes to a person's quality of life as well. "In a community, residents have an abundant life. They aren't waiting at home for someone to visit or for a phone call," says Wrzeszcz. "They aren't waiting for something to happen, there is always something going on. … Residents who are shy at first become engaged in the activities after a couple of weeks, chatting, laughing and really experiencing life."
Through this transition, the relationship between parent and child can also be mended. "This is quite a change as children can begin to enjoy visits with their parents again. They don't need to 'work' during every visit, assisting their parents with ADLs, laundry, etc., but rather can visit, go to an activity or share a meal," says Leypoldt.
Goldfine says it's important not to forget about the young generation in all of this—the children of the sandwich generation. "The demands of caregiving become high-priority, but we have to remember that grandchildren need care too. As they are developing (especially 11- to 18-year-olds), they are seeing mom and dad take care of grandma and/or grandpa. That's a big teaching moment—but do not forget that they also feel stressed about the situation," he says. "While it is easy to get wrapped up in the caregiving, it is equally important to make time for the grandchildren and engage them in the caregiving roles, too."
Wrzeszcz's final words of advice are "don't wait." "Don't wait until you don't have a choice. Educate yourself on what's out there before you need it," she says. "Don't wait until mom's lonely at home. Things are changing in her life, so look now so she can make a decision and see why staying at home might not be best. Show her there are things she'll enjoy more than sitting at home."
Published (and copyrighted) in Suburban Family Magazine, Volume 9, Issue 10 (December 2018).
For more info on Suburban Family Magazine, click here.
For information about advertising in Suburban Family Magazine, click here.
To find out where to pick up your copy of Suburban Family Magazine, click here.