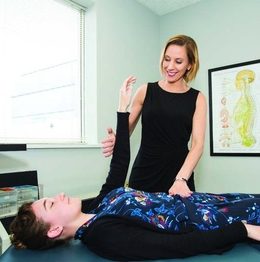 Giving People Back Their Lives
Natural Health Improvement Center of South Jersey offers safe and natural solutions for your health issues.
EXHAUSTION. ASTHMA. ECZEMA. DIGESTIVE PROBLEMS. ACNE. ANXIETY. THESE ARE JUST SOME OF THE HEALTH AILMENTS PLAGUING PEOPLE TODAY, NO MATTE R THEIR AGE. After years of unsuccessful doctors' visits and medications, many just learn to live with the pain and discomfort, accept ing that this is simply how their body was meant to be. However, at Natural Health Improvement Center (NHIC) of South Jersey, health problems are handled with natural and non-invasive m ethods, resulting in the elimination of symptoms and a return to a normal, full life.
Ope ned in 2015 by Sarah Outlaw, MH, MSACN, NHIC uses a health improvement program called Nutrition Response Testing. This non-invasive system of applied kinesiology-based muscle testing analyzes the body and gets to the root cause of a person's health problems and handles them with a variety of nutritional recommendations and whole food supplements.
Outlaw, who is a clinical herbalist, functional/clinical nutritionist, and advanced Nutrition Response Testing ® practitioner, sees patients who have tried everything. "Most people see this as their last hope," she says. "They've been to multiple doctors who couldn't find anything wrong in their blood work or who keep them on m edications. These people are sick of being sick and tired. They want answers. They want to feel well again."
Nutrition Response Testing® involves testing the body's muscle responses and neurological analysis to determine the best course of action to allow the body to repai r itself. Using specific acupuncture points on the body, Outlaw tests a person's muscle response at each pressure point and, using a str essor kit, can test the body for specific sensitivities like wheat, corn, sugar, dairy, mercury, chlorine, etc., and discover if the bo dy has sensitivities to those elements. From there, Outlaw is able to design a customized clinical nutritional plan that includes the hig hest quality nutritional supplements mainly from Standard Process.
"Once patients begin a program, they often notice changes quickly," says Outlaw. "They have better digestion, higher energy levels, improved libido, they see a difference in their hair, skin and nails, their mental fogginess clears, and they have fewer headaches." And although NHIC cannot diagnose medical conditions or take patients off an y prescribed medications, many of those who come to Outlaw show their results to their general practitioners who end up taking them off t heir prescriptions for controlling blood pressure or cholesterol.
The medical community often doubts this approach, even though over 50 percent of her patients are nurses and doctors, which is frustrating for Outlaw and colleagues in her field. "The medical community doe sn't acknowledge how crucial nutrition is to how a body functions," she says. "We've had patients tell us how they've complained of stom ach aches from eating wheat but their doctors didn't even ask for a food journal. Food is important—it's all about the food!"
Outlaw is a success story herself, having been helped with Nutrition Response Testing before she began practicing it. For years she suffered from Lyme disease, hypothyroid, miscarriages, and adrenal fatigue. Her health spiraled to the point where she even began stuttering and had no energy to leave the house. She had heard of Nutrition Response Testing and found a provider who helped discover she was sensitive to w heat, oats and suffering from extreme adrenal stress. After only a few days of the program she felt relief from the most severe symptoms. Within a few cycles of treatment, "it was like a complete 180," she says.
Outlaw knew this was something the community in South Jersey needed. Since opening her private practice in 2015, NHIC has tripled in size. Laura Heaney-Burcher, who was previously NHIC's practiti oner's assistant, is now its Nutrition Response Testing associate practitioner, and also sees patients in the Cherry Hill location. NHIC has a second office in an unexpected location—Des Moines, Iowa, where Outlaw sees patients every other weekend. Despite having no connec tion to the area, she was personally asked to open an office in this region by a representative for Standard Process, the company that pr ovides their nutritional supplements.
"He said the need in this area was great and there was no one there who was trained the way I was. As a healer I couldn't say no," says Outlaw. As she began marketing the office last year, appointments filled up so fast they moved th e planned opening from June 2018 to February 2018. The office is expanding from 1,000 square feet to 5,000-plus in early 2019.
Between both locations, and with the support of her family, Outlaw now has two of the largest and fastest-growing practices in the country, and mor e people want to experience the benefits of Nutrition Response Testing . "I want people to understand that what I do is all based in biochemistry and physics," she says. "It's easy to understand once you've seen it in action."
Outlaw adds that treatment is affordable and abo ut 85 percent of her patients get reimbursed through their insurance for their care.
"Whatever is going on with their health, people think it's normal. We accept those symptoms when really we should feel great," she says. "We have been able to give people their lives back simply with the nutrition their bodies have been searching for."
NHIC South Jersey
1020 Kings Hwy. N., Suite 110 | Cherry Hill | (856) 667-6805
NHICSouthJersey.com
photography by ALISON DUNLAP
Published (and copyrighted) in Suburban Family Magazine, Volume 9, Issue 9 (November 2018).
For more info on Suburban Family Magazine, click here.
For information about advertising in Suburban Family Magazine, click here.
To find out where to pick up your copy of Suburban Family Magazine, click here.