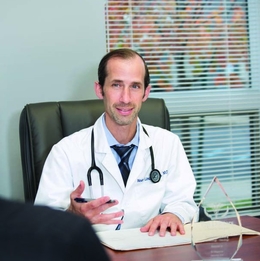 Putting Cancer Patients at Ease
Lindenberg Cancer and Hematology Center offers alternative treatments to cancer and blood disorders in a warm environment.
After hearing the words "you have cancer," for most people—their world stops. They think about their loved ones and how they don't want to miss out on the rest of their life. Going into treatment can be just as nerve-wracking, but there's one place in South Jersey that treats cancer on a different level in a comforting, soothing environment—Lindenberg Cancer and Hematology Center. Conveniently located in Marlton, founder and oncologist Dr. Noah Lindenberg treats many different types of cancer and analyzes every patie nt's case, creating a specialized treatment plan for each patient based on the specifics of how the cancer has progressed.
"No two patient s with the same named cancer behave the same way," Dr. Lindenberg explains. "… In the olden days, if somebody was diagnosed with lung canc er, everybody would get the same toxic treatment. … Whenever I see a patient who has cancer, we want to try to understand it in terms of the molecular undertaking of cancer. Today we know there are certain mutations that occur in cancer that allow it to grow and spread, and it can be targeted specifically. When we understand it, we're able to give treatments that are specific toward that patient."
Lindenberg Cancer and Hematology Center stands out among hospitals and other treatment cen- ters in this region for more reasons than one. It may sound unheard of, but Dr. Lindenberg gives patients his cell phone number and they are able to reach out to him anytime.
"It's the philosophy of the practice," he says. "Patients have easy access to reach me, it's tremendously helpful. There are many things that g o into creating a treatment plan; it's not just about giving medicine. We all have to deal with insurance approvals and arrange a lot of dates and schedules, and having that direct line to the staff and I makes it much easier. We can solve problems a lot sooner."
Addition ally, Lindenberg Cancer and Hematology Center is a 4,000square-foot, state-of-the-art facility that offers cutting-edge treatment in add ition to chemotherapy such as hormone therapy, targeted therapy and immunotherapy—a type of treatment that restores the function of the immune system.
"It's not chemotherapy; it doesn't have a lot of conventional side effects like toxic therapy," Dr. Lindenberg explains. "It links up the immune system and instructs to fight the cancer without introducing toxic substances. It's a highly effective strateg y that works for a variety of cancers."
Dr. Lindenberg is also a hematologist and treats patients with blood disorders, blood clots and a nemia. Just as with cancer patients, he provides a specialized treatment plan for each individual with a blood condition. His facility is equipped with an infusion center that has a comforting, somewhat homey feel to it to put patients at ease.
"Everything in the facility is very soothing," he says. "There are colors and artwork, and our infusion center doesn't have typical hospital pastel colors. The chairs i n the infusion center are La-Z-Boys with massage and heat. Y ou almost feel like you're in a living room because the environment is very warm. It feels like you're not in a hospital environment where everyone is sick."
Dr. Lindenberg still has a relationship with Virtua an d UPenn, but opened his private practice earlier this year so patients have other options for treatment besides chemotherapy and they re ceive individualized attention from not just him, but his staff, when going through cancer treatment without traveling beyond South Jers ey.
"What's nice is our staff really gets to know you well, as opposed to getting swallowed up in a system," Dr. Lindenberg says.
His car ing, passionate staff makes every patient feel welcome from the moment they arrive to the appointment and takes their time getting to know them.
"If a patient is waiting for a long time we interact with them. It's not unusual for our staff to offer coffee when they walk throu gh the front door," Dr. Lindenberg says. "Our staff stands out above anything else; they are second to none. They are very compassionate, sympathetic and empathetic. Everybody knows patients by their first name and you're not treated like a number."
Lindenberg Cancer and Hematology Center
773 Route 70 E., Suite E-125
Marlton
(856) 890-7200
LindenbergCancer.com
Photography by Alison Dunlap
Published (and copyrighted) in Suburban Family Magazine, Volume 9, Issue 9 (November 2018).
For more info on Suburban Family Magazine, click here.
For information about advertising in Suburban Family Magazine, click here.
To find out where to pick up your copy of Suburban Family Magazine, click here.