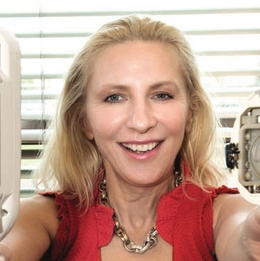 Conquering Stubborn Body Fat
The Warmuth Institute of Dermatology offers several non-invasive and effective body contouring treatments that leave patients feeling more confident.
IT'S IMPOSSIB LE TO TURN ON THE TELEVISION, SCROLL THROUGH SOCIAL MEDIA OR FLIP THROUGH A MAGAZINE WITHOUT SEEING EVER-CHANGING INFORM ATION ON HOW TO LOSE WEIGHT OR GET RID OF BODY FAT. But even if you've tried a variety of approaches, you may find that there are some areas of your body that you just can't seem to transform. That stubborn body fat appears determined to stick around.
But there are solutio s out there—possibly ones that you haven't even thought to try. People like you, who may be frustrated by stubborn body fat, are turning to non-invasive body contouring treatments as an answer. The Warmuth Institute of Dermatology's Dr. Ingrid P. Warmuth and Lauren Hartm an, PA -C, a board-certified physician assistant, say that body contouring treatments practiced at Warmuth Institute are the "safest, most effective techniques" out there to eliminate stubborn body fat, reduce cellulite and achieve other goals that are often difficult to o btain. In addition to Dr. Warmuth and Hartman, Brittany Davis, a board-certified physician assistant, works closely with body contouri ng patients. "
The primary body contouring methods offered at our practice include CoolSculpting, UltraShape and VelaShape III," expla in Dr. W armuth and Hartman. "All treatments show natural results leaving our patients feeling youthful and improved. Each respective trea tment has great results for both men and women, specifically for those looking for a quick and efficient way to improve their bodies— and their self-esteem without downtime."
Though Dr. Warmuth and Hartman say all of these treatments are effective, each of them is a bit dif ferent in their approach. While UltraShape utilizes ultrasound technology, or "high-frequency sound waves," to eliminate fat, VelaShap e III uses radiofrequency technology to target stubborn cellulite and reduce the appearance of dimpling on the skin. Hartman says that VelaShape is "truly customizable" and has shown great results.
Meanwhile, CoolSculpting acts in a completely different way as it freeze s fat cells away. The fat cells targeted in this procedure die a normal cell death through cryolypolosis. Hartman calls it a "painless pr ocess" that is highly effective.
Since they work in different ways, these procedures may be used to target different areas. The most c ommon areas to treat for CoolSculpting include the abdomen, flanks, arms and under chin area. The most common areas that VelaShape treat s include the thighs, flanks, abdomen and arms. And finally, the most common areas treated by UltraShape include the abdomen, back and f lanks.
"All of these treatments can be performed in conjunction with one another as well," Dr. Warmuth and Hartman explain. "However, i n order to determine which modality may be best suited for one's body, a complimentary assessment is provided for each and every patien t upon request."
While it's common for patients to have some uncertainty about trying something new, Hartman also assures patients that t hese body contouring procedures all involve comfortable, non-invasive modalities that allow patients to return to their everyday activi ties with no downtime—all while under the care of an expertly trained staff.
"I wo uld encourage anyone who has additional questions on an y of our procedures to stop by any of our three locations—Elmer, Swedesboro and Salem—for further analysis and to receive a complimenta ry consultation," Hartman says. It's something you'll be happy you took the time to do.
"Among the many benefits of body contouring, the m ost valuable are the improved levels of self-esteem seen in a patient following these body contour applications," say Dr. Warmuth and H artman. "These treatments also help motivate patients to lead a healthier lifesty le through the promotion of improved eating and fitne ss habits. This will ultimately lead to further improvements and great results for the body and the soul."
The Warmuth Institute of Dermatology
Locations in Elmer, Salem and Swedesboro
(856) 358-1500 | WarmuthInstitute.com
Photos courtesy of Gary Mattie
Published (and copyrighted) in Suburban Family Magazine, Volume 9, Issue 9 (November 2018).
For more info on Suburban Family Magazine, click here.
For information about advertising in Suburban Family Magazine, click here.
To find out where to pick up your copy of Suburban Family Magazine, click here.