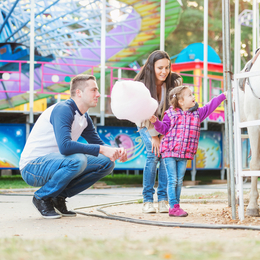 Family Bulletin
November 2018
COMMUNITY CONNECTION: News from around South Jersey
By Sarah Camp
Local nonprofit Medford Saving Lives has partnered with the pop ular ridesha ring app Lyft in efforts to get local bar patrons home safely. Following in the footsteps of Evesham Saving Lives and Uber, the Medford -based community effort launched in the beg inning o f Novemb er and will continue thro ugh May to give free rides home from 17 different a rea bars.
Haddonfield resident and creator of the popular green bean casserole Dorcas Reilly passed away at 92. Her recipe from 1955 bec ame a Thanksg iving and Christmas dinner staple, which she came up with while working for the Campbell Soup Company in Camden.
Next Cherry Hill Council Meeting: Dec. 10, 7:30 p.m. at the N. John Amato Council Chambers, Room 208
Next Voorhees Township Committee Meeting: Dec. 10, 8 p.m. at the Voorhees Township Courtroom
Next Evesham Township Council Meeting: Dec. 11, 6:30 p.m. at the Evesham Municipal Building
Next Washington Township Council Meeting: Dec. 12, 7 p .m. at the Washington Township Municipal Building
Police Blotter
By Dylann Cohn-Emery
A suspicious package was found in a Florida mail processing facility addressed to Sen. Cory Booker's Camden office. The suspect was arres ted by federal authorities and charged with five federal crimes.
A Newfield man was taken into police headquarters after getting caught d ropping off a bag of dirty diapers on a roadway in Franklin Township. He had been leaving soiled diapers throughout the township for the past year.
The Cherry Hill Police Department is on a manhunt for a Camden resident who has b een charged with attempted murder for shooting a 29-year-old woman multiple times at Cherry Hill Towers, an apartment complex across from the Cherry Hill Mall.
School Dates
Dec. 1 SAT Testing, locations vary
Dec. 8 ACT Testing, locations vary
Dec. 13 Lenape High School Instrumental Winter Concert, 7 p.m.
Dec. 21 Early Dismissal for Cherry Hill and Washington Township schools
Dec. 24-Jan. 1 Schools Closed, Winter Break
Bulletin Board
Updates and announcements about your local schools
By Dylann Cohn-Emery
Our Lady of Mercy Academy (OLMA) received a $10,000 grant from the OceanFirst Foundation's $250,000 program. They are one of 25 elementary, middle and high sch ools to each receive $10,000. OLMA will be using the money to build a Center for Business and Collaborative Learning for upperclassmen to participate in a four-semester business education program. Alfre d Cra me r Ele me nta ry School, pa rt of the Ca mde n City school district, received $3.8 million f rom the New Jersey Schools Development Authority. The money went into multiple problems such as fixing water filtration, roof repairs and replacing about 360 windows throughout the school.
Students from third to 10th grade at Cherry Hill Public Schools achieved high PARCC scores for English this year. They neared the Level 5 area, which is a perfect score.
Published (and copyrighted) in Suburban Family Magazine, Volume 9, Issue 9 (November 2018).
For more info on Suburban Family Magazine, click here.
For information about advertising in Suburban Family Magazine, click here.
To find out where to pick up your copy of Suburban Family Magazine, click here.