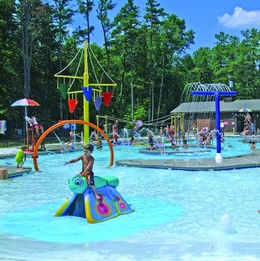 All Summer Long
A summer at Hospitality Creek means a whole lot more than just camping.
Brother and sister duo Justin Crane and Melissa Sperry have been groomed all their lives to run Hospitality Creek Campground & Swim Club. But the story of Hospitality Creek doesn't start with camping, it starts with blueberries.
"My brother and I are third-generation owners," say s Sperry. "It was started by our grandfather."
In 1959, Frank Crane bought a blueberry farm in Williamstown.
"It was an old blueberry farm and the stream ran through it and the people in town would actually come and swim in it all the time," says Justin Crane. "My grandpa fenced it off and started charging people. So it actually sort of started as a swim club for the town."
After charging people who were coming to swim, locals told Frank Crane that if he put up a couple campsites with a pitcher pump and a pit toilet, they would be renting nonstop. Looking for any way to get money other than just from the profit of the blueberry farm, Frank Crane took the locals' idea and ran with it.
"They were constantly rented," says Justin Crane. "He started taking chunks of the blueberry farm away and flooding it t o enlarge the lake. Then he started buying people's property right here adjacent to ours and it bloomed into what it is today."
Hospitality Creek was officially founded in 1961.
Now with 150 total acres and 223 campsites, the campground is vast with manicured lawns, green gra ss and leafy trees—all well-maintained and taken care of.
"We have two pools, a large Olympic-sized pool and then we have an activity pool with lots of stuff for the kids," says Sperry.
If you'd rather a freshwater lake off a sandy beach over the chlorine pool, Hospitality Creek has that, too. Their 30-acre lake is equipped with docks, slides, water activity courses and a designated area for younger swimmers.
But that's not all the lake is good for. Take a paddle boat ride out into the lake with the family or, if you are the sportsman-type, go fishing. The lake offers one of New Jersey's finest freshwater fishing habitats Long where campers and members alike have been known to catch 3-4 -pound largemouth bass.
And that's not where the activities stop.
"Every weekend there is something," says Sperry. "We will bring in paintball one weekend and a zip line the next. We have Christmas in July and Halloween in August. There's just always something going on he re."
The activities for the families are endless with laser tag, live bands and even a foam dance party.
"We are not open to the public, we don't have day passes," Sperry reminds interested parties. "Our events and activities, as well as pools and lake, are just for our members and campers."
If you are one of those people who hates camping but loves the idea of summer fun wit h your family, Hospitality Creek even has something for you.
"We have rental trailers. They are more like 'glamping' than camping," says Sperry. "It comes with everything you need; it's set up for some- All Summer one that is not a camper. All of the utensils, paper towels, plates, cups and unlimited fire wood for them to b urn are available. It even comes with a gas grill with unlimited propane. It's very nice."
And what's more, the staff at Hospitality Creek is more like family than employees.
"Our staff is very, very friendly. Most of our staff comes back year after year. We couldn't ask for anything more, they a re what make this place," says Sperry. "They do a fantastic job and they care about it just as much as we do. We are very lucky to have the employees that we have."
Hospitality Creek is now open for the season and will close on October 1.
Hospitality Creek Campground & Swim Club
117 Coles Mill Road
Williamstown
(856) 629-5140
HospitalityCreek.com
Published (and copyrighted) in Suburban Family Magazine, Volume 9, Issue 3 (May 2018).
For more info on Suburban Family Magazine, click here.
For information about advertising in Suburban Family Magazine, click here.
To find out where to pick up your copy of Suburban Family Magazine, click here.