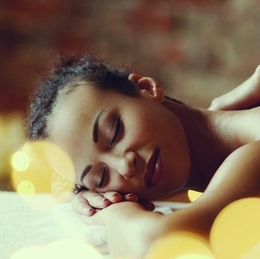 A Holistic Perspective
Skin and Body Klinic is approaching skin care holistically and reviving self-esteem along the way.
FOR TIFFANY TORRENCE, makeup was just a side job she did alongside her full-time gig as a money laundering investigator for banks. Howe ver, when specific events in Torrence's life pulled her out of corporate America, it opened the doors for her to fully immerse herself in the beauty sector, where she now is the founder and owner of Willingboro's Skin and Body Klinic.
"I became an esthetician and it really went hand in hand with [my] doing makeup," explains Torrence, who is also a makeup artist. "I was able to provide additional services to brides, some of my clients and I gained new clients. I just focused on treating people with acne, discoloration—just people [who] were unhappy with their skin and the way they looked."
Her esthetician license soon led her to manage a day spa owned by a plastic surgeon, where she gained hands-on management experience. Yet, it wasn't until 2014 when Torrence decided to open her own spa.
Enter Skin and Body Klinic. What first only offered waxing with a non-polymer wax, facials and a few body treatments, now features an array of services ran ging from teeth whitening, a full-service massage menu, pain management to non-toxic manicures and pedicures.
Another aspect of her business also caters to immuno-compromised clients. "Our massage therapist is oncology-certified, so we're able to deal with people who are going through chemo [and] women who have had breast reconstruction. We're able to address their needs," explains Torrence, who is also oncology-certified and is currently partnering with the MD Anderson Cancer Center at Cooper. "I'm going to be working with them and helping [by] providing services to their clients while they're patients."
Moreover, Torrence maintains a holistic approach to beauty, working to solve skin problems from the inside, out. "One of the things that I do is tackle the skin from an internal perspective [where] I ask them what they are eating.
"I provide a detox here that is really good for patients who are dealing with acne," she says. "It basically allows the body to eliminate toxins so they can begin to see a change and improvement as it minimizes a lot of the consistent breakouts and then we go into treatment."
That treatment can include chemical peels, microneedling, consistent advanced facials or LED light treatment, which kills the bacteria on the skin. Moreover, as Torrence explains, a diet is also crucial for treating skin conditions such as acne. "It's really about diet, making changes and deficits [and] increasing the vitamin D, vitamin C [and] getting more greens in to the diet so the blood can produce more oxygen. "It all helps for the body to heal itself, which would be clearer skin, less wrinkles [ and] more even tone in skin," Torrence notes. "I attack issues with the skin from a perspective of, 'What's going in your mouth?' and let's look at it from that perspective versus take this pill [or] use this cleanser because it doesn't always solve the problem."
To further help clients achieve healthier and glowing skin—including those with skin sensitivities like eczema—Torrence launched her very own s kin care line, SBK Skin. It's available both online and in-s tore and includes serums, eye creams, a purifying cleanser, masks and a refine d scrub. "It's just a really clinical way to treat skin issues, however, it's not your traditional clinical way," she says.
"For example, I do not treat acne with salicylic acid and benzoyl peroxide. … I don't do it because it doesn't work well for everyone and sometimes people who have persistent acne, their face actually builds up an immunity to it where they get no response.
"[SBK Skin is] a combination of basic acids to help kill bacteria, bring hydration and balance [and] rebuild skin," she adds. "My treatment is about purifying the skin … as opposed to a l ot of products [that] treat symptoms and address symptoms, but don't fix the problem. … I work on treating and fixing the problem so that by default, there is no symptom," she counters. "It's root-cause-analysis with skin treatment."
As Torrence continues her work in the self-care sector, she's constantly amazed at the self-esteem her clients regain following treatments. "I've dealt with skin issues and it's one thing to treat skin, but it's another thing to be able to empathize and understand what people are dealing with and what they see.
"One of the taglines of my business is, 'Get the skin you deserve and love what you see in the mirror.' If I d on't like what I see in the mirror, it doesn't matter what anybody tells me," she says. "I believe self-esteem starts there and if you do n't like what you see, it can affect you.
"Being able to understand what people go through is the most important part of my job," Torrence adds, "and why I like to do what I do."
SKIN AND BODY KLINIC
215 Sunset Road | Willingboro
(609) 542-0712
SkinAndBodyKlinic.com
Published (and copyrighted) in Suburban Family Magazine, Volume 9, Issue 3 (May 2018).
For more info on Suburban Family Magazine, click here.
For information about advertising in Suburban Family Magazine, click here.
To find out where to pick up your copy of Suburban Family Magazine, click here.