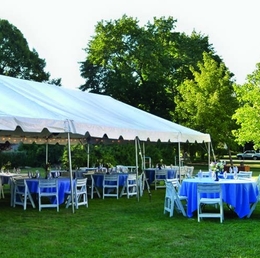 Party Perfectly
Taylor Rental of Burlington County has the supplies and service to make your next event special.
Summer is synonymous with parties. Graduations, weddings, family barbecues … our calendar s quickly fill up with these special celebrations. For those hosting and planning an event, it can be a little more than stressful between picking the date, the caterer, finding equipment and watching the weather forecast. But just one call to Taylor Rental of Burlington County can bring the relief you need.
May and June are busy months for Taylor Rental as they set up party equipment all over South Jersey. The company is a go-to choice because it has everything under one roof, from canopy tents, tables, chairs and dishes to linens, dance flooring and even games to entertain kids of all ages. And with nearly 50 years of experience, the staff knows a thing or two about making every party perfect.
The company has been a familiar name in South Jersey since it opened in 1970 by Max Fisher and his father Bob. "My dad was an engineer by education and worked for RCA in Moorestown," say s Fisher. "He was a farm boy growing up and had a love of tools and equipment, so when he left RCA, Taylor Rental w as a franchise opportunity he was interested in." That family -run atmosphere has continued, as Fisher's wife Beth is involved and th eir son Craig was also working in the company for several years.
Since its early days, Taylor Rental has offered general tool and equipment rentals and entertainment supplies, but it's the party goods selection that has become the business' focus over the last 10 years, so much so that Taylor Rental outgrew its Mount Laurel location. The company will now operate out of its Burling ton location off Route 541 and Mount Holly Road .
Outdoor parties have b ecome the preferred choice of many families. "Hosting a p arty in your own yard puts you in control. Taylor R ental of Burlington County has the supplies and service to make your next event special. By Liz Hunter You don't have to find an available date at a hall," say s Fisher. "Plus, a lot of people just like to be outside in a beautiful setting enjoying the weather." Taylor Rental can provide virtually all of the s ame amenities of a hall or venue. "We can do everything from a fairly casual barbecue to a fully formal event," he says.
Planning these important celebrations can be a bit overwhelming for a host, and customers might not even know exactly what they need. Thankfully, th e employees at Taylor Rental have been doing this quite awhile, including general manager Dave Silverman, who has been there for about 25 years, p arty manager Paul McCoy and service manager Gar y Biasi, both for nearly 2 0. Fisher says his team c an walk someone through things, making suggestions along the way, even arranging a site visit if necessary. "If an installation might be a bit more involve d, we can come to your location and look at the space and tell you what we can do," he say s.
Some of Taylor Rental's products can be set up by the customer themselves, such as smaller tents, tables and chairs; larger tents or thing s like a dance floor or stage can be set up by staff and bro ken down after the weekend. "We will set up or deliver items on Thu rsday or Friday a nd come back on Monday or Tuesday to break it down and pick it up," say s Fisher.
Ta ylor Rental can make y our party even more memorable with fe stive additions like a sno-cone, popcorn or cotton candy machine. Kids will love their carnival-like games, dunk tank and laser tag. Pi tmasters can also rent big charcoal or gas grills, even a roaster large enough for a pig. If y ou think of it—chances are Taylor Rental h as it. And with more space to grow in Burlington, there's no limit to what might become available in the future.
While many have lamente d the loss of the witty puns and quips on Taylor Rental's sign on Route 38—a tradition dating back to the business' original location on South Church Street—Fisher says not to worry, the funny phrases will return. "We've heard from so many people in the community about how t hey miss reading our sign when they drive by," says Fisher. "We're working on a way to keep this going, most likely on social media. … I can't tell you where half of them come from, but I've got a catalog of them and plenty still to use."
Taylor Rental of Burlington County
Route 541 | Burlington | (856) 235-6117 | Taylor-Rental.com
Published (and copyrighted) in Suburban Family Magazine, Volume 9, Issue 3 (May 2018).
For more info on Suburban Family Magazine, click here.
For information about advertising in Suburban Family Magazine, click here.
To find out where to pick up your copy of Suburban Family Magazine, click here.