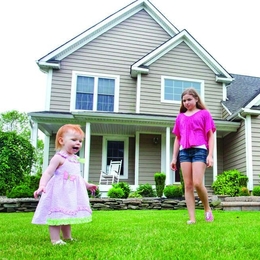 Embrace the Outdoors
Mosquito Shield of Southern NJ allows families to spend enjoyable time outside in their yards.
WHETHER THEY ARE PREPARING TO celebrate the graduate in the family with a major bash, gathering a few friends for a barbecue or just spending a care-free afternoon in the pool, most South Jersey residents are gearing up for fun summer days outside. Other than lousy weather, only one thing can spoil the party: uninvited guests like mosquitoes or ticks.
Not only can these pesky insects curtail enjoyable outdoor activities, but their presence has become even more impactful. The Centers for Disease Control and Prevention recently disclosed that illnesses from mosquitoes, ticks and fleas have tripled in the United States since 2004, with nine new germs spread by mosquitoes and ticks being introduced during that time frame.
Now more than ever, it is crucial for people to be protected outdoors. Fortunately, loc al residents can take advantage of the services provided by Mosquito Shield of Southern New Jersey.
A pioneer in the field, over the past 17 years, Mosquito Shield has developed a proprietary spray blend that not only kills mosquitoes present during each treatment and future mosquitoes that land on treated vegetation, but also repels mosquitoes away from the property.
We recently sat down with the owners of the local franchise, Janice and Tim Fullmer, to learn more about how Mosquito Shield can help homeowners enjoy the summer season to the fullest.
The number of people contracting diseases from mosquito, tick and flea bites has risen dramatically in recent years. How can homeowners protect their families?
They should try to minimize the breeding and harboring spots for these pests by regularly performing basic maintenance o n their property, such as keeping their lawn trimmed, leaves raked and especially eliminating any sources of standing water (buckets, tires, birdbaths, trash cans, toys, clogged gutters, etc.) In addition, enrolling in our Mosquito Shield® and Tick Shield ® programs can further reduce the population of mosquitoes, ticks and fleas in their yard.
Do Mosquito Shield® and Tick Shield really work?
Absolutely. You will notice a difference even after your first treatment. In fact, we're so confident you'll love Mosquito Shield ® and Tick Shield ® that both programs come with a money back guarantee.
What sets Mosquito Shield apart from its competitors?
Our company is different from most others because we have over 17 years of experience specifically in mosquito and tick control. Many lawn care and pest control companies are newcomers to the mosquito control world, but ours was designed to specifically address these pests. Our company was founded in 2001 in Massachusetts and we've been helping South Jersey residents enjoy their yards since 2013. We are so confident in our proprietary blend spray, highly trained technicians and overall expertise in this area that our service comes with a money back guarantee that our customers will be outside enjoying their yard all season long.
When is the best time of year for homeowners to have their yard serviced?
We typically start tick service in mid-to-late April and mosquito service in early May, and we continue service through e arly October. Many homeowners start their service right at the beginning of the season, but we also have many customers call to enroll in Mosquito and/or Tick Shield services all through the summer. The best time to sign up is really when you want to start enjoying your yard without constantly swatting at mosquitoes or worrying about tick bites.
How soon after each treatment can my children and pets play in the yard?
After each treatment, you may begin using your yard as soon as the spray has dried, usually by the time your technician h as left the property.
How long does a typical treatment take and does someone have to be home at the time?
On average, a visit takes less than 10 minutes, so you might not even notice we were there. But you will notice the mosquitoes and ticks are gone. You don't have to be home; however, our technicians will typically introduce themselves at the first visit. Additionally, you will receive a notification email the day before each visit and another email shortly after completion of each visit.
Are you running any specials this year that people can take advantage of?
We have a $50 new customer discount available! Just call us at (856) 467-2424 and let us help you enjoy your yard this season!
Mosquito Shield of Southern NJ
260 Harvard Ave., Westville
(856) 467-2424 | MosquitoControlSNJ.com
Published (and copyrighted) in Suburban Family Magazine, Volume 9, Issue 3 (May 2018).
For more info on Suburban Family Magazine, click here.
For information about advertising in Suburban Family Magazine, click here.
To find out where to pick up your copy of Suburban Family Magazine, click here.