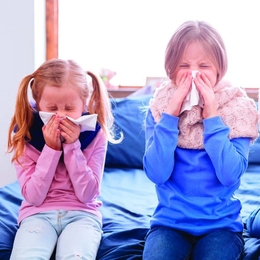 Improving Your Air
COIT Cleaning and Restoration of South Jersey educates us on the benefits of professional air duct cleaning.
DIRTY AIR DUCTS CAN CAUSE POOR AIR QUALITY IN ALL THE ROOMS OF OUR HOMES and lea d t o more serious issues with cleanliness and health. But what exactly is air duct cleaning? Suburban Family spoke with COIT Cleaning and Restoration of South Jersey's owner, Lori Topiel, to find out.
Topiel explains that duct cleaning involves cleaning the components of your home's forced air heating and cooling system. "If a system is not properly maintained and cleaned regularly over time the components of your HVAC system can become contaminated with dust, dirt, pollen, animal dander or other airborne contaminants," she explains. "Additionally, any moisture that may exist can cause the sys tem to become a breeding g round for mold bacteria, fungus, mildew and other microbes—all of which can get released into the home's living space."
An added benefit? A newly cleaned air duct system runs more efficiently than a dirty one which can result in lower utility bills and a cleaner, less dusty home.
The fact of the matter is, people just don't often think about getting their air ducts cleaned. These contaminants in the air can wreak havoc with allergens. People who suffer from sneezing, runny noses and watery eyes may not even realize the cause could be coming from the poor indoor air quality in their homes because of their dirty air ducts. And to top it off, poor indo or air quality can even affect your sleep.
Air ducts should be professionally cleaned every two to four years, according to Topiel. "We train our technicians to always be prepared to answer questions or provide advice about the air duct cleaning process," she says. " We are NADCA (National Air Duct Cleaners Association) certified, which means we comply with national air duct cleaning standards."
COIT uses an exclusive HEPA-Aire™ vacuum and Aire-Sweep™ compressor system which pulls air duct pollutants into a contained filtration system so efficient that it is capable of capturing debris 1/300th the diameter of a human hair.
In addition to having your air ducts cleaned, COIT also suggests the use of this standard checklist to help improve or keep your home's indoor air quality clean:
• Get carpets (including closets) professionally cleaned every six to nine months
• Get upholstery profession ally cleaned very two to five years
• Always remember to dust ceiling fans and the top of trim over doors
COIT Cleaning and Restoration of South Jersey
Serving South Jersey
(856) 566-0700
COIT.com
Published (and copyrighted) in Suburban Family Magazine, Volume 9, Issue 3 (May 2018).
For more info on Suburban Family Magazine, click here.
For information about advertising in Suburban Family Magazine, click here.
To find out where to pick up your copy of Suburban Family Magazine, click here.