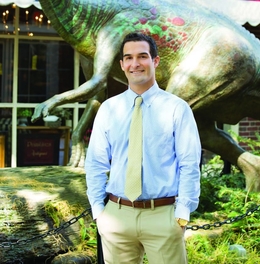 A Local Affair
Robert Bunis, of Keller Williams Realty, uses his background in environmental science and his down-to-earth demeanor to create a name in the real estate business that you can trust.
FOR SOME PEOPLE, ONE OF THE BIGGEST DECISIONS THEY WILL MAKE IN LIFE IS PURCHASING A HOME. Searching for that "perfect home" that encapsulates everything your family wants and needs could be a very long and stressful process—but it doesn't have to be. With the help of a knowledgeable realtor who goes the extra mile in getting to know you and your family, the buying—and selling—process can be done with ease.
Robert M. Bunis, a realtor at Keller Williams Realty, doesn't just embody those traits mentioned above—he's also local to our ar ea.
"My office is in Cherry Hill, but I live in Haddon Heights—a mile from downtown Haddonfield," says Bunis. "I do a lot of business in Collingswood, Haddon Township, Haddon Heights, Haddonfield, Oaklyn, Cherry Hill, Blackwood, among other towns. I even travel to Atlantic County, too, in the Margate/Ventnor area. I'm all over [South Jersey]."
Having been involved in real estate for years with his uncle's property management business, Bunis decided to get his real estate license two years ago with just one goal in mind: helping people.
"I get the opportunity to meet new people every single day—but more importantly, I get to help people," Bunis says. "A home purchase is o ne of the biggest decisions that you make in your life so to be able to just partake in the process and help alleviate a lot of the stresses of it for other people is a really cool thing to be able to do."
But Bunis wasn't always in the real estate business. His background is in environmental science, which oftentimes is helpful when dealing with older homes.
"At my old job, I dealt with documenting environmental concerns. I would go out to locations and either write a report or do a sampling of things that were problematic or a cause of concern," Bunis explains. "When I walk into these older homes, take a tour through the basement, I can usually tell if something is questionable."
As a homebuyer, the last thing you would want to find out is that the agent that sold you on the house didn't do their due diligence, pull permits and do deeper research, and find out what m ay have taken place at this home in its lifetime. Bunis's background makes him thorough in navigating through those homes that buyers may want to steer clear of—if not be sure the seller rectifies the issue.
An added benefit to a realtor like Bunis: He is always available to his clients.
"They are going to experience having an agent that actually answers the phone—and that is huge," he say s. "If you text me or call me, I pick up. If I don't pick up your phone call because I am with a client and then you text me, I will respond immediately. I am always quick to respond and answer questions."
When asked what makes Bunis a great realtor, he has just one word to sum it all up: integrity.
"I shouldn't say a lot of agents are car salesmen, but that's the truth. This is a sales business and you don't make money unless you sell," Bunis explains. "The important thing is, I sell people on me. There is less to do with the house and more to do with my own character as a person. Who I am as a person is somebody who works extremely hard, does a due diligence for all clients and also cares about them. It goes beyond just helping someone buy or sell a house; it's more about creating a friendship."
Robert M. Bunis
Keller Williams Realty, Inc.
409 Route 70 E. | Cherry Hill
Office: (856) 321-1212 | Cell: (609) 220-6311
Facebook.com/RealEstateRobNJ
Photography by Alison Dunlap
Published (and copyrighted) in Suburban Family Magazine, Volume 9, Issue 3 (May 2018).
For more info on Suburban Family Magazine, click here.
For information about advertising in Suburban Family Magazine, click here.
To find out where to pick up your copy of Suburban Family Magazine, click here.