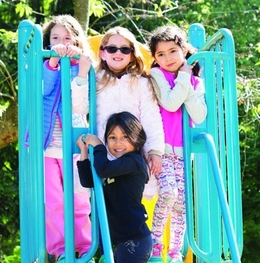 Starting Early
Starting Early
IT'S A WELL-KNOWN FACT THAT EARLY CHILDHOOD DEVELOPMENT IS CRUCIAL, as it lends itself to the advancement of a young child's emotional, social and physical growth—especially in their first five years. Yet, where does a parent start when it comes time to enroll their child?
Luckily, area schools are evolving their early childhood development pri or to pre-K as a means of investing in the younger generation. Haddonfield Friends School (HFS), for one, offers the option of three programs suited for ages 2 through 4, known as Swallowtails, Skippers and Monarchs respectively, within their Early Childhood Center (ECC) . Each level is designed to meet the educational and developmental needs of the young child, while also nurturing skills—including social , communication, gross and fine motor skills—within a whole school setting.
"At HFS, we inspire joyful young minds to reach their fullest potential, to embrace diversity and to go out into the world with conscience, confidence and compassion," explains Head of School Matth ew Sharp. "It is our hope that HFS students graduate as innovative problem solvers, curious, independent learners and ultimately, as soc ially, emotionally and spiritually developed global citizens who respond thoughtfully and compassionately to one another and the world. "
That mindset is not only applied throughout the pre-K through eighth grade curriculum, but also within their early childhood developme nt programs, beginning with a student's first entry at age 2 to 2 ½. "[In] Swallowtails, you don't have to be potty trained, although w e will help you and work on it so [it's] unique for our school," explains Sharp. "[Each ECC class] has two certified teachers and [the students meet with] Specials teachers, which includes music, physical education and Spanish, and the cross-grade mentors known as 'buddi es.'
"It's great for them to be out of the house and in a creative environment with peers, learning how to share, parallel play and be p art of a group," adds Sharp. "Also, [they] have the benefits of the cross-grade mentoring so they gain confidence about school [and] th eir association with school is positive, exciting and enriching. … [It] allows students to receive 'buddies' that work with students un der teacher supervision. Buddies do open-ended projects, attend special presentations together and [they] gain confidence from older peers that believe in them."
In the next two levels, Skippers and Monarchs add after-school programs to the curriculum, where students c an participate in Theater Club, which is currently working on a production of Seussical. "You get a lot for your child," says Sharp. "I t's really a preparation, an academic and creative hands-on, play-based mediation teaching place."
As children move up into the full-day kindergarten program, students are introduced to math and hands-on science as they learn the life cycle of a monarch butterfly and enjoy the responsibility of raising a Canine Companion for Independence serv ice dog. "We start the year with the butterfly unit, where they are using microscopes, they're in the butterfly garden, looking for the l ittle eggs, watching them hatch," notes Sharp.
This hands-on approach to science also lends itself to the complete curriculum at HFS as students as early as fourth grade begin working on their own science fair projects. "Every child does one in every grade from fourth to eighth grade," says Sharp. "Then in seventh and eighth, we take their science fair projects to Coriell Science Fair and every child atte nds."
The school is heavily involved with the Coriell Science Fair, which features students, grades 6 through 12, from Burlington, Gloucester and Camden counties showcasing their science projects ranging from biochemistry, botany, computer science, medicine and health, physics and more. Each year, some students move on to the Delaware Valley Science Fair based on their awards at Coriell.
"Unlike some chools, all students from the seventh and eighth grades attend Coriell Science Fair. We do this by preparing them with excellent presentations skills and practice in using the scientific method and design thinking," explains Sharp. "Our students work together with our t ra ined middle school science faculty to learn how to present innovative and engaging hands-on science presentations."
While the curriculum as a whole is enough to entice, parents themselves praise HFS's early childhood programs. Eric Mills and Kristin Carberry's two sons , who are students in fifth and third grade, have both attended HFS since the early childhood program and the decision is one they're proud of.
"We were looking for a school with a strong value system and [were] impressed with the school's real sense of community from t he moment we first visited," Mills and Carberry explain. "HFS has an incredible diverse population compared to the rest of the region and that was also vitally important to us. Its academic reputation for a rigorous and engaging curriculum was a major factor in our de cision."
Adds Sharp, "Our engaging teachers and ideal class sizes enable students to wonder, explore and ask challenging questions via t eaching via query and scientific process. A community rooted in Quaker values, we are inherently a nurturing and safe place for young minds to blossom."
Haddonfield Friends School
47 N. Haddon Ave.
Haddonfield
(856) 439-6786
HFSFriends.org
MSharp@HFSFriends.org
Published (and copyrighted) in Suburban Family Magazine, Volume 8, Issue 12 (February 2018).
For more info on Suburban Family Magazine, click here.
For information about advertising in Suburban Family Magazine, click here.
To find out where to pick up your copy of Suburban Family Magazine, click here.