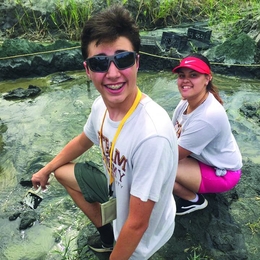 College Sneak Peek
At Rowan's STEAM Academy, students can experience the campus setting while earning college credits.
As our children grow up and meet the challenges of high school, we want to prepare them in the best way possible for the next step in thei r educational journey: college.
Freshman year of college is a big adjustment for students as they navigate their independence, a new environment, new people and a considerable amount of course work. One of the best ways to prepare for this is with hands-on experiences, perhaps even on a real college campus, with actual professors giving college-level instruction. And right here in South Jersey, we have o ne of the best programs for this: Rowan University's STEAM Academy.
Founded in 2015, STEAM Academy —combining STEM concepts (science, t echnology, engineering and mathematics) with art, design, culture and humanities—offers middle and high school students the chance to earn college credits while getting a sneak peek at college life during their summer break.
Danielle Fischer, coordinator of the STEAM Academy, says one can never be too prepared for college. "No matter how smart or successful students were in high school, we often forget to address the fact that they will have to set their own schedule, be self-motivated to go to that 8 a.m. lecture, and become better at taking notes," she says. "The STEAM Academy helps fill those gaps because now they are engaging with professors on that level, with a support sy stem of counselors and peers around them. This is not just about earning credits; it's also about academic maturity."
The STEAM Academy combine s fully credited college courses with fun, educational field trips and activities, and offers a range of programs to fit any stud ent's interests and budgets. Limited scholarships are available. The three choices are:
• Voyagers: a day program for late middle school a nd early high school students taking place from 8 a.m. to 3 p.m.
• Navigation: available to sophomores, juniors and seniors in a morni ng-only or full-day session or residential program with STEAM-focused field trips and immersive leadership training, personal development, SAT prep and building.
• Pathways: a more rigorous residential program with a research internship in alignment with a student's preferred STEAM focus. This is open to sophomores, juniors and seniors.
Fischer says the tiered programs were built to allow students to try something new as they move into the next grade level. Freshmen can do the Voyagers level and then move on to Navigation and Pathways as t hey become upperclassmen. For those who are in the residential programs, they will experience suite-style dorms with their own bedroom nd shared sitting area, kitchenette and bathroom. Professional counselors from Rowan's College of Education act as resident advisors.
Enrollment has increased year over year, from 30 in its first year to about 100 in 2017, and the course offerings have also evolved. "The first year was small, with only a few classes offered," says Fischer. "But each year as it's grown, we want to make it college friendly with career counseling, college application prep, academic workshops and overall helping students work on themselves before moving forw ard and becoming the leaders of tomorrow."
Some of last summer's popular course s are likely making a comeback, says Fischer, including forensics, music expression through technology, physics of movement and intro to computer programming. "In each instance we blend the sci ence, logistics and mechanics of these topics," she continues. "We are hoping to add a biology-themed elective and bring back a course o n mobile app development and cyber security. The students really loved that."
Field trips always include the Edelman Fossil Park in Mantua and Rowan's Planetarium and Virtual Reality Lab. Students who are part of the residential programs may find themselves at the Franklin Institute, Longwood Gardens, the National Air and Space Museum in Washington, D.C., or even Hershey Park on weekends.
When the three weeks are complete, students leave with a college transcript and three credits that can transfer any where, whether they end up back at Rowan, or somewhere else like Stockton, Princeton or Harvard. If they attend every summer during high school, they will have earned enough credits for an entire college semester. "This is shortening the time they need to spend at college, which will save them money, and gives t hem a head start on that level of education and the experience of being on campus," Fischer say s.
The STEAM Academy session for 2018 runs from July 8-27. Applications are due by April 30, and the process mimics that of applying for college with basic autobiographical information, recommendations, a transcript and writing samples. Applications may be submitted by mail or email. And Fischer says it takes about one week to hear back on acceptance. This summer could be the perfect jump start into the college learning experience for your child. Visit Rowan.edu/STEAM for full details.
Rowan University STEAM Academy
Glassboro | ( 856) 256-5241
Rowan.edu/STEAM
Published (and copyrighted) in Suburban Family Magazine, Volume 8, Issue 12 (February 2018).
For more info on Suburban Family Magazine, click here.
For information about advertising in Suburban Family Magazine, click here.
To find out where to pick up your copy of Suburban Family Magazine, click here.