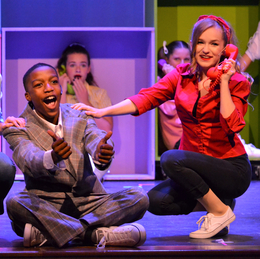 Camper's Guide
The summer camps in our area are taking the plunge to give your children their best summer yet.
Even in the depth of February's winter, we can't wait for the hot summer season. But when the kids are out of school, which programs are available for spending their summer days? That's why we look for the best summer camps for your family and list them here for you to daydream of sunshine and long days.
If your camper wants to be focused on arts and crafts, swimm ing, horseback riding, science or performing arts, these camps have that—and so much more. Tell your children to grab their SPF, sneakers and swim trunks, it's going to be their best summer yet.
AMBASSADOR
CHRISTIAN
ACADEMY
535 Mullica Hill Road
Glassboro
(856) 881-3669
ext. 102
AmbassadorChristianAcademy.com
The Camp Ambassador Summer Camp program offers a safe, friendly, Christian environment that allows children to make memories all summer long. With an energetic and caring staff, this program allows campers to lend a hand in service projects, science and nature, visual and performing arts, field trips and so much more.
MOORESTOWN
FRIENDS SCHOOL
110 E. Main St.
Moorestown
(856) 914-4493
Summer.MFriends.org Moorestown Friends' 'Summer Scholars' classes offer a variety of creative, enriching and fun programs for children from age 3 through high school. Older scholars can utilize the camp's LEAP Academics programs while scholars of all Guide ages can test their athletic skills head-on through swimming and fi eld games.
CHARTWELL'S
HAPPY DAY CAMP
136 Paragon Ave.
Marlton
(856) 983-8827
ChartwellHappyDayCamp.com
Children ages 4 to 13 can enjoy acres of land at Happy Day Camp. Whether your camper likes swimming, soccer, lacrosse, karate, arts and crafts, science or fitness programs, Chartwell's has an activity for every interest. A bonus? Parents love H appy Day Camp, too.
EARLY CHILDHOOD
CAMPS AT THE KATZ
JCC
1301 Springdale Road
Cherry Hill
(856) 424-4444
KatzJCC.org/ECCCamps
The award-winning Early Childhood Camps for kids ages 2 to 5 years old help you r littlest campers have fun while learning. Their Sun and Fun program (ages 2 to 2 ½ ) and KinderCamp (ages 2 ½ to 5) both feature an abund ance of activities in their state-of-the-art facilities and include swim classes in the Katz JCC's wading pools.
ESF CAMPS
& EXPERIENCES
William Allen Middle
School
801 N. Stanwick Road
Moorestown
(856) 235-5300
ESFCamps.com/Moorestown
The 'gold standard' of summer camps, ESF prides itself on having programs full of fun and skill-building experiences. With a team of all-adult educational professionals, they are c ommitted to growing your child's confidence and success. They are committed to maintaining your child's safety, health and well-being.
ISC AND DSC
SUMMER DAY CAMP
650 Kresson Road
Cherry Hill
(856) 428-8588
ISCCherryHill.com
Keeping your children active, this camp offers roller skating, basketball, GaGa, Dancing and more. With the goal of creating an environment full of Integrity, Sportsmanship and Character, ISC is committed to building long-lasting relationships with your family through their exciting program.
JCC CAMPS
AT MEDFORD
400 Tuckerton Road
Medford
(856) 751-1666
JCCCampsAtMedford.org
The JCC Camps at Medford staff, campers, parents and lay leaders are one big family. Working to enrich the lives of their campers, JCC Camps teaches children values and life skills in an environment that builds confidence, shares success and creates lifelo ng friendships and memories.
ACADEMY OF
BALLET NJ
401 Bloomfield Drive,
No. 4 | West Berlin
(856) 768-9503
BalletNJ.org
Do you have a child who is hyper focused on dance? Sign them up for the Academy of Ballet NJ's summer intensive program and allow them to be trained by professional choreographers and fitness experts to learn—and master—skills they can utilize outside of camp.
HADDONFIELD
FRIENDS SCHOOL
47 N. Haddon Ave.
Haddonfield
(856) 429-6786
HaddonfieldFriends.org
Providing a nurturing summer camp for children ages 2 ½ through middle school, Haddonfield Friends Summer Program encourages individual growth while respecting each other's differences. With each summer camp session having themebased weeks, campers can be building, creating, painting, daydreaming, playing in the water and more all summer long.
MERION MERCY
ACADEMY
511 Montgomery Ave.
Merion Station, Pa.
(610) 664-6655
Merion-Mercy.com
If you are looking for a summer program with academic courses, high school preparation, sports camps or even enrichment programs for your child, Merion Mercy Academy has all of the above. The all-girls school's summer programs are co-ed so every child's summer can be a bit brighter.
SHINING LIGHTS EARLY
CHILDHOOD CENTER
1720 Springdale Road
Cherry Hill
(856) 424-4915
ShiningLightsOnline.org
Shining Lights' Camp Rising Stars is focused on your youngest campers. For children preschool age through first grade, your camper will have themebased weeks that will also include a field trip or a water play day. Each week will even include an exercise or sports day.
TALL PINES DAY CAMP
1349 Sykesville Road
Williamstown
(856) 262-3900
TallPinesDayCamp.com
There's not much your camper won't find at Tall Pines. With 66 acres of fun in the Pinelands, the camp prides itself on its many activities. Whether your camper enjoys basketball, swimming, golf, gymnastics, horseback riding, swimming, creative arts or nature—to name a few—they will create a summer filled with memories at Tall Pines.
MAINSTAGE CENTER
FOR THE ARTS
27 S. Black Horse Pike
Blackwood
(856) 302-6485
Mainstage.org
Mainstage's Summer Stage offers the gamut when it comes to theatrical productions. If your child is interested in being front and center or behind the scenes in production, they can do both at this program. Learning from the professionals in the business, your child will come away from the summer program as the star of the show.
Published (and copyrighted) in Suburban Family Magazine, Volume 8, Issue 12 (February 2018).
For more info on Suburban Family Magazine, click here.
For information about advertising in Suburban Family Magazine, click here.
To find out where to pick up your copy of Suburban Family Magazine, click here.