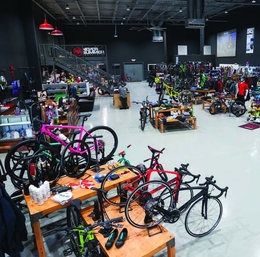 Where Passion Meets Personalized Service
Enthusiasts of all experience levels can find the gear, accessories and attention they deserve at Aistriu.
WHETHER SHOPPING FOR A NEW CAR or a designer dress, customers want to feel a personal touch; they want to know how that product is going to fit them as an individual. This experience is too often overshadowed by the sale itself, leaving the customer feeling pressured into buying something they don't need or may not even like.
That's why walking into Aistriu feels unlike anything else. Aistriu (pronounced as-stroo) is New Jersey's newest action sports retailer, offering enthusiasts who ski, snowboard, bike, run or swim everything they need from boots and boards to tires and tubes in an expansive and modern 12,000square-foot space.
Shoppers are immediately struck by the inviting atmosphere, which includes a seating area with TV and espresso bar. It's all done by design by owner Jovian Yoh and the entirety of team Aistriu, who wanted to provide a more casual and inviting s ales experience instead of the normal high-pressure sales environments o f most other businesses. Jovian says he has always enjoyed skiing, snowboarding and cycling for the majority of his life, and he wanted t o surround himself with like-minded individuals who share the same passions. For this reason, the sales experience you will receive as a customer will be from someone who shares your passion, whether you know it yet or not.
"Having a staff with firsthand knowledge of these s ports is important because it changes the ideology of the normal sales experience," Jovian says. "We've all been in places where you fee l like the salesperson doesn't know the product and is just there for the paycheck. We're different because we can relate to the product and customers on a level that 99 percent of salespeople can't."
Aistriu strives to match enthusiasts with gear that will help them learn and grow in their sport. Brian Macapagal, store manager, says this mentality was the inspiration behind the name Aistriu, which is Gaelic for "transition."
"Each sport has enthusiasts of all capabilities, ranging from beginners to more advanced, and we want to help them transition to their next level," he says. "If you pick up an item, we'll tell you what it can do for you, and how it can help you reach your goals." We've all been duped by high-pressure sales, but the sales staff at Aistriu promises an experience like no other.
There is also something special about being able to walk into Aistriu and have a professional tune up your equipment. "You can watch YouTube tutorial s on tuning a bike, but there's no guarantee it will be right," says Jovian. "Having knowledgeable people to help out for custom fitting s and service is something that is dying off." Customers are even welcome to relax on the couch and enjoy something from the coffee bar while getting a tuneup.
Beyond the plethora of merchandise and pro- fessional services offered, Aistriu is also a resource for fitness an d progression, specifically for triathletes. Brian has been involved in triathlons and knows what it takes to do one as a beginner, as w ell as those looking to improve.
"I know about maintaining a regimen and how to pass that on to the customer," he says. "Physical prowess doesn't necessarily make you a better cyclist, but understanding the equipment does." By working on the mechanics of the triathlon—ho w cadence and pace help—athletes and enthusiasts the same can improve physical fitness, and change their mentality.
Starting later this coming fall, Aistriu will offer indoor smart training for cycling and running in their mezzanine area. "We'll have coaches come through at least once per week, potentially more depending on demand, to help cyclists and runners improve not just power, but endurance as well," says Jovian. "And we'll have all the accessories and apparel to aid in their training, both in the water and on the land."
"We want our store to feel like a community, a place where customers can come back and keep progressing in their sport, at their own pace, we just want to help them get there," says Brian.
Aistriu
Marlton
(856) 267-3878
Aistriu.com
Follow them on Facebook and Instagram @aistriusports
Published (and copyrighted) in Suburban Family Magazine, Volume 9, Issue 1 (March 2018).
For more info on Suburban Family Magazine, click here.
For information about advertising in Suburban Family Magazine, click here.
To find out where to pick up your copy of Suburban Family Magazine, click here.