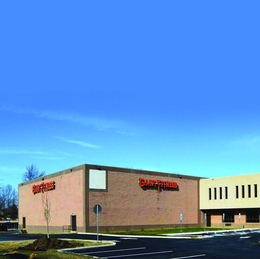 Giant Results at a Fraction of the Price
Giant Fitness' newest location in Voorhees offers top-of-the-line equipment and a friendly, motivating atmosphere—at only $10 a month.
MOST OF US WANT TO BE IN SHAPE, BUT FINDING THE TIME TO WORK OUT CAN BE TRICKY. Paying for a gym membership can be even more difficult, with quite a few costing $100 or more a month and additional fees you weren't previously told about. But there is a fitness center that costs less than a trip to the movies with convenient hours, and it's close to home—Giant Fitness.
Just about every square inch of the 41, 000-square-foot facility is filled with top-of-the-line equipment and every member receives a free fitness consultation with a personal trainer—all for $10 a month. With six convenient locations in South Jersey to serve you, a seventh location is scheduled to open in Voorhees in April that will be open 24 hours a day Monday through Friday, and 7 a.m. to 7 p.m. every Saturday and Sunday. Giant Fitness is goi ng to offer all the bells and whistles the other locations have, and much more.
"We're going to have everything imaginable that you're looking for in a fitness club and it's still going to be $10 a month," owner Sam Balducci says. "We're also going to have five to six times the amount of strength machines and free weights than any other club has."
Not just any machines and free weights, but the best exercise equipment available today—Cybex, Precor, Life Fitness and a full line of Hammer Strength plate loaded weight equipment. "Having the be st equipment is one of the most important things," Balducci says. "We don't offer any of the no-name brand equipment; we only go with the top-of-the-line equipment which is those four brands."
The new Giant Fitness location will also be home to the biggest free weight room i n South Jersey at 6,500 square feet with eight power racks and dumbbells up to 125 pounds. Balducci says the remaining locations will al so have dumbbells up to 125 pounds in th e near future.
"We're also going to have SYNRGY360—a modular group training equipment that inclu des TRX suspension trainers, Stairmasters with revolving steps, eight different leg presses and swing squat [machines]—a very unique p iece that no other club in South Jersey has," he says. "It takes all the pressure off your lower back and makes you do the perfect squat e very single time."
There will also be a group personal training room with a turf where clients will be doing CrossFit type of group tra ning that includes rowers, bikes, tire flips and bodyweight exercises such as mountain climbers. This Giant Fitness will offer swim programs and will be where the Jersey Wahoos Swim Club—a highly regarded s wim team in South Jersey—train.
Another unique aspect of Giant F tness is their additional offerings for those who are solely interested in specific kinds of workouts that don't require strength machines. For $9.95 a month, patrons can utilize unlimited spinning or aerobics. "Doing spinning or aerobics at $9.95 a month, that's unheard of," Balducci says. "Nobody else has that."
Additionally, for $19.99 a month, you can have free tanning, a guest once a day, Giant F itness cooler drinks for half price, and you have access to all Giant Fitness locations and over 200 clubs throughout the country that a re part of the International Physical Fitness Association.
The free personal training consultation offered when you sign up is benefic ial to everyone, but Balducci says it's especially beneficial to those who are stepping into Giant Fitness for the first time.
"If you'v e never worked out before, the worst thing you can do is walk into a club and guess," he says. "The consultation is basically like a free mini workout. We give you an assessment of your body, tell you what you're going to need you work on, take you through a mini workout an d do a couple sets for each body part so you get an idea of what a personal trainer is going to do for you."
Those trainers will recomm end what movements and workouts are best for you specifically, showing you how to do each movement correctly to avoid injury and motivat ing you all at the same time.
"A lot of people watch YouTube videos and you're literally watching someone do something wrong, so then you d o it wrong. It's the blind leading the blind," he says. "You really need a trainer to teach you how to do movements correctly."
Giant Fitness in Voorhees is the best choice for all types of people— the active workout person who is looking for a new, state-of-the-art facilit y to continue their training, and for the novice just starting out and needs guidance on how to use the equipment, and find out which work outs are best suited for them so they can set and achieve their fitness goals.
"It's very non-intimidating," Balducci says. "We have a friendly staff that is available for any questions, including how to start the treadmill or get on the elliptical. We will do whatever we can to help you achieve your fitness goals."
Giant Fitness
120 Britton Place
Voorhees
(856) 504-3333
GiantFitnessClubs.com
Published (and copyrighted) in Suburban Family Magazine, Volume 9, Issue 1 (March 2018).
For more info on Suburban Family Magazine, click here.
For information about advertising in Suburban Family Magazine, click here.
To find out where to pick up your copy of Suburban Family Magazine, click here.