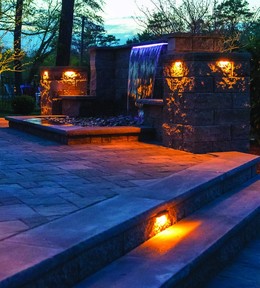 Alluring Landscapes
Sherwood Landscape, Lighting & Design tells homeowners why they should get started on their outdoor projects now before the weather breaks.
AS THE SNOW BEGINS TO MELT AND FLOWERS BEGIN TO SPROUT OUT OF THE GROUND, WE CAN'T HELP BUT LONG FOR THE WARM-WEATHER SEASONS. The sun will become brighter, days will grow longer and we will inevitably be outside enjoying all that the season has to offer. Before it sneak s up on you, ask yourself these important questions: Is my landscape ready for the warmer seasons? Is my yard missing something? Who ca n I call to help give my outdoor space a breath of fresh air?
Insert: Sherwood Landscape, Lighting & Design. With over 25 years of experience, there's not much the company can't do. Offering professional landscape services across South Jersey, Sherwood Landscape designs and installs immaculate hardscaping, flowing water features, jaw-dropping outdoor kitchens and even cozy fire pits.
Suburban Family spoke with owner Mark Marias and office manager Lisa Pagano about why you should get your outdoor projects started now, the added curb appeal of grand entrances, timing for new mulch and plantings and how to upgrade your lighting system.
Getting Started
It's no secret that planning ahead goes a long way; the same can be said when it comes to your landscape. Maria s puts it simply, "Basically, homeowners have spring, summer and fall to enjoy their new patios, fire pits or just a tidy landscape."
So , what are the perks of giving a reputable and reliable company like Sherwood Landscape a call before the snow melts? "There are a lot of advantages," says Marias. "We will be able to get the work started early so homeowners can enjoy the benefits of their new projects sooner." Taking their projects from conception through construction—an outdoor project can take a few weeks until completion—makes it th at much more important to start sooner rather than later.
Pagano says Sherwood Landscape commonly gets calls from homeowners who have a great space, but aren't really sure what to do with it. That's where Marias' expertise shines through.
"Mark overflows with creative landscape and hardscape ideas," she explains. "He will hand draw his ideas and then present this to the customer. Our customers are always impressed with what Mark creates because a majority of people have trouble with visualizing how their space can be transformed."
To further help visualization, Pagano utilizes computer software to present the customer with planting and lighting ideas. With just an image of their home and property, she is able to help the client see trees, shrubs, flowers and landscape lighting around their current space.
Even if you are just looking to liven up your flower beds after the dreary winter we had, Marias says the start of spring is the be st time to begin this task.
"We are at the point where this is the time to mulch," says Marias. "We will remove the old mulch that is in the shrub beds, edge them and put down the new mulch. That new mulch acts as an insulator for the root system of the shrubs and trees and holds moisture in the ground."
Upgrades
One of the most popular projects Sherwood Landscape has been seeing to increase a homeowner's curb appeal is the notion of a "grand entrance."
"Properties and homes that have been built between 20 and 25 years ago—the builder put in concrete walkways, patios, steps and driveways," says Marias. "It seems like the 20-year mark is when people start getting tired of t he uniform look and want to switch out the hardscaping materials."
This is when Marias will work with the homeowner who has called about wanting to either revamp their space or has a space that is in disrepair.
"I would say nine out of 10 homes don't have the front entrance their home deserves," says Pagano. "What we do creates extreme curb appeal and most will say they have no idea why they waited so long to have the work done. Mark will design a grand entrance with new s teps, treads, walkways, landscaping and ligh ting that you never even could have imagined."
Another landscape upgrade can be as simple as updating or installing lighting. Outdoor barbecuing can proceed past daylight with the help of LED lights that have warm tones and are maintenance-free. Walkways with incandescent lighting can be upgraded with the LED lights to ensure you always see the walkway to your ho me.
Choosing Sherwood Landscape
With designs, attention to detail and craftsmanship like Sherwood Landscape's, they are setting themselv es apart in the world of landscaping and hardscaping.
"Mark has ideas that go outside the typical squares and rectangles," says Pagano. "Ian Barringer, our field supervisor, oversees construction and takes great care of the homeowner. Ian is in the field making Mark's pl ans come to life.
"We have a great crew in place that takes pride in their work. You will call Fermin, Nelson, Antonio, Jovani, Marco, Marty and Chris by their first names while they work on your project. They are all so approachable and work very hard for each and every client."
Sherwood Landscape, Lighting & Design
414 Stokes Road, Suite 102
Medford
(609) 521-6356 | SherwoodSJ.com
Published (and copyrighted) in Suburban Family Magazine, Volume 9, Issue 1 (March 2018).
For more info on Suburban Family Magazine, click here.
For information about advertising in Suburban Family Magazine, click here.
To find out where to pick up your copy of Suburban Family Magazine, click here.