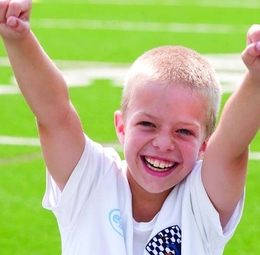 Summer Learning
Conquer the summer slide with ESF's Specialty Major and Technology Camps.
WITH SUMMER JUST MONTHS AWAY, now is the time to start considering what kind of camp will encourage your child to explore their passion s and potential. Luckily, ESF Summer Camps offers parents the ability to curate the perfect summer for their child, thanks to abundant offerings, including Specialty Major and Technology Camps for rising grades K-9, with a focus on STEM programming.
"We run some really in credible specialty programs so children can actually do the things that they really love to do versus [what] they have to do," explains Executive Director and co-founder of ESF Summer Camps, Michael Rouse. "Parents can go directly onto our website and curate the types of experiences they want for their child this summer. They may want their child to learn how to swim, explore coding, construct robots or discover a new sport. Basically, we have different programs that are really focused on various niches for children of all ages to learn, grow and develop in. Our goal is to help them find their new passion for life."
ESF's Specialty Camps include science, performing arts , culinary arts, visual arts, fashion design, reading and writing, sports and broadcast media, business and entrepreneurship and more. Additionally, ESF offers Technology Camps to enhance its STEM offerings, which include coding and design, digital communication, robotics, engineering and digital arts including photography, filmmaking, stop motion animation and more. "Each one of our camps are 'specialty programs,' but our Major Camps offer all different types of STEM programs," says Rouse. "Then we have a whole technology lineup of programs as well."
ESF also partners with nationally recognized organizations for a unique, cutting-edge curriculum and experiences that are only offered via ESF Camps. Partnerships include: The Franklin Institute, BSD Code and Design Academy (Build Something Different), t he Philadelphia Phillies, Philadelphia Union, Vetri Community Partnership and The Philadelphia Zoo. "We also offer business and entrepreneurial programs called Junior Business Academy (JBA), [which] we've designed with the Jack Welch Management Institute," says Rouse.
"ESF's specialized curriculum, delivered by their experienced teachers in a fun and safe environment, ensures that campers are well prepared with the skills to begin the new academic year," adds Dr. Karen Pape, a neonatologist and a clinical researcher focused on brain development and youth. "They're the best around."
With enrollment filling up quickly, Rouse encourages parents to begin signing up now to avoid the wait list. "[Our campers] want more. They've really been excited about the camps and their enthusiasm just continues to grow. The interesting thing about our specialty programs [is] that they are very innovative and this generation of youth responds very quickly to the curriculum and actively learns many new skills in a hands-on, supportive environment," says Rouse.
"This generation learns from YouTube and other media outlets so it's up to us to really 'wow' them with new cutting-edge learning opportunities. They just want more and so we're trying to provide them with that opportunity to continue to grow and develop in areas that they are passionate about," say s Rouse.
Aside from these educational programs, another aspect of ESF that truly makes them the gold standard of summer camps is their staff of experienced adults. "Our team is made up of top teachers and coaches from the area. We also employ undergraduate and gradua te students studying elementary education to work with us as counselors and coaches," explains Rouse. "We're one of the very few camp s in the state that hires an experienced, all-adult staff. We also offer an internship program for grad and undergraduate students. Every one of our staff members goes through 15 hours of training."
ESF operates their camps and experiences on state-of-the-art campuses , which allows them to run rain or shine with air-conditioned facilities. ESF has been recognized as one of the safest camps in the Unite d States by the Food Allergy and Anaphylaxis Network's "Mariel C. Furlong Award for Making a Difference." Rouse adds, "We absolutely love what we do. What makes us get out of bed every morning is the difference we're making in children's lives.
"Doing this for 36 years, is allowing us to see former campers become parents who are sending their own children to our camps. They also have become CEOs, doctors, te achers, performers and incredibly successful people who have looked back at their experience at ESF and felt [it] was a great place where they learned and developed their tool belt to become successful in life. It's such an honor to hear those types of comments from parents and former campers. We've been very fortunate and very lucky," says Rouse.
ESF Summer Camps
at William Allen Middle School
801 N. Stanwick Road | Moorestown
(856) 235-5300
ESFCamps.com/Moorestown
Published (and copyrighted) in Suburban Family Magazine, Volume 9, Issue 1 (March 2018).
For more info on Suburban Family Magazine, click here.
For information about advertising in Suburban Family Magazine, click here.
To find out where to pick up your copy of Suburban Family Magazine, click here.