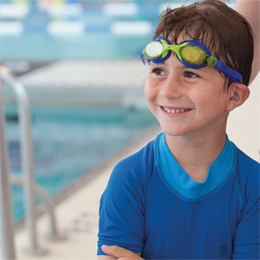 A Summer to Remember
For children, summer means having more time to play with friends and less time in the classroom. For parents, this means finding their children the perfect day camp to keep them learning and active while they are busy at work. Insert ESF Camps & Experiences, a camp commit- ted to quality and excellence by offering children activities to help them grow confidence through Education, Sports and Fun.
"ESF families have labeled our camps the 'Gold Standard' because of our impeccable safety record and policies, the maturity and unrivaled customer service from our all-adult team members, our innovative, fun and well-planned curriculum and activities, our variety of programming and our focus on character development that's threaded throughout all our programs and reinforced within our traditions," boasts Chris Landosky, regional managing director.
And a summer without pool-time is a summer wasted; ESF knows that, which is why they have an amazing pool and aquatics program. This summer, ESF is even building a state-of-theart, 32-foot by 60-foot pool on campus.
What makes ESF so successful with parents and children? Their staff. "Our team brings camp to life and, not only do they implement our cutting-edge curriculum, they encourage our campers to grow," says Landosky. "We have an all-adult staff comprised of local educators and students majoring in education, child psychology, early childhood education, physical education, sociology and other child-centered majors. We work hard to recruit the best candidates and have developed numerous relationships with local colleges and universities where students can receive internship and course credit while working with ESF."
Each ESF team member goes through several candidacy steps, including a comprehensive background check and over 10 hours of training, says Landosky.
ESF has been a staple in the Moorestown community for almost 20 years now. Landosky says that between ESF at Moorestown's general manager, Rob Dieckert, and himself, they have been with ESF since its inception in Moorestown.
"It's been our honor to serve so many families and have them choose ESF each summer. We look forward to continuing to provide a lifetime of memories for children in the community," says Landosky. "So many former campers are now either team members or [are] becoming camp parents, which is extremely rewarding."
CAMPS/PROGRAMS AT-A-GLANCE
MINI CAMP
Children who are 3 years old and potty-trained are invited to spend their first summer with ESF. The camp is filled with daily and weekly themes of enriching activities and fun play. This camp is offered as a full-time or part-time option.
DAY CAMP
For children ages 4-8, they will be given instructional swim lessons daily and spend time participating in weekly activities like martial arts, fencing, archery, Zumba®, tennis and more. This camp allows children to experience activities in the arts, sciences, music and sports to explore and find their passion.
SPORTS CAMP
Athletic children, ages 6-14, can participate in a camp with 10 different sports throughout a week. Campers will be able to experience two different sports daily as team members provide instructional work- outs and competitions for campers to develop skills in a competitive and supportive environment. World League competitions between other ESF Sports Camp locations provide campers with a travel sport experience.
SENIOR CAMP
For the older campers, ages 9-15, they get a little bit of everything at ESF. By participating in a wide variety of activities and working with others in their age group, campers are able to grow individually and socially. True Life Adventures provides an opportunity for campers to focus on a professionally themed subject and work toward a final project.
SPECIALTY MAJOR CAMPS
Campers who are interested in one specific subject prosper in this camp for ages 6-14. ESF offers a wide variety of specialty courses in the sciences and arts including CSI Forensics, Space & Rocketry, Musical Theater, Vetri Chef Academy and more. Each class is taught by a Subject Matter Expert in that specific field.
TECH CAMPS
Exploring technology at ESF is easy with this grades 1-9 camp. Campers are able to work on specific tech projects like exploring 3D worlds in Minecraft, working with robots and more. The group will work on one project weekly, culminating every Friday.
JUNIOR BUSINESS ACADEMY
The new Junior Business Academy is powered by the Jack Welch Management Institute for campers in grades 5-8. The goal is to instill an entrepreneurial mindset in youth while helping campers build a personal foundation to becoming innovative leaders and design thinkers.
TENNIS CAMP
Teaching campers ages 6-15, the camp offers programs for beginners, intermediate and advanced players. Offering full or part-time camps, your tennis star is sure to see results by this camp's end with fun and uniquely designed programs.
EXTEND YOUR DAY
For parents who get to work early or stay later than the traditional work-day hours, ESF offers this camp for children to come in as early as 7:30 a.m. and stay as late as 6 p.m. The camp offers free play combined with choice and curriculum-provided activities in a structured and well-supervised session.
What the parents have to say:
"Everyone says how much their kids love ESF and it didn't fail to live up to its reputation. My son was so happy to go every day!"
"The ESF counselors were the most well trained, responsible and attentive group I've ever encountered in any of my children's camp experiences."
"ESF is a wonderful environment. My kids feel safe, happy and secure enough to try new things. They could not wait to get to camp each day."
"My grandchild loves everything about camp! The definition of fun is ESF."
"He loved it! Loved the sports, the activities, the kids, the staff…everything!"
"Just when you think you've seen it all, they come up with new ideas."
ESF Camps & Experiences
William Allen Middle School
801 N. Stanwick Road, Moorestown
(856) 235-5300
ESFCamps.com/ Moorestown
Published (and copyrighted) in Suburban Family Magazine, Volume 8, Issue 1 (March, 2017).
For more info on Suburban Family Magazine, click here.
For information about advertising in Suburban Family Magazine, click here.
To find out where to pick up your copy of Suburban Family Magazine, click here.