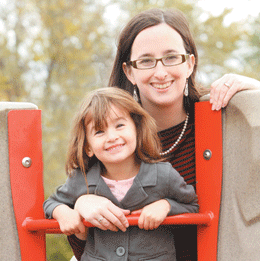 Editor's Note: May, 2013
It's hard to believe that I'm wearing a sweater as I write this and we had to cover up our flowers last night to protect them from the frost. I have to keep telling myself it's mid-May and, pretty soon, it'll no longer be wishful thinking—summer will be here.
If you don't feel ready for it yet, allow us to get you started with our 2013 Family Shore Guide. A must-read for anyone planning a trip to their favorite beach this summer, it's full of the best family-friendly restaurants, whether it's pizza or some fresh-from-the-water seafood you crave, the best amusements and sweet treat spots, and other helpful hints any parent can appreciate (think beach-to-changing-table proximity). But there's only so much we can do to get you ready, so go ahead and get out the weights now to start working on your upper arm strength. You're going to need it to lug all those kids' toys around.
Speaking of working out (and, let's face it, beach season), you'll find a great story on our Art of Living Well side about how to lose that stubborn weight after having a baby. In Body After Baby, we'll show you why you need to quit doing crunches and how working on your core is what will get you to your goal. You'll find it really is possible to squeeze in workouts without taking away quality time with the family.
And, of course, we take a moment this month to honor all the moms out there. Though we had to choose just a few through our online Mothers of the Year contest to spotlight, we know all moms out there are deserving of the recognition for the unique ability they have to be both parent and friend at the same time and guide us through the most difficult and the most amazing moments of our life.
It's hard to put into words how thankful we are for everything they do for us, but I think my daughter said it best to me on Mother's Day morning, and so I'll say the same to all other moms reading this.
Thank you for your love.
Warmly,
Colleen Patrice Clark
Executive Managing Editor
Published (and copyrighted) in Suburban Family Magazine, Volume 4, Issue 3 (May, 2013).
For more info on Suburban Family Magazine, click here.
For information about advertising in Suburban Family Magazine, click here.
To find out where to pick up your copy of Suburban Family Magazine, click here.