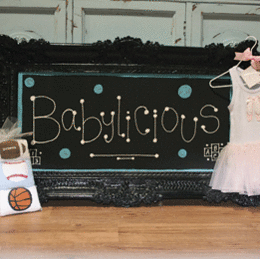 Mixellaneous
Bringing the fun back to shopping.
Too often, shoppers find that boutiques offer one of two things: either more of the same old boring stock, or intriguing finds, but at astronomical prices. Well, there's a new gift boutique in town. Mixellaneous, in Marlton, offers an eclectic mix of items for the home, closet, nursery and playroom. "I wanted to bring fun back to shopping," says Michelle Stander, owner. "There's an experience that you should get when shopping. It's part of what women love about it!"
Mixellaneous, open since mid-May, emphasizes variety. "There is a bit of everything, from tabletop to baby gifts and everything in between, in an assortment of prices to fit every budget," Stander says. "It's a place to buy a great bat mitzvah or Sweet 16 gift, something special for your best friend and the perfect housewarming gift. And, don't forget something for yourself!"
Walking into Mixellaneous, customers are struck by the array of boutiques within the boutique: vignettes of adorable baby goods, house wares, apparel and toys. "In creating the experience," says Stander, "I wanted people to walk in and not know where to look first. They should be able to browse at their leisure."
Since Stander was the original owner of The Playing Field children's store in Marlton for 15 years, children's find are a natural specialty. The "Babylicious" area is dedicated to the youngest clientele, offering clothing, bags, hooded towels and other great gifts for new parents and babies, including items starting at $10.
Youngsters will also enjoy the area filled with toys. "This is where the fun really begins, with gift ideas between $10 and $25," Stander says. "We have Magnetic Thinking Putty, Lab-In-A-Bag and a number of kids' cooking kits, including 'Uck Yuck Worms in Muck' and 'Fairy Princess Magic Cookie Kit' for the little chefs."
Of course, apparel is an important part of the mix. From Quik Silver to Butter, the selection of boys' and girls' clothing is fun, wearable, affordable and stylish. But there's plenty for women, too. Customers find a great selection of accessories for all ages and a full line of fun, stylish costume jewelry. There's also the "Missellaneous" section, stocked with women's wear with a focus on casual chic, including designs by Lilla P, Twisted Heart and Sugar Lips.
"Domixications" is home to great gifts for every room in the house. "Whether for yourself or a friend who just bought a new home, we have any number of items sure to please. There are Lasco candles, artistic frames and one-of-a-kind, hand-painted furnishings," Stander notes.
With the summer in full swing, Mixellaneous is all about Shore season. Frames, notebooks and trays are adorned with seashells, starfish and other aquatic themes, and specialty bowls filled with chocolate fish will delight hosts and guests alike. But, summer also means camp, and there are a great number of options for teens and tweens heading away from home, including pillows, blankets and overnight bags.
"To round out the fun is 'Mixalicious,' our in-house candy shop chock full of favorites," Stander adds. "We have the traditional gummy bears in all flavors, chocolate covered apples and gourmet chocolate pretzels drenched in caramel. Then, there's the latest yummies, such as Funky Chunky Popcorn, Brittle Bark Pie and Banana Cream Pie candy. One of our most popular sections, it's a real mix!"
Taken together, all Mixellaneous' wares provide something South Jersey was sorely lacking: a guaranteed, go-to gift shop for unique finds in a fun environment. Stander adds, "I want the store to be a place one goes in need of a gift, but also for those in need of some retail therapy. Clients will enjoy the experience of shopping—not just the merchandise but the whole experience. People of all ages will feel good about shopping here."
Customers come first for Stander, as well as Paula Zuckerman, who was her former partner at The Playing Field, and store manager, Miriam Rivkin. All three share this commitment, and it has become a guiding principle for the entire staff.
With the first phase in play and the gift boutique bustling, Stander is looking ahead to what's next. "We will hold a blockbusting grand opening this fall and then begin work on phase two, which will include converting the additional space into a place where women and children will have a choice of classes and events. From dance and 'little scientist' classes to birthday parties and women's nights, it too will be a mix of great ideas."
Mixellaneous
Designers Court
947 Route 73 S., Marlton
(856) 574-4310
Mondays-Saturdays, 10 a.m. to 6 p.m.
Thursdays 10 a.m. to 8 p.m.
Published (and copyrighted) in Suburban Family Magazine, Volume 2, Issue 4 (June, 2011).
For more info on Suburban Family Magazine, click here.
For information about advertising in Suburban Family Magazine, click here.
To find out where to pick up your copy of Suburban Family Magazine, click here.