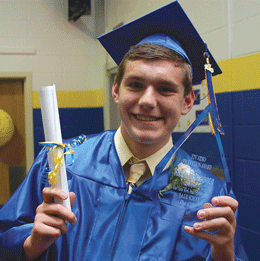 Y.A.L.E. School
Special education with real-world results.
When Y.A.L.E. School began 35 years ago, founder Louis Sarandoulias envisioned a program for students with disabilities that connected learning to real-world results. With strong roots in vocational education, the former principal of Camden County Voca­tional Technical School believed that every aspect of learning—academics as well as social and personal development—contributed to a student's future success. Today, the Y.A.L.E. School continues to pioneer innovative approaches to special education and transition planning to encourage positive school outcomes.
With nine campuses in south­ern and central New Jersey, Y.A.L.E. serves students ages 3 to 21.
Each educational setting reflects the academic, social and functional needs of the students. For example, the school's programs in Medford and Mansfield take a novel approach to special education for elementary and middle students with Asperger's disorder. Through a unique school-within-a-school model, students benefit from an educationally and socially enriched program located in a public school. Jim Conley, who oversees the programs, observes, "Our Y.A.L.E. students not only have access to surrounding resources, but they also have the advantage of receiving instruction and support services that are still tailored to meet their special needs."
Children with autism and autism-spectrum Pervasive Develop­mental Disorder, (PDD-NOS), benefit from the school-within-a school model at Y.A.L.E. classrooms in Audubon and Hamilton Township. These satellite locations provide a seamless transition to middle school and high school for students who begin their education at the Y.A.L.E. autism program at the Voorhees campus, a premier regional resource for children with autism and PDD-NOS. Program director Rachael Sautter, Ph.D., BCBA-D, highlights the importance of the behavior analytic approach used in Voorhees and its satellites. "Applied Behavior Analysis is the foundation of our programs; it is the only empirically proven treatment for Autism and PDD," notes Dr. Sautter.
In Cherry Hill, Y.A.L.E. serves elementary and high school students through age 21 with high-functioning autism, Asperger's disorder, nonverbal learning disabilities, anxiety disorders and co-existing conditions. Students benefit from a challenging technology-enriched academic curriculum, along with community-based instruction, transitional education classes and a school-to-work component.
Social skills instruction also plays an integral role in student progress at both the elementary and high school levels. "Having full-time clinical support and related services staff helps students systematically build social skills, develop personal strengths and realize individual goals for improvement," says Dr. Josie Cetta, school psychologist.
Extracurricular activities give students opportunities to recognize talents and strengths. A television studio with weekly productions, sports teams, an Annual Talent Show, Poetry Slam and Video Festival, a school store, Lego Club with robotics and animation, a therapy dog program, and a small wood product manufacturing company offer choices that enliven and enrich the school day.
The private school currently serves students from nearly 80 school districts in its various programs. "Districts and parents appre­ciate the continuity of our programs and the resources that Y.A.L.E. develops to address needs as they arise," says Karen Carr, Admissions Director.
To meet the diverse transition needs of high school students, Y.A.L.E. initiated the new Standard 9 Program for continuing high students, ages 18 to 21. Participants have met all academic requirements for graduation but need more intense planning and preparation before transitioning to college or the workplace. Based on New Jersey's educational Standard 9 for 21st Century Life and Career Skills, the program provides academic instruction, career exploration, job readiness, independent living skills, service learning and social skills development.
Three Standard 9 options help students meet individual post-secondary goals. The first assists college-bound students with study skills, organization and time-management as they gradually adapt to the rigors of college courses offered in partnership with Camden County College. A second allows undecided students to participate in work rotations on the college campus while sampling college entry level courses. A third option prepares students exclusively interested in entering the workforce through job internships with local businesses.
The Standard 9 Program serves students currently enrolled in Y.A.L.E. and new applicants referred from high school districts. The number of participants grew from two students in 2005 to 40 students in the upcoming school year. Peggy Chapman, coordinator of the program, finds that students with special needs thrive during this phase of concentrated transition preparation.
"College and the workplace are highly competitive arenas for every high school graduate," she notes. "But by enabling our continuing high school students to mature and acquire adaptive skills in these environments prior to graduation, we help level the playing field so that they compete more confidently and successfully," adds Chapman.
Over the past five years, Y.A.L.E. graduates have been accepted to 20 colleges and universities and hired by more than a dozen area employers. As Louis Sarandoulias intended, graduation at Y.A.L.E. brings positive assurance to new graduates that the future holds promise and opportunity for the well prepared.
Y.A.L.E. School Main Campus is located at 2127 Church Road in Cherry Hill, N.J. 08002. For additional information contact Karen Car, Administration Director, Cherry Hill Campus at (856) 482-5252 ext. 150 or visit YaleSchool.com.
Published (and copyrighted) in Suburban Family Magazine, Volume 2, Issue 4 (June, 2011).
For more info on Suburban Family Magazine, click here.
For information about advertising in Suburban Family Magazine, click here.
To find out where to pick up your copy of Suburban Family Magazine, click here.