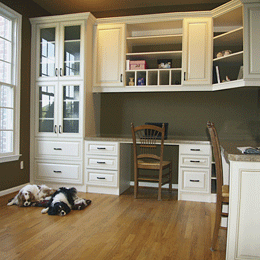 Closet City
Clear away your clutter—and showcase your personality!
In an industry of flat-packed, build-it-yourself furniture, real customized pieces stand out like nothing else. Closet City, an organizational design company and custom cabinetry manufacturer, is dedicated to out-of-the-box designs that sweep away clutter and let clients' personalities shine through. From home offices to home theaters, their products make for innovative solutions for any space.
For more than 25 years, Closet City has been organizing and designing functional interior spaces for clients throughout the tri-state area, including Cherry Hill, Moorestown, Marlton and along the Jersey Shore.
Janet Stevenson, design manager, had her own successful closet-organizing business for 10 years prior to joining the Closet City team nearly two decades ago. That experience is key, she says.
"I think what really sets us apart is how long we've been in the business," Stevenson says. Just as vital is their commitment to service. "We're committed to providing the most professional experience, products and service to our clientele. Also, being a board member of the ACSP (Association of Closet and Storage Professionals) allows me to have the pulse of the industry, and to make a difference so that we are not viewed as a 'chuck out of the truck' industry, but the most professional that we can be."
Subtle differences Closet City manufactures all materials in house, Stevenson says. Those include real wood, lighter medium-density fibreboard and laminates. Wood and MDF materials can be designed and stained in any color to fit into your existing decor and furniture.
In addition to wood-grain veneers and granite counter tops, the company is experimenting in newer environmentally friendly and low-emission products. "We recently used our Vetrazzo product to create a drop-dead gorgeous desk. It's very 'green': poured concrete embedded with different pieces of glass to create color and shine," she explains.
"We hear what our clients want, and, because we're also a manufacturer, we'll think out of the box to give them what they want," Stevenson says.
Closets that wow Today, a closet is far more than just a place to keep clothes: it's your personal fashion oasis. Cabinetry shifts to reveal hidden gadgets, like a fold-up ironing board, camouflaged wall safe or entire panels and cabinetry dedicated to jewelry storage. Full-length mirrors can slide in and out of small spaces, to help put the finishing touch on your look without taking up valuable floor space. Shoe lovers rejoice: your Louboutins and Manolos can have their very own display shelves if you desire.
"It doesn't have to be just open shelves in a closet anymore," says Joanne Landis, a graphic designer and spokesperson for the company. "We can make it look more like furniture to match the rest of your home."
One of the most popular new additions to a walk-in space is an island, Landis says. An island or counter inside your closet, topped with luxurious granite or hard wood, offers additional storage for jewelry, camisoles, socks and anything not displayed on a shelf. A comfy seat welcomes you to put on your shoes, sort through jewelry or apply makeup.
Utility spaces Today's utility spaces require both form and function, to fit a growing family's needs.
Stevenson believes a home's laundry room has to be as space efficient as possible. "I try to make every laundry area just the way I would want it in my own home," she says. "It's really got to work for you."
"With today's fashions, so many women these days need to hang our clothes to dry to avoid shrinking them—a drip dry area, either in a pull out or bar over a utility sink, can help avoid that problem."
Stevenson says she recommends creating a folding area inside any laundry room, plus places to store laundry baskets or open bins for miscellaneous items. A series of drawers can help separate clean clothes as you fold. "You've got the washer and the dryer, but we can do entire walls of cabinetry to put detergents and other stored items, or a closet to hold an ironing board, clothes waiting to get ironed, and out-of-season clothes," she notes.
Custom creations "Every project we do is built to suit the person that's using it," says Landis. "You can be as simple and basic as you want in a closet, or you can go full-blown in the other direction."
The same six-foot-by-six-foot space in one home can be a shoe-lover's paradise for one family, or a floor-to-ceiling businessman's wardrobe in another, Landis says.
To get started, a professional will come to your home and analyze the space in question, then draw up a plan in notes and sketches. Next, the designer makes her vision come alive in a computerized 3-D drawing of the proposed space.
A closet pro like Stevenson "thinks about things you might not even notice, like how to work around outlets and heater vents. She'll learn how you want to use this space, your storage habits, and whether you want to go fancy or simple," Landis says. "We can really do anything you can think up."
With a showroom in suburban Philadelphia, Closet City's creative team has a vast portfolio of work from South Jersey and the Shore. For more information, call 1-800-342-0070 or visit www.closetcity.com.
Published (and copyrighted) in Suburban Family Magazine, Volume 2, Issue 4 (June, 2011).
For more info on Suburban Family Magazine, click here.
For information about advertising in Suburban Family Magazine, click here.
To find out where to pick up your copy of Suburban Family Magazine, click here.