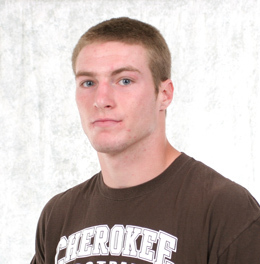 Star Athletes: June, 2011
Mike Zeuli
Marlton
Cherokee High School senior Mike Zeuli (pictured), the two-year football team captain who lead his team to consecutive State Championships, will be heading to Princeton University to play football this fall. He has played as a starter for the past three years and holds the record for the school's highest yards-per-carry average for a running back.
Alex Dimpter
Cherry Hill
Cherry Hill High School East sophomore Alex Dimpter threw a sensational no-hitter that helped the Cherry Hill East baseball team to a 2-0 victory over Washington Township, during a South Jersey Group 4 playoff game.
A.J. Ashton
Washington Township
Washington Township High School junior A.J. Ashton has set a new school record in the 300-meter hurdles. Ashton was able to complete the hurdles in just 40.31 seconds at the Henderson Invitational meet in Pennsylvania.
Kris Vardouniotis
Medford Lakes
Eleven-year-old goalie Kris Vardouniotis led his Medford Lakes Warriors fifth-grade lacrosse team in the Moorestown Lacrosse Tournament, winning three games and losing one. He allowed only three goals throughout the day, and managed to prevent the West Windsor team from scoring at all.
Casey Shultz
Washington Township
Hurffville Elementary School fifth-grade student Casey Shultz swam her way to victory in the 50-meter freestyle at the Peach Bowl in Gloucester County, winning herself a gold medal. She has also qualified for Tri-County in the breaststroke, the butterfly and freestyle. In addition to swimming, Shultz also particpates in basketball, lacrosse and soccer.
Steph Vuono
Voorhees
Eastern Regional High School's pitcher, junior Steph Vuono, has helped her softball team on an 11-game winning streak this season. Against Timber Creek at an Olympic Conference interdivisional game, Vuono struck out eight players and walked none.
Sean Heine
Medford
Medford Renegades baseball player Sean Heine hit three home runs and two grand slams at the War in the Woods Memorial Day Tournament. The switch-hitter averaged an impressive .750 for the tournament and batted over .500 for the season.
Kristen Hynoski, Jared Payne, Quinn Smith & Heather Warren
Moorestown
The William Allen Middle School four-by-800-meter relay team, consisting of Kristen Hynoski, Jared Payne, Quinn Smith and Heather Warren helped the Quakers win the Moorestown Relays for the first time ever. The team won their race, which put the Quakers in prime position to triumph over the other 15 teams competing at the event.
Emma Blackburn
Mount Laurel
Ten-year-old gymnast Emma Blackburn traveled to Pennsylvania State University to compete with TNT Elite Gymnastics at the Nittany Invitational. She placed first all-around, won first place in the uneven bars and balance beam, and took second and third in floor and vault, respectively.
Kaitlyn Bonnet
Haddonfield
Eleven-year-old Kaitlyn Bonnet ran in Elizabeth Haddon School's seventh annual 5K fundraiser and finished first in the women's overall category. She finished the 5K in a speedy 19 minutes and 54 seconds.
Vicki Maffei
Sicklerville
Timber Creek Regional High School senior Vicki Maffei leads the Timber Creek softball team in hitting with a .340 average. She has also hit five doubles, a triple and 14 runs so far this season.
Published (and copyrighted) in Suburban Family Magazine, Volume 2, Issue 4 (June, 2011).
For more info on Suburban Family Magazine, click here.
For information about advertising in Suburban Family Magazine, click here.
To find out where to pick up your copy of Suburban Family Magazine, click here.