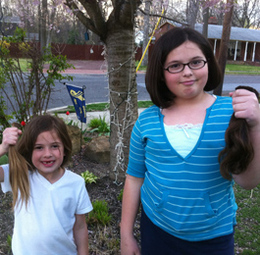 Star Citizens, June 2011
Jenni and Kara Ryan (pictured)
Delran
St. Charles Borromeo fifth-grade student Jenni Ryan and her sister, first-grade student Kara, recently cut their hair to donate it to the Locks of Love program, a nonprofit organization that works to provide wigs to children suffering from medical hair loss.
Giavana Marotta
Washington Township
Thomas Jefferson Elementary School fourth-grade student Giavana Marotta organized an animal supply drive at her school after seeing a need at the Camden County Animal Shelter, where she went to select a kitten for adoption. The school came together and donated blankets, comforters, sleeping bags, pillows, pet food and toys that were donated to the shelter.
Kevin Custis
Mount Laurel
Kevin Custis, a Lenape High School junior, was born with a disorder that ultimately resulted in a diagnosis of scoliosis when he was 5, but he has never let that hold him back. Now an Eagle Scout candidate, Custis is working on a project to plant bushes spelling "LENAPE" near his school's football field.
Giavanna Plaza
Cinnaminson
St. Charles Borromeo Elementary School student Giavanna Plaza decided to skip birthday gifts for herself, and instead focus on helping others. This year, the fourth-grade student asked that donations be made to the Burlington County Animal Shelter in lieu of gifts.
Matthew and Luke Haddad
Washington Township
Hurffville Elementary second-grade student Matthew Haddad and his brother, Luke, a kindergartner at Grenloch Terrace Early Childhood Center, joined forces to raise money for the Japan Earthquake Relief Fund at Hurffville Elementary. The brothers not only raised money for the fund, but also encouraged their peers to do chores at home in order to earn money to donate to the relief fund.
Zach Jacobs
Voorhees
Twelve-year-old Voorhees Middle School student Zach Jacobs hosted a kickball tournament as part of his bar mitzvah project. The tournament brought 40 local first-grade students together to play kickball and raise money for Susan G. Komen for the Cure. All told, Jacobs raised more than $800.
Shilpa Vasishta
Cherry Hill
Class of 2006 Cherry Hill High School East graduate Shilpa Vasishta is serving in the Peace Corps and working as a teacher in a rural school in South Africa. Vasishta also organized a Learner to Learner book drive, collecting donations from the Cherry Hill community to share with her African students.
Tom Sadler
Moorestown
Working toward his Eagle Scout rank, 17-year-old Moorestown High School student Tom Sadler converted the third floor of the Moorestown Recreation Center to a comfortable place where teens and groups can hang out. Over the course of three days, Sadler, along with fellow troops, friends and family, repainted the walls and replaced some of the old furniture.
Peter O'Neill
Marlton
Evesham Township alumnus Peter O'Neill, 25, has become an expert on great apes, working with the animals at the Florida Ape Sanctuary and helping them readjust to life in the wild. Previously, O'Neill volunteered at the Philadelphia Zoo and the Adventure Aquarium.
Conor Cahill and Karlee Dean
Medford
Conor Cahill and Karlee Dean are recipients of the third annual Gerald B. Cahill and Medford Lakes Athletic Association Volunteerism scholarship awards. The scholarships are awarded to Shawnee graduates whose community involvement and volunteerism best represent the spirit of Gerald Cahill, who dedicated his time to supporting the children of Medford Lakes through recreational sports.
Lori Swartz
Marlton
Lori Swartz, a sophomore at Cherokee High School, is the student leader of the Cleats 4 Kids drive, collecting some 250 cleats for children who can't otherwise afford them. The drive was founded by 2007 Cherokee graduate Bryan O'Donnell, who continues to work on the project. The drive is held in remembrance of Anthony Farrace, a Cherokee football player and wrestler who died in a car accident.
Published (and copyrighted) in Suburban Family Magazine, Volume 2, Issue 4 (June, 2011).
For more info on Suburban Family Magazine, click here.
For information about advertising in Suburban Family Magazine, click here.
To find out where to pick up your copy of Suburban Family Magazine, click here.