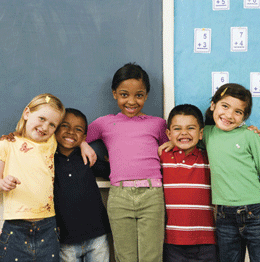 Called to Care
Local services offer life-changing opportunities for families with special needs.
A family with a child who has special needs can face enormous challenges, both emotional and financial, but the South Jersey community has a number of programs and organizations that offer assistance and support. From education to health and even entertainment, these local groups recognize the potential for greatness in all children, and make it their mission help them realize that potential.
Learning for Life
Education is important for all children, but for a child with special needs, it is paramount. The Y.A.L.E. School in Cherry Hill creates an environment of optimism and understanding for special needs students. "Optimism springs from students who know their strengths and have multiple opportunities to share and develop them," says Peggy Chapman, the school's program coordinator. "Children with special needs inevitably go through a time of frustration, wondering if they'll really be able to accomplish what they hope to do. Our challenge is to help them understand that they are not heading for disappointment, but rather, they're already in the process of succeeding."
The Y.A.L.E. School works to prepare special needs children, ages 3 through 21, for the transition into college and the work force. "Specialized strategies and supports prepare students with special needs in the final phase of transition education, leading to adulthood at age 21," says Chapman. With help from the Y.A.L.E. School, special needs children are set on a path toward independence.
Chapman takes great pride in her work. "Working with special needs children is more of a calling than a career," she notes. "In this field, we can see our special place in a child's life minute by minute."
Family Services
Caring for the health of a special needs child can be a constant struggle. It is easy for families to become frustrated as the bills pile up and their child's future remains uncertain. Fortunately, there are organizations that help special needs families with this dilemma. Through its Early Intervention Program (EIP), Our Lady of Lourdes Medical Center in Camden offers children, from birth to age 3, assistance at no cost to the family. The EIP helps in areas including family training, behavioral therapy and social services.
Heather Haines, Lourdes' early intervention supervisor, encourages parents to remember that their support can really impact their child. "One thing that every parent with a child with special needs should know is that their child's successes are in direct relation to the effort they put forth with the therapist to assist their child reaching milestones and goals," she says.
The Catastrophic Illness in Children Relief Fund assists special needs families with the financial load of caring for their child. The fund's assistant director, Margaret Caporusso, explains, "Families with special needs children face continuous daily challenges in providing adequate medical care in a safe environment. Their needs are ongoing and, unlike having a child with an acute illness, their financial responsibilities for their special needs child never end, and can become overwhelming. The fund has helped many families with the expenses of chronically ill children." The fund is meant to be a last resort after all other options (including state or federal programs) have been exhausted.
Research
The Center for Autism Research at The Children's Hospital of Philadel­phia works to find answers to the difficult questions that plague families with autistic children. Though there is no cure for autism or autism spectrum disorders (ASD), the center is making great strides and discovering new things about the disorder every day.
Debra Dunn, outreach director of the Center for Autism Research, notes, "Our researchers have led the way in finding genes associated with ASD, and we are conducting further research to understand how these genes impact the developing brain and the behavior of individuals with ASD."
The families who work with the center come away feeling good about their contributions to science, and knowing that they may soon know more about their child's disorder. Dunn says, "In the past three years, we have reached over 10,000 families living with autism through conferences, workshops and community events. We understand that parents have a lot going on in their lives and try to make research as beneficial and easy as we can."
Entertainment
Being a kid is supposed to be about having fun, but special needs children can sometimes get left out of recreational activities. Fortunately, there are programs that encourage special needs children and their families to come out and have a good time.
Children and their families alike enjoy baseball, the great American pastime. Challenger Baseball, a program run by Steve Silverman in Cherry Hill, brings the joy of baseball to special needs children and their families. Every Sunday from mid-April until June, special needs families can gather while the children, ages 5 to 19, play ball. Every child gets a hit; every child is safe on a base; every child scores a run; and every child is a winner!
The Katz Jewish Community Center (JCC) in Cherry Hill offers special needs children and their families lots of fun opportunities year round. Holiday celebrations through­out the year, along with ongoing programs like the basketball team, swim team, musical theater group, help give special needs children opportunities to learn, play and meet new friends.
"We provide a community of peers," says Eileen Elias, the director of Katz JCC's special needs program, "a place to where they can make friends, take pride in themselves and have a positive impact on their community."
Ready to Help
…Special Advertising Section from the pages of Suburban Family Magazine…
Catastrophic Illness in Children Relief Fund
The Catastrophic Illness in Children Relief Fund comes to the rescue when your child's medical bills are too big to handle. They step in and cover the expenses your insurance or state/federal programs can't.
Serving South Jersey
(800) 335-FUND
NJCatastrophicFund.org
Center for Autism Research
The Center for Autism Research (CAR) at The Children's Hospital of Philadelphia conducts research on treatment, diagnosis, genetics and brain imaging, as well as co-occurring problems related to sleep and anxiety. Children and adults with or without autism are invited to participate.
Serving South Jersey
(866) 570-6524
Autism@email.chop.edu
CenterForAutismResearch.com
Challenger Ball
A fun way for special needs families to spend a Sunday afternoon, Challenger Ball makes every child feel like a winner. Sign up to play ball or volunteer to help.
Cherry Hill
ChallengerBall.com
Katz Jewish Community Center
With lots of fun activities and celebrations year round, the Katz JCC is the perfect place to have a ball. Whether your special needs child wants to play basketball, sing or just meet some new friends, this is the place for them.
Cherry Hill
(856) 424-4444
KatzJCC.org
Our Lady of Lourdes Medical Center
U.S. News and World Report just recently awarded them the honor of a Best Regional Hospitals Ranking with special recognition in Geriatrics, Kidney Disorders and Urology.
Serving South Jersey
(888)-LOURDES
LourdesNet.org
Y.A.L.E. School
At The Y.A.L.E. School, we provide evidence-based special education services—within a school-wide culture of optimism and understanding—to students 3 to 21 years of age with social, emotional, neurological, behavioral and learning disabilities. The Y.A.L.E. School is more than a path to a diploma; it is a path to life.
Cherry Hill
(856) 482-5252
YaleSchool.com
Published (and copyrighted) in Suburban Family Magazine, Volume 2, Issue 4 (June, 2011).
For more info on Suburban Family Magazine, click here.
For information about advertising in Suburban Family Magazine, click here.
To find out where to pick up your copy of Suburban Family Magazine, click here.