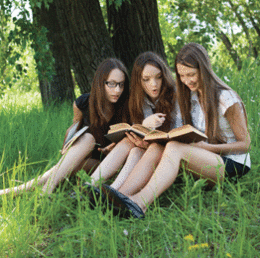 Summer School
Educators call summer "the big eraser" for a reason: kids forget a lot of what they learned in school. Here's how to take a stand against learning loss.
It's summertime at last. Slather on the SPF, crank up the tunes … and put away the schoolbooks? Not so fast.
If academics are taken completely out of the summertime equation—as many school-age children might prefer at the end of a grueling year—much of what they've learned could be lost. According to research, kids lose about two months' worth of grade-level equivalency in math skills over the summertime. They score lower on standardized tests at the end of summer than they do at the beginning of the vacation. And, a lack of summer learning opportunities has been significantly linked to lower achievement throughout the year.
But what to do about the summertime slide? While some experts have called for year-round school or more expansive academic offerings in the warmer months, most agree that formalized intervention is unnecessary for kids whose summers are packed with enriching experiences like camp, family vacations and even swim team.
"It's a very normal, typical process," explains Naomi Marmorstein, associate professor of psychiatry at Rutgers University-Camden. "If it happens to a child, it doesn't mean it's something parents should be worried about it. That said, it certainly couldn't hurt to en­courage your child to engage in activities over the summer that would minimize the process."
For most kids who are not enrolled in summer school out of necessity, "gentle encouragement," can go a long way, explains Marmorstein. That could mean enrolling the kids in free summer programs at local libraries, which typically offer incentives for meeting reading goals. Or, parents can jog kids' math skills by practicing fractions during a supermarket trip, or figuring out percentages while discussing batting averages during a Phillies game.
"It never hurts to ask your child's teacher for suggestions, because the child's teacher has a sense of what excites the child, the child's strengths and if there's anything you could be working on over the summer to rectify potential weaknesses," she adds.
For some, summer can even be a time to get ahead in their studies, notes Medford mother Verna Kraft. Her 7-year-old daughter, Kaya, has been enrolled at the Medford Kumon Math and Reading Center since she was 4, and Verna says she can't imagine taking summer off. Heading into second grade at Chairville Elementary School, Kaya's reading and math are at a fourth-grade level. She does her program work in the morning and still has time for ballet, camp, piano and other summer activities.
"Besides the fact she's gotten used to it now, it teaches you how to learn," says Kraft. "It's amazing what children can do if you don't put [an] age limit or grade limit to their capabilities."
Kraft isn't the only one with that idea; in fact, Kumon's enrollment actually picks up in the summer. "A lot of parents want to make sure their kids are continuing to exercise their brain," explains Demetrio Timban, center director. Children start as early as age 3 at Kumon, in courses that typically require two weekly visits and 20 minutes per day per subject area of at-home assignments. While it isn't always the child's idea to enroll, the extra help can pay off in September.
The great brain eraser can be an issue in high school years, too, notes Joseph Meloche, principal of Cherry Hill High School West. Cherry Hill educators know that the first month or so of school will be spent reviewing past materials, particularly in math. The most review takes place in ninth grade, as the transition from middle school to the larger high schools adds to the need to start on familiar ground, Meloche says.
Many local schools work to counter academic regression with mandatory summer reading programs. At Cherry Hill's high schools, for example, students must read one required book and another nonfiction book of their choosing relating to their grade-level theme, such as social justice or identity. They must be prepared to speak and write about the text during the first week of school in September.
Meloche says that, while students may gripe, Cherry Hill West's program has nearly 100 percent participation. His teachers spend time at the end of the year emphasizing the importance of tackling books of literary merit, as opposed to limiting beach reading to teen melodramas.
"It's part of the cultural expectation that's been out there for a number of years," says Meloche. "It's part of what everybody expects needs to be done."
Published (and copyrighted) in Suburban Family Magazine, Volume 2, Issue 4 (June, 2011).
For more info on Suburban Family Magazine, click here.
For information about advertising in Suburban Family Magazine, click here.
To find out where to pick up your copy of Suburban Family Magazine, click here.