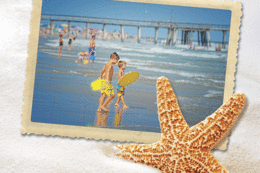 Make Some Waves!
Summer is finally here, so get ready to make a splash at the Jersey Shore with a season filled with adventure, relaxation and plenty of sugary confections. We scoped out the best of the beach to bring you a family-friendly Shore guide well stocked with activities, attractions and eats for sunny afternoons and even those dreaded rainy weekends. So pack the car, bring snacks for the Expressway and get ready for the best summer ever.
Beaches and Boardwalks
Shoobies flock to Ocean City's two-and-a-half-mile ocean- side boardwalk featuring great food, shopping, arcades and amusements. The Canyon Falls Log Flume at Gillian's Wonderland Pier is a fan favorite, (Sixth Street and the Boardwalk, 609-399-7082), while the Music Pier is a center for concerts of all types. Sea Isle City's 1.5-mile Promenade is lined with shops, restaurants and arcades; the beach is popular for sunning and surfing—and Heritage Surf and Sport even offers a few free surf lessons throughout the summer (37th Street and the beach, 609-263-3033). Also popular are Long Beach Island's 18 miles of sugar sand beaches, which range from ideal surfing beaches to almost wave-less bayside beaches for those who prefer more tranquil waters. You can even add ecological education to with a self-guided tour of LBI's Reclam the Bay Clam Trail (ReclamTheBay.org); pick up a map for details and to help the cause. Wildwood's two-mile-long Boardwalk features three thrill ride-packed amusement piers, including the famed Morey's Piers, (3501 Boardwalk, Wildwood, 609-522-3900), plus three water parks, gaming arcades, and plenty of shops and eateries. For a more natural vibe, Avalon and Stone Harbor boast safe swimming beaches with preserved dunes and good lifeguards, plus boutiques and restaurants in the nearby shopping districts. And Cape May beaches, ranked among the best in the country, offer stretches of shimmering sand, plus the option to rent cabanas or umbrellas for those who burn easily.
Junk Food
There's more to the Shore than saltwater taffy, although there are tons of places to find the well-known treat. Fralinger's and James have nine shops between Atlantic City and Cape May, (visit SeaShore­Taffy.com for locations). Beyond taffy, find out why Rachael Ray adores Ocean City's Crazy Susan's, (1345A West Ave., 609-391-1919), for its turtles, a mix of cashews, chocolate and caramel. Sea Isle City's Bubba Dogs (59th Street and the Beach, 267-987-4009), run by a local veteran, is a institution for classic dogs with all the fixings. When it comes to carbs, you can't beat the legendary Curley's Fries, which first opened at Morey's Piers in 1978. Or, for an early morning fix, LBI natives swear by the elephant ears at Crust and Crumb Bakery, (9th Street and Bay Avenue, Beach Haven, 609-492-4966). When in Stone Harbor, Springer's Homemade Ice Cream (9420 Third Ave., 609-368-4631) is practically mandatory, as are Jagielky's Homemade Candies when in Margate or Ventnor, (8018 Ventnor Ave., Margate, 609-822-2204, and 5115 Ventnor Ave, Ventnor, 609-823-6501), made with the family's secret recipes. Or, be the first on your block to try the brand new Toppings of Avalon, for nonfat frozen yogurt with an intriguing range of toppings (2166 Dune Drive, Avalon).
Casual Dining
There's no shortage of sensational seafood shacks down the Shore. Try Stone Harbor's Quahogs, (206 97th St., 609-368-6300), which was featured on Food Network's Diners, Drive-ins and Dives, or Cape May favorite The Lobster House (906 Schellengers Landing Road, 609-884-8296) for chowder, lobster or an old-fashioned clambake. For family-friendly fare on Long Beach Island, you can't beat the Chicken or the Egg, (207 North Bay Ave., Beach Haven, 609-492-3695), or Mustache Bill's Diner (Eighth Avenue and Broadway, Barnegat Light, 609-494-0155). Head down to Ocean City's Chatterbox Restaurant, (500 Ninth St., 609-399-0113), for Mike's secret recipe Chatterbox Chowder, or veer off to Somers Point for stellar baby back ribs at Back Bay BBQ and Grill (135 Somers Point-Longport Blvd., 6090788-4853). Kids and adults share a love for breakfast at The Mad Batter (19 Jackson St., Cape May, 609-884-5970). For breakfast or lunch in Sea Isle City, try the family-friendly Steak Out (609-263-6200, 4005 Landis Ave.). Or, grab dinner in Wildwood at Ravioli House, (102 E. Bennett Ave., 609-522-7894), which offers kid-friendly Italian dishes that will please parents as well.

Rainy-Day Attractions
A little rain doesn't have to ruin a good shore day. Indoor mini golf is a popular choice: try Wildwood's Dragon's Lair Indoor Blacklight Mini-Golf, (3616 Boardwalk, 609-522-0474), or Medieval Fantasy Miniature Golf (1336 Boardwalk, Ocean City, 609-938-0579), each with fantasy-themed holes under the eerie glow of black lights. But, for more educational options, consider Sea Isle City Library's summer reading club, (25 JFK Blvd., 609-263-8485). Nature lovers can try the Nature Center of Cape May for cool indoor activities, (1600, Delaware Ave., 609-898-8848), or Cape May County Park and Zoo (4 Moore Road, Cape May Court House, 609-465-5271) for its many indoor attractions. Another option is the Wetlands Institute (1075 Stone Harbor Blvd., Stone Harbor, 609-368-1211), with aquariums filled with aquatic life. Or, check out the Marine Mammal Stranding Center (3625 Brigantine Blvd., Brigantine, 609-266-0538), an education look at sea life found in New Jersey waters or stranded on its beaches. Or, get creative: try Ocean City's Children's Science, Cooking and Craft Workshops at Kidz Creations, (811 Asbury Ave., 609-399-9922), or check out the fine art and crafts at Ventnor's East End Gallery, (Ventnor Ave, 609-487-9293, 7817.) Kids can find imaginative play at the Jersey Shore Children's Museum (6725 Black Horse Pike, Egg Harbor Township, 609-645-7741), or either sign up for art classes or stop in for a free story time at the Noyes Museum of Art (733 Lily Lake Road, Oceanville, 609-652-8848).
Day Trips
No matter where you are at the Shore, inland excursions are just a short drive away. One favorite is Storybook Land, (6415 Black Horse Pike, Egg Harbor Township, 609-641-7847), an amusement park especially friendly to the very young. Blueberry picking not only fills a July day with active kids, but you'll have an antioxidant-rich haul to bring home; one option is B & B Farms, which uses natural growing techniques (250 S. Manheim Ave., Egg Harbor, 609-965-5558). See where the Discovery Channel's Swords is filmed at the Viking Village, (19th Street and Bayview Avenue, Barnegat Light, 609-494-0113), Or, for those with a fascination with aviation, the Naval Air Station Wildwood Aviation Museum (500 Forrestal Road, Cape May Airport, 609-886-8787) includes displays of aircraft, military memorabilia and interactive exhibits. Atlantic City isn't far, with its Gardner's Basin attractions including the Atlantic City Aquarium (800 N. New Hampshire Ave., 609-348-2880); discount outlet shopping at The Walk (1931 Atlantic Ave., 609-872-7002); and Absecon Light, New Jersey's tallest lighthouse with a breathtaking view from the top. Speaking of lighthouses, Cape May Lighthouse is worth a visit, as is the surrounding Cape May Point State Park, which includes a bird observatory, pristine beaches and preserved wetlands with boardwalks for strolling and bird watching (215 Light House Ave., Cape May Point, 609-884-8656).
Reasons to Book a Sitter
For adults-only nightlife, Atlantic City is an obvious choice for gaming at the Borgata or a concert at Showboat's House of Blues. But there are also under-the-radar options in town, including dinner at the exclusive Chef Vola's (111 S. Albion Place, 609-345-2022). If theater is more your speed, options include the Cape May Stage (405 Lafayette St., 609-884-1341); Surflight Theatre (Engleside and Beach avenues, Beach Haven, 609-492-9477); and East Lynne Theater Company, (500 Hughes St., Cape May, 609-884-5898). Nestled in between Ocean City and Sea Isle City is the charming, tiny town of Strathmere, where at the blinking traffic light you'll find the Deauville Inn, (201 Willard Road, 609-263-2080), a great place to enjoy cocktails overlooking the bay. Partake in dining and dancing at Avalon's Whitebrier Restaurant and Nightclub, (260 20th St., 609-967-5225), where three venues under one roof can bring you through pre-dinner cocktails, fine dining, and after-dinner music. Or, just up the road, La Piazza restaurant, (4600 Pacific Ave., Wildwood, 609-522-8300), has live music on tap on Friday and Saturday nights, along with fine Italian fare. If romance is what you're looking for, try the Gables Restaurant in Beach Haven, (212 Centre St., 609-492-3553), and be sure to request a table on the porch. Other intimate options include the BYOB Café Loren in Avalon (2288 Dune Drive, 609-967-8228) or the Ebbitt Room in Cape May (25 Jackson St., 609-884-5700), and Sea Isle City's Basilico's Restorante (27 43rd St, 609-263-1010). Or, enjoy the Tuckahoe Inn's Back Bay Café, (1 Harbor Road, Marmora, 609-390-3322), with an informal setting and live music overlooking the Great Egg Harbor Bay. Arrive by car or boat—your choice!
Day-Trip Destinations
If the Shore's not your thing or you're ready for a change of pace, check out some of these day-trips.
Dorney Park & Wildwater Kingdom. More than 100 rides and attractions range from tame slides for the littlest guests to steep water slides and thrill rides. There are also live shows, two wave pools and more ways to stay wet. 3830 Dorney Park Road, Allentown, Pa., 610-395-3724
Six Flags Great Adventure. If it's stomach-turning thrills you want, this is the go-to spot. New attractions include the Green Lantern, a stand-up coaster that's not for the faint of heart. 1 Six Flags Blvd., Jackson, 732-928-1821
Hershey Park. The self-described Sweetest Place on Earth, has everything: tours of Hershey's Chocolate World, water attractions at the Boardwalk at Hershey Park, wildlife at ZooAmerica, or the Sooperdooperlooper, the first looping roller coaster on the East Coast. 100 Hershey Park Drive, Hershey, Pa., 717-534-3900
Clementon Amusement Park and Splash World Waterpark. The park's newest attraction, The Torpedo Rush—at 60 feet, is the tallest slide of its kind in the world. Or, spend a sweltering day enjoying a leisurely float down the Lazy River. 144 Berlin Road, Clementon, 856-783-0263
Sahara Sam's Oasis Indoor Water Park. Gallons of fun indoor slides are just the start. The towering ropes course, gaming arcade and indoor surfing simulator entertain the kids, while the full bar offers something for parents, too! 535 N. Route 73, West Berlin, 856-767-7580
Great Wolf Lodge. It may be famous for its enormous indoor water park, but there are also high-tech gaming areas, elaborate outdoor lagoons and other attractions. The wave pool, lazy river and towering slides are perennial kid favorites. 1 Great Wolf Drive, Scotrun, Pa., 800-768-9653
Freedom Fest State Fair. Rides, a magic show and animal demonstrations make for a fun week July 12 through 17. Upper Freehold Reed Sod Farm Park, Route 195, Upper Freehold, 609-860-6777
Crayola Factory. Whether you've got the next Picasso at home or you're just looking for a fun way to let your kids make a mess, bring them to the Crayola Factory to help them express their creativity. 30 Centre Square, Easton, Pa., 610-515-8000
Datebook
Wildwood
Take your July 4 celebrations to the next level at Wildwood's FREEdom Festival, July 2 through 4, with fireworks, U2 and Bruce Springsteen tribute bands, kids' entertainment, food and crafts (Ramber Road and Ocean Avenue). Bring lawn chairs for live music series, including one at Centennial Park (Fern Road and Ocean Avenue, Wildwood Crest, VisitWildwoodCrest.com); the Lou Boothe Amphitheatre, (2nd and Ocean avenues. North Wildwood, NorthWildwood.com); Fox Park (Ocean and Montgomery avenues, Wildwood, WildwoodNJ.org), and more. There are also events at Morey's Piers, Doo-Wop trolley tours and much more; visit WildwoodsNJ.com for a full calendar.
Cape May
Since this old Victorian town is a landmark in itself, the Cape May Mid-Atlantic Center for the Arts offers a calendar of trolley tours—ghost tours, moonlight tours, shipwreck tours and children's tours—on an ongoing basis. As well, kids ages 3 and up will enjoy the Murder at the Physick Estate mystery performances, at the stately historic mansion. Whale and dolphin cruises can also be an ideal summer excursion. Or you can enjoy pintsize theater with the original production Cape May Kids, presented at Cape May Stage's Robert Shackleton Playhouse from July 5 through Aug. 10. Check CapeMayMAC.org for details on these events and many more. As well, the Cape May Chamber runs tons of events including free movies on the beach Thursday nights from July 7 through Aug. 25, an antique auto show July 9, and the 79th annual Baby Parade Aug. 5. Visit CapeMayChamber.com for more.
Ocean City
Weekdays offer plenty to do in town. On Tuesday evenings in July and August, the Ocean City Pops Orchestra performs at the Music Pier. That day, there's also kid-friendly events from 10 a.m. to 1 p.m. on Asbury Avenue, strutting from 7 to 9 p.m. at Mummers' Night, and family films at Cornerstone Auditorium at Stainton's Square, priced at just $4.50 a head. Wednesdays offer a morning farmers' market at the Tabernacle Grounds, Boardwalk family nights with live entertainment, and Evenings Along Asbury Avenue, with live music, artists, outdoor dining and shopping deals from 5 to 8 p.m. There are also plenty of one-off events: a bike parade July 4, a sand-sculpting contest July 6, a freckle contest on July 7 and the Merchants in Venice Seafood Festival July 15. The Night in Venice boat parade on July 16 is the can't-miss event of the summer. Check out OCNJ.us for a full schedule of contests, soccer games, concerts, parades and more.
Long Beach Island
Check out children's productions at the Surflight Theatre, including fairytale classics and modern favorites (Engleside and Beach Avenues, Beach Haven, 609-492-9477). Or head to Ship Bottom on Tuesdays for cruise nights at the 10th Street Waterfront Park.
Avalon and Stone Harbor
Avalon events will include Concerts on the Beach, a Mummers parade and string band concert, performances by the Bay Atlantic Symphony, a boat parade, sand sculpture contests and more. Check AvalonBoro.org for dates and details. Down the road in Stone Harbor, there are outdoor concerts at Saint Mary's Episcopal Church every Thursday (95th Street and Third Avenue), a baby parade on July 18, and the Wetlands Institute Crabulous Crab Day, July 29, with crab racing, a crab cake cookoff and a hermit crab beauty pageant. Check StoneHarborBeach.com for more. As well, visitors can join Ron Jaworski for the Jaws Youth Fund 5K Run and Family Festival on July 29 at 80th Street Recreation Field (JawsYouthFund.org).
Sea Isle City
Animal lovers shouldn't miss the annual dog masquerade parade, Paws on the Promenade, hosted by Beacon Animal Rescue and the city on June 28 at 7 p.m. (JFK Boulevard and the Beach, 609-390-7946). At Excursion Park, check out concerts every Saturday from 8 to 10 p.m. and movie nights on Tuesdays and Thursdays at dusk (JFK Boulevard and Pleasure Avenue). On July 10, young sluggers can take part in a home run derby at Dealy Field, (59th Street and Central Avenue), and there are also yoga and boot camp classes on the beach all week long. Check out Sea-Isle-City-NJ.us for all the details.
Margate/Ventor
If you're near Margate, check out Beachstock 2011 (Granville Avenue and the Beach, 609-822-1129) on July 9, a festive day of music, kids' activities, food and entertainment. It's hard to beat a movie on the beach, and Ventnor offers just that at Newport Avenue Beach July 2 and 23. There are kids' crafts and book bingo at the library, July 6, 13, 20 and 27 (6500 Atlantic Ave., 609-823-4614). On July 9, check out the Ocean Breeze Art & Craft Show, (Atlantic and Newport avenues, 609-823-7952), or send the kids to Hooked on Fishing activities June 27 or July 11 (Ventnor Pier, 609-823-7964). Visit VentnorCity.org for more events.
Published (and copyrighted) in Suburban Family Magazine, Volume 2, Issue 4 (June, 2011).
For more info on Suburban Family Magazine, click here.
For information about advertising in Suburban Family Magazine, click here.
To find out where to pick up your copy of Suburban Family Magazine, click here.