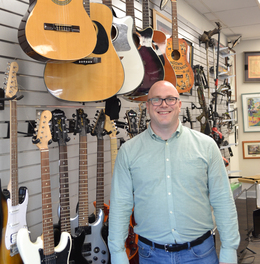 Unlocking Value
No matter if you're a coin collector, in need of a loan or looking to buy precious metal, E&B Co. has been a trusted name for more than five decades.
In a world marked by uncertainty, financial institutions are becoming increasingly inaccessible and impersonal. When you need quick cash or want to buy something unique, a reliable pawn shop can be a welcome oasis in the desert of financial rigidity. E&B Co., a family-owned business of over 50 years, has been serving its community with dedication and integrity.
E&B Co. is a trusted and reputable shop located in the heart of Moorestown and is committed to providing top-notch pawn and loan services to its valued customers. Established in 1973, the shop has built a strong reputation for reliability, fair dealing and exceptional customer service. We met with next generation owner Ted Brigante to have a better understanding of the history and the services E&B Co. provides to the community, along with the company's primary objective of day-to-day operations.
"We're a family-owned business that was founded on one principle—our customers come first," explains Brigante. "When my father started, the business was coin collecting and selling. Over the years, the business grew into offering pawn services and even the addition of other locations. We've built long-lasting, trustworthy relationships with our clients, and have continued to provide friendly support to our community through our loan and purchasing services. When you come to E&B Co., you'll always feel at home—whether you're in-store or online."
The E&B Experience
E&B Co. offers a versatile range of services to both its customers and those looking to invest in tangible assets. One of the core services that E&B Coin Pawn Shop offers to its customers is the classic pawn service.
Customers can bring in their valuable items, such as jewelry or electronics, to secure a short-term loan. E&B's experts appraise the items fairly and offer customers a loan amount based on their value. E&B will then offer a buy price and a loan price. A buy is an outright purchase that surrenders your rights to the item. If you agree to the loan option, your 90-day term then begins. This process enables people to access much-needed cash quickly without the complexities of traditional lending institutions.
"You can't get a loan for $200 from a bank, or even larger amounts without a lot of red tape. Most of our customers bring in items that they have saved for a rainy day, and when they come to see us, that rainy day has come. We take that understanding into account and try to be as accommodating as possible," Brigante says.
Fair and Transparent
E&B Co. prides itself on fair, honest, and transparent dealings with appraisers who are experts in their fields and will explain the valuation process clearly.
"We strive to provide expert appraisals quickly, so you can be sure your items will be handled with care while getting the money you need the same day," Brigante offers. "Customers are always our top priority, so we make sure to provide a welcoming and respectful environment, ensuring that every customer feels valued and comfortable.
"The mission at E&B Co. is to offer a secure and convenient way for individuals to obtain short-term loans or sell their valuable items while ensuring a respectful and transparent experience," adds Brigante. "We buy, pawn and sell a wide variety of items, including jewelry, coins, electronics, musical instruments, tools and more. No matter what you bring to E&B, you can rest assured that it will be in good hands. That's why we strive to provide expert appraisals quickly, so you can be sure your items will be handled with care while getting the money you need the same day."
A Fine Collection
Aside from the pawn services, collectors and investors will be delighted to explore E&B Co.'s collection of coins and bullion. They offer a wide variety of coins, including rare and antique pieces, as well as precious metal bullion. This is also a haven for numismatists and investors alike.
"Most people come in to trade things for cash, but we have a large market of customers who want to buy gold bullion or even jewelry," shares Brigante.
To that end, collectors can also find an assortment of autographs, treasures of yesteryear and one-of-a-kind mementos.
E&B Co. is more than just a pawnbroker; it's a trusted financial partner, a source of unique finds and a community pillar. Their commitment to trust, integrity and exceptional service sets them apart in an industry where these qualities are invaluable. Whether you need a short-term loan, want to buy or sell valuables, or simply explore a collection of beautiful jewelry and rare coins, E&B is a name you can trust.
E&B Co.
Moorestown
(856) 235-2463
EAndBPawnBroker.com
Published (and copyrighted) in Suburban Family Magazine, Volume 14, Issue 5.
For more info on Suburban Family Magazine, click here.
For information about advertising in Suburban Family Magazine, click here.
To find out where to pick up your copy of Suburban Family Magazine, click here.