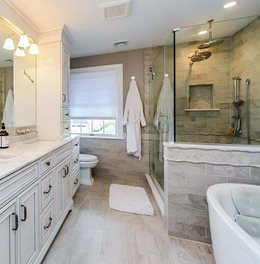 Generation-to-Generation Design
The pandemic sparked a renewed interest in home renovation and customization, as the value of stylish and functional living spaces increased while stuck inside. Now, keeping up with the latest trends in remodeling is easier than ever—especially with highly experienced design professionals to help guide one toward an ideal vision. Matteo Family Kitchens co-owner and designer Steve Matteo offered Suburban Family expert insight about current trends, as well as a fascinating glimpse into the history of his family-owned and -operated business.
How did Matteo Family Kitchens begin, and what are you most passionate about?
We opened, Oct. 5, 1995. … That's how the birth of the business became what it is. My father Everett always wanted to have his own business and with my mom Elaine's help, they made it happen. That's a success story in itself. About 10 years ago, my brother Tom and I purchased the business off of Mom and Dad so that they could retire. … I found a passion in floors, so that's how Matteo Family Kitchens and Flooring came to be. That became my baby, to grow into the flooring business that we have with our kitchen and bath business today.
Obviously COVID was a setback for lots of businesses, but also got a lot of people really into home improvement projects. Could you expand on that experience?
When COVID came, we thought, 'We're not gonna be able to survive this.' … Then as it progressed within a few months, people were working from home and it literally took off … We were so busy for three years; it was just nonstop, seven days a week. COVID caused a lot of stress, but it also gave a lot of light on our industry. People were home and what did we do when we were home? We worked, and we watched TV. And what did we watch? HGTV, Property Brothers, Joanna Gaines, etc.
Do you think that working with your family offered a unique resilience?
We were raised by parents that were very family-valued. And my father said his greatest gift in this world was working with his kids, and that's what he said to his dying day. He didn't regret a second because he had a chance to be with us. … We believe in that family atmosphere. Sometimes it's tough with vacations and everybody wants to go away together. But we do it because we want to keep the name on the front of the building for generations as long as possible.
What materials, styles and colors are trending most this year?
The last five years, it was a white and gray world, everything was light and bright – and I call it the 'COVID Clean,' where we were wiping everything down so much that we wanted it to be white, and if we saw a speck of anything on there, we knew we could clean it off. But now we realize white's tough, and gray can be cold. Even though we're still doing predominantly white, now we're starting to see those warm wood tones: those lighter white oaks and maples, the lighter stains that just add a little bit of warmth to it. We're starting to see the floors come back into lighter wood tones versus having so much gray in it, and I'm happy about it. There's a lot of issues that you have with a lot of white, it shows a lot of imperfections, it shows when things are wearing prematurely because it's a blank canvas.
Do you have any particularly unique requests that you've worked on?
We've built some really cool home offices that give you that built-in look. We've had a lot of fun doing some basement bars just to see what their version of having their own bar is. Some people are heavy into displaying their wine bottles and their bourbon bottles so they want glass shelves and lighting and open cabinets … some people go all out and have beer steins and wine taps and ice makers.
What should a customer know about getting started?
Things have changed. There's so much more advancements in the design work and the materials that we're using. If you want to get a kitchen or bathroom, our process is [to] give us a call first, let us come over. We'll invest our time for you first, and come to your house and meet you and get some measurements, and then we'll go back and we'll work on some drawings. We'll give you some free design work, just so you can kind of see what we're all about. And then we can even give you some preliminary pricing allowances. When you're working in a design phase in our industry, it's really important to have that call first: We'll go through the process, and we can decide which is going to be best for the way we'll work together with our client. Most of all, we want you to see our showroom. We spend so much time to keep the showroom up-to-date, and it allows you to touch and feel the material.
Matteo Family Kitchens
Woodstown
(856) 769-2490
MatteoKitchens.com
Published (and copyrighted) in Suburban Family Magazine, Volume 14, Issue 3.
For more info on Suburban Family Magazine, click here.
For information about advertising in Suburban Family Magazine, click here.
To find out where to pick up your copy of Suburban Family Magazine, click here.