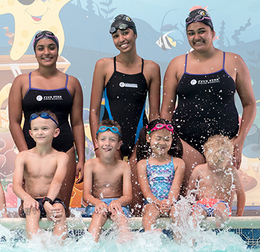 Swimming Like A Star
It's no wonder why families choose Five Star Swim School as their go-to place for swimming instruction, considering its accessibility to all ages and skill levels, a welcoming staff to ensure the comfortability of students and a commitment to safety –to name just a few reasons. The school provides comprehensive training for a valuable ability that lasts a lifetime. Exciting monthly giveaways are even offered for students. The balance of instruction and fun makes Five Star Swim School a place for students to look forward to visiting again and again.
Teaching is most effective when children feel passionate about learning, and when they feel understood by patient and highly trained instructors. In fact, their instructor-to-student ratio is the smallest in the industry at 3-to-1 for kids older than 2 ½. At Five Star Swim School, it's difficult to find a place that is more family-oriented, especially with their expertise in working with children. A lot of the staff even chooses Five Star Swim School for their own children.
"We're all parents here that are behind the scenes running it. … My two children are in the program, both of the owners have two children each, and they're each in the program," says Beth Zasadowski, operations manager at Five Star Swim School.
Not only does the colorful interior of the facility appeal to children, but their siblings are also welcome to hang out during lessons, inevitably inspiring more passionate swimmers-in-training. Soft, padded play areas are available in harmony with the pools intended for learning for before and after lessons, and to further promote an urgency to practice for both exercise and for pleasure. Ultimately, it is the combination of hard work and leisure side-by-side that promotes commitment to learning to swim.
It is the passion that is shared between the students and the experienced staff that makes Five Star Swim School successful. Their attention to detail, community outreach and unique approach to swimming that spreads the importance of water safety are unparalleled—evidenced by multiple locations across New Jersey and Pennsylvania.
The pools at Five Star Swim Schools are maintained around the clock to guarantee cleanliness. They are also filled with saltwater and heated to 90 degrees at all locations. Students can participate year-round, and advance to higher levels of training as their skills progress. Families will only pay for time spent swimming, rather than a monthly or yearly package that demands commitment. New swimmers do not have to be scared off by excessive fees, and they do not have to feel obligated to learn at an uncomfortable pace. Setting their own goals and having an instructor to foster enthusiasm about the water is what encourages students to keep coming back for years. Zasadowski recommends getting children acclimated to the water at 6 months old.
"We feel that's the best age because they're going to gain that exposure to the water and it will become more of a natural thing for them as they progress and as they get older," she says.
The infant classes have a student-to-teacher ratio of 6-to-1, with one parent/caregiver per child. Students are evaluated to ensure that they are placed in the class that is best suited for them. Parent and baby splash classes are offered every week. On the other end of the range of classes, advanced swimmers can train for competitive settings and have the opportunity for independent practice. And older kids with little-to-no training do not have to worry about placement in a class with toddlers or feeling self-conscious about a curriculum that is too advanced.
"Five Star is great for older kids also getting started, because we do separate the groups by age and skill level. So, even though they are a little bit older, they would still be in a beginner class – not with babies, but with kids of their own age... And then, of course, just getting used to it, taking it slow. The instructors are great with that; they have so much patience with beginners and we start off with just blowing bubbles, putting their face in the water, and gradually progress from there," Zasadowski says.
In addition to lessons, the facility hosts special themed events. Their most popular, the "play and swim open house," gives families the opportunity to swim and to play freely. It also provides opportunities for socialization with other current and aspiring swimmers, epitomizing a sense of community. Separate, private parties are available for birthdays with pizza, juice boxes and more.
Encouraging children to stay active and healthy is easier than ever with the help of Five Star Swim School and its devoted staff. For an inclusive facility that is dedicated to the enrichment of students as well as their families, check out a Five Star South Jersey location in Cherry Hill or Deptford.
Five Star Swim School
Cherry Hill, N.J. (Plus multiple locations in N.J. and Pa.)
(856) 528-5140
FiveStarSwimSchool.com
Published (and copyrighted) in Suburban Family Magazine, Volume 14, Issue 3.
For more info on Suburban Family Magazine, click here.
For information about advertising in Suburban Family Magazine, click here.
To find out where to pick up your copy of Suburban Family Magazine, click here.