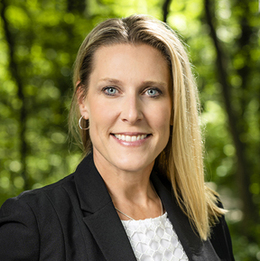 Boutique Attention Within a Big Firm Setting
To be an effective practitioner of family law—a legal field that encompasses divorce, custody, adoption, domestic violence, child support, college-contribution issues, pre-nuptial agreements and more—an attorney has to knowledgably navigate a range of situations while aiming for the best possible client outcomes. They also have to approach difficult, emotionally charged situations with a combination of delicacy, respect and honesty.
Fortunately, South Jersey has a homegrown legal advocate in Stephanie J. Zane, Esq., the practice group chair for Archer's family-law department.
Zane, who was born and raised in South Jersey, got her start with a clerkship in the Superior Court of New Jersey, Camden County, Family Party; from there, she joined the team at Archer & Greiner, P.C., where she's been for 22 years. In that time, she's worked her way up from associate to partner, all while ensuring each client receives the support, advice and representation best suited to their specific needs.
"My practice is focused on every aspect of family law," Zane says. "My philosophy with clients is to tell them what they need to hear—not necessarily what they want to hear. I make sure that my clients are aware of all of the potential outcomes of their case, depending upon what route they take, i.e. mediation or litigation. I view every case (and every family) as unique. There cannot be a cookie-cutter approach to this practice."
Knowing how to proceed begins with getting to know her clients including their goals and fears. This allows Zane to individualize her approach and to create a targeted plan to help the client achieve their desired outcome either through litigation or mediation.
"I take the time to get to know my client so I can help them achieve the best possible outcome for them," Zane explains. "The foundation of my practice is balancing empathy and advocacy to ensure successful representation."
Providing her clients with thorough, compassionate representation and legal advice is just part of what makes Zane an in-demand family-law professional. Working in an always-changing area of practice requires keeping up-to-date on new developments, whether she's staying informed on her own time or benefiting from the close-knit Archer team.
"Like household dynamics, family law is ever-evolving," says Zane. "At Archer, we follow the daily decisions, routinely meet as a group, and our statewide presence allows us know how issues are being treated throughout the State. Knowing the law and how the law will likely be applied is key to a successful representation."
One thing that will never change, though, is Zane's child-first philosophy. Sometimes, that includes reminding clients with children that the dissolution of their marriage does not negate the fact that both parties still need to be present, attentive parents sharing those caregiver responsibilities.
"My goal has always been to assist my clients in focusing not just on tomorrow but on the long term and what is best for their family and most importantly their children," she says. "Oftentimes, people forget that despite the divorce, if there are children involved, you will still need to co-parent—and children deserve the best version of their parents that they can get. I believe it is my responsibility to help my clients find that perspective, if possible. Notwithstanding the changes in the law over the years, the concept of doing what is in the best interest of the children has not wavered."
With a reputation for being family-law experts, Archer's team is equipped to help clients navigate complex matters. Zane is proud to lead a distinguished group of family law litigators and mediators who have a reputation for excellence.
"As part of a distinguished full-service law firm, we are able to address most client issues in-house, which is a significant benefit to our clients," she says. "Archer's family law department provides boutique attention within a big firm setting."
Archer & Greiner, P.C.
1025 Laurel Oak Road, Voorhees
(856) 795-2121
Archer-Family-Law.com
Published (and copyrighted) in Suburban Family Magazine, Volume 14, Issue 3.
For more info on Suburban Family Magazine, click here.
For information about advertising in Suburban Family Magazine, click here.
To find out where to pick up your copy of Suburban Family Magazine, click here.