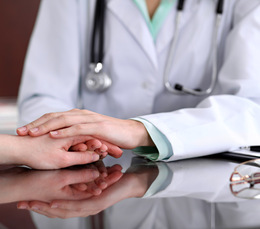 Patients Come First
The highly skilled providers at Comprehensive Cancer & Hematology Specialists (CCHS): Dr. Ruby Hanna, Dr. Trina Poretta, Dr. Richard L. Gordon and nurse practitioner Emma-Ruth Paz-Querubin, as well as the entre team at CCHS, provide services for all oncology types. Whether dealing with breast cancer, lung cancer, a variety of gastrointestinal malignancies or a broad spectrum of hematologic disorders, the practice provides very personalized care which allows for a strong bond with each patient that goes beyond the typical doctor-patient relationship.
"We are a smaller practice which allows us to be more personal with our patients and gives us the time we need to spend with them. I strive to get to know each patient on an intimate level in order provide them with the personalized care they deserve, as well as ensure they get the most modern care in terms of the advances that are coming out in oncology," says Dr. Hanna.
In business since 1990, it's always been the mission of CCHS to provide clear patient understanding of the treatment plans laid out and how patients are going to be affected. Everyone at CCHS walks the journey together, with patients and their family members, to ensure they never feel as if they are going through this tough time alone.
Half the battle to understanding what to do next is developing a clear plan. Simply having a course of action in place can give the patient resources that allow them to understand what to expect. At CCHS a plan is developed quickly and patients have round the clock access physicians and nurses. Patients are cared for not only medically but emotionally as well.
"It is important to stay ahead of the curve in a field that is always evolving and by keeping abreast of the latest advancements, trends and technology, says Dr. Hanna. "The center is able to hone in on the best options for each patient rather than take a one-size-fits-all approach."
Forming relationships combined with using the best technology available is vital and provides for greater success of each patient's treatment. "This practice is set up in a way that is designed to give our patients personalized care. As technology and medicine advances, we don't want to lose touch with the personal side of medicine. We are not treating the disease, but are treating the person as a whole," adds Dr. Hanna.
Nurse practitioner Emma-Ruth Paz-Querubin knew Dr. Poretta prior to joining the practice over a year ago, and was well aware how compassionate she is. Paz-Querubin also quickly learned that the entire staff and CCHS works together in the same way, offering compassion and putting the patients first.
"Being involved with cancer patients makes you realize what really matters in life. You can see what patients are going through, you get to know them and their families and you know their struggles," says Paz-Querubin. "Honestly, it's just about being compassionate, understanding and patient—I think those three things are what really make a difference."
Although cancer can be a difficult, it doesn't have to be a process you walk through alone. The physicians and nurses at CCHS are working tirelessly to make sure that they are offering the best treatments and with the most compassion and support they can.
Meet the Compassionate Care Givers
Trina Poretta, D.O.
Dr. Poretta is the president and managing partner of Comprehensive Cancer and Hematology Specialists. Her is specialty is oncology and hematology. She joined CCHS in August of 2002. Board-certified by the American Osteopathic Board in both internal medicine and oncology as well as board-certified in hematology, Dr. Poretta brings over 30 years of experience to her patients.
Dr. Poretta received her B.S. at Muhlenberg College in Allentown, Pa. She graduated from the University of Medicine and Dentistry of N.J., School of Osteopathic Medicine in Stratford, and completed her fellowship at Cooper University Medical Center.
Known for her compassion, Dr. Poretta is an integral part of why CCHS offers the personalized, intimate relationships that makes this practice so special.
Richard L. Gordon, D.O.
Dr. Gordon has over 54 years of experience with extensive experience in the pulmonary neoplasms, renal neoplasms and resection and blood disorders. He received his B.S. at The American University in Washington, D.C. and attended medical school at the Philadelphia College of Osteopathic Medicine. He did his fellowship at Hahnemann Medical College and Hospital in Philadelphia.
Dr. Gordon is known to be personable and caring who always treats his patients with respect and kindness.
Ruby Hanna, M.D.
Dr. Hanna has over 21 years of experience as a medical professional and specializes in hematology and oncology. She attended St. George's University School of Medicine and completed her internship and residency at Lenox Hill Hospital in New York. She is board-certified in hematology, internal medicine and oncology.
Dr. Hanna is known for her gentle nature, this along with her compassion resonates with patients as she gets to know them on a personal level.
Emma-Ruth Paz Querubin, N.P.
Emma-Ruth began her education in her home country, the Philippines, and moved to the United States in 1995 where she received her nursing degree two years later. She launched into her oncology career at the University of Texas MD Anderson Cancer Center in Houston. While in Houston, she began working toward becoming a nurse practitioner and completed her NP program while working at Hackensack's John Theurer Cancer Center. Emma-Ruth joined CCHS over a year ago and brings a wealth of oncology experience that she's built for decades.
Comprehensive Cancer & Hematology Specialists
705 White Horse Road, Suite D105
Voorhees
(856) 435-1777
ComprehensiveCancer.com
Published (and copyrighted) in Suburban Family Magazine, Volume 14, Issue 3.
For more info on Suburban Family Magazine, click here.
For information about advertising in Suburban Family Magazine, click here.
To find out where to pick up your copy of Suburban Family Magazine, click here.