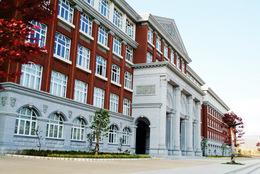 Campus Conversations
Choosing a college is a big step for any student as well as their families and there are many factors to consider. In order to get a better handle on how to make an informed decision, we spoke with a couple area collegiate officials to get some advice for prospective students while also including some interesting facts and figures on the current state of higher education.
What are some bits of advice you may offer students and their families as they try and determine which school may be the right choice for them?
With so many exceptional colleges and universities to choose from, it's about finding the right fit for you. Here are a few things I encourage students to consider: First, does the school have expertise or opportunities in multiple fields or areas of interest to you? It is important to have options to explore—you never know what passions you will discover!
Second, can you picture yourself on campus, perhaps in a club with other students, visiting or conducting research with a professor, or meeting with an adviser?
Another important consideration is financial support. Does the college offer scholarships or grants that can offset tuition?
And lastly, visit multiple schools, including at least one you aren't very excited about, then visit your top choices a second time. If you can't visit in person, look for virtual options that are interactive, especially if you can connect personally with a college representative. Visits can help you to decide if you've found your fit. Sometimes, the differentiating factor can be how the campus feels—trust your instincts!
-- Megan Marshall, Director of Student Recruitment and Activities, Penn State University's College of Agricultural Sciences
What is the best way to engage a student to make sure they are growing and excelling both in and outside of the classroom?
Providing a strong sense of community and belonging goes a long way in making sure students excel both within and outside the classroom. It's part of the reason why Gwynedd Mercy University developed the Griffin Edge program and why we provide access to unlimited tutoring, counseling, and health and wellness services. It's also why GMercyU really encourages students to step outside their comfort zones and get to know people from different backgrounds and experiences. Involvement in clubs and organizations is a great way to make connections within and beyond a student's major; it's also a great way to develop leadership and other skills that will help students stand out when they graduate. We also love when students share their experience with faculty and staff, especially in admissions, so we can all celebrate with them.
--Aimee Huffstetler, Assistant Vice President for Enrollment, Gwynedd Mercy University
Inside the Numbers
A look at some college-related facts and figures
15,595,238
The number of enrolled full-time students at Title IV colleges and universities within the United States during the 2021-2022 school year, according to the National Center for Education Statistics.
46%
The number of Americans who believe being a first generation college student should be a major or minor factor in college admission decisions, according to polling done by the Pew Research Institute.
4
The number of American institutions to make the top 10 in the 20th QS World University Rankings list—including MIT, Harvard, Stanford and University of California, Berkeley. New Jersey's Princeton University tied with Beijing, China's Peking University for the 17th spot.
$6,527
The average cost of tuition and fees per school year for full-time students at public universities and colleges within the United States. This number does not include housing costs, meal plans, transportation or the cost of books and supplies.
52 Months
The median amount of time first-time bachelor's students spent earning their degree, starting from their first day of enrollment. That number climbs to 81 months for those who seek out their degree between the ages of 24 and 29 and to 162 months for those 30 or older.
19
The percentage of the roughly 2 million bachelor's degrees conferred that were in business according to the most recent data from the National Center for Education Statistics. This makes business the most commonly held bachelor's degree with health professions coming in second.
Published (and copyrighted) in Suburban Family Magazine, Volume 14, Issue 3.
For more info on Suburban Family Magazine, click here.
For information about advertising in Suburban Family Magazine, click here.
To find out where to pick up your copy of Suburban Family Magazine, click here.