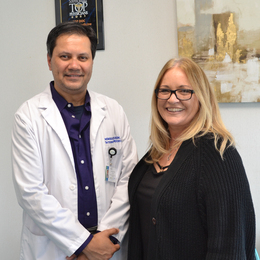 Changing Expectations
Dr. Minhaz Karim aims to make empathy a regular part of his routine at AdvoCare South Jersey Internal Medicine
When it comes to health care, there is little patients expect more than a compassionate doctor. It's not unjustified to expect your physician to listen intently and focus on your questions and concerns, but unfortunately, many doctors do not have the time these days to give patients that level of care. Dr. Minhaz Karim understands how disheartening it can be to feel dismissed by your doctor, and that's why at his medical office, empathy is the rule, not the exception.
"I really try to stress the two Es, which are empathy and education," the primary care/internal medicine physician says. "I find this is really the best possible way to help patients understand their own health problems and guide them to get the most positive outcome."
Dr. Karim says he facilitates his empathy and education by putting his patients in the driver's seat, so to speak. During an office visit, he utilizes digital boards detailing a patient's condition, and encourages them to apply that knowledge to improve and dictate their own health, never enforcing anything they don't feel comfortable with.
"With every patient I see, I help them decide what the best course of action is for them," he says. "I never push anyone; I just spend the time with them to learn about their conditions and give them the best options available and suitable."
Dr. Karim has been a physician for 30 years and recently opened his own practice, AdvoCare South Jersey Internal Medicine in Marlton. Dr. Karim says the inability to give patients the time he felt they deserved was one of the major deciding factors in taking the leap to go out on his own. That, and a gentle nudge of encouragement from his wife, Dr. Anjum Karim, an infectious disease specialist of her own, who has been the 'backbone' in building up Advocare South Jersey Internal Medicine, juggling also between work at the hospital and her family.
"Every corporation I've ever worked with before really made it more of a numbers game, and there was an expectation to see a certain number of patients in a certain amount of time on a certain day," he says. "As a provider you still feel like you should spend time with your patients to give them the best outcome, but when corporations are pushing you to meet certain expectations, the quality of care as well as sole purpose of practicing and being a physician is completely lost."
Office Manager April Kaukeano, who has 14 years of medical assistant experience, says Dr. Karim's willingness to set aside whatever time is needed for every patient's visit has been well received, and patients have been offering ample positive feedback expressing just how much they appreciate his high-level of care.
"He's so compassionate, and he's not afraid to take the time to speak with patients," she says. "The former offices I was in were different in that the doctors were seeing patients every 15 minutes and they really didn't have the time to stop and talk to the patients.
"Dr. Karim has his schedule set up so that if a patient is having a problem or needs something addressed right away, he has the time to do that," Kaukeano continues. "He's always willing to step in and talk to someone and really take the time to show he cares."
In business now for almost a year, it seems AdvoCare South Jersey Internal Medicine is making a name for itself in its patient-focused approach to health care. Dr. Karim says he hopes to soon be adding a second provider to his office so patients can continue to receive the attentive care they deserve, making them more educated and so that his office can continue to be a place where patients are not just seen, but also heard.
"I'm pretty happy with where I am today, but we're always trying to establish our presence, especially when we're up against the big health care systems," he says. "Once patients get to know us better and we continue to grow, I really think we'll be able to make a name for ourselves."
Of course, even with expected growth, Dr. Karim says his number one objective will remain the same: quality patient care in a caring and empathetic environment.
AdvoCare South Jersey Internal Medicine
526 Lippincott Drive | Marlton
(856) 985-3700 | AdvoCareSJIM.com
Published (and copyrighted) in Suburban Family Magazine, Volume 13, Issue 13.
For more info on Suburban Family Magazine, click here.
For information about advertising in Suburban Family Magazine, click here.
To find out where to pick up your copy of Suburban Family Magazine, click here.