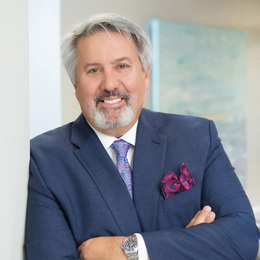 Hard at Work for Humanity
Personal injury attorney David Karbasian is an advocate for his community first, which drives him to represent each client with passion and integrity.
David Karbasian discovered his love of law during jury duty. "I realized at an early age that I wanted to be a staunch supporter and voice for the truth. While I was sitting for jury duty for an elderly woman on trial accused of insurance fraud, I decided that I would be the strong representation that people in my community may sometimes need in life."
Karbasian has the same passion for his work today as when he graduated from law school and began his career 30 years ago. After working as a defense attorney for insurance companies, he joined a plaintiffs' firm before founding the Law Offices of David J. Karbasian to focus on personal injury for those injured in car accidents, slips and falls, construction site accidents and even animal attacks.
"I always wanted to start my own firm and use my experience to help people," Karbasian says. "I finally took my shot in 2005 and it has been incredibly rewarding."
With a willingness to listen and genuine eagerness to connect, Karbasian cares about people and it shines through in his mannerisms and conversations, which helps him guide clients through stressful and traumatic times. "I try to be a calming influence on them, explain the process and that it takes time. They get hurt through no fault of their own and all of a sudden they're in pain: They can't work and they don't know how they're going to pay their bills. It's a battle of attrition as insurance companies will try to wear you down. You have to be patient and prepared to be in it for the long haul."
You won't find Karbasian making flashy commercials or boasting about large settlement deals. "I prefer to stand out with a proven track record, a tenacious work ethic, and an unwavering determination to stand by my clients. I think what people like about me is that I'm not going to falsely promise them that they can collect millions like some of the lawyers you see on TV do," he says. "What I do promise clients is that I will fight for them.''
Karbasian's knowledge goes a long way for his clients, having worked on both sides of the law and participating in a wide range of cases. But his decades of experience as an avid cyclist who enjoys riding his Harley-Davidson have also given him unique lived-in insights benefitting those he represents.
"Riding a motorcycle gives you a real-life perspective on how quickly personal injuries can take place and the circumstances in which they happen. It also teaches you how to best be prepared, in case they were to happen," he says.
Although some are hesitant to contact an attorney because of the cost, Karbasian's consultations are always free. Even after an agreement has been signed, if the client's physical and mental condition improves and his services are no longer required, he will gladly move on knowing that his client is well. "I would much rather see someone have a healthy and happy quality of life than to have a client. I'm only here if they need me," he explains.
However, Karbasian stresses that it is crucial to reach out immediately in the aftermath of a personal injury, such as a fall in a supermarket. "My experience as a defense attorney is absolutely a benefit to my clients. I understand the insurance carriers: what they do, when they do it, and why they do it. And timing is crucial," he says. "It is also very important to be swift because then you have the opportunity to preserve evidence, retain an expert, and get him or her out there to assess the site," he continues "A lot of times they make corrections or repairs after the fact because, of course, they don't want anybody else to get hurt. They also sometimes cover things up, so it's important to get someone out there right away."
After Karbasian has taken a case, he promises accessibility to his clients, keeping them informed throughout each step of the journey. He is also not afraid to represent his clients in court and take the case to trial if needed. "I'm all-in once I take your case. You have to let insurance carriers know that you are willing to try the case," he says. "I'm a firm believer that once you're in for a penny, you're in for a pound."
Karbasian, who also offers representation for victims of nursing home neglect, is a big believer in giving back to the community. "I can support the community in more ways than legal services, and it's important to do so." He was named 2019-20 Knight of the Year by the Knights of Columbus Council 6520, a prestigious honor recognizing his service to his community and his contributions to several charitable causes.
"I have always done my best to help those less fortunate," he says. "It is the entire reason why I selected this as my profession. This core belief has carried over into my practice, too. I strive to not only deliver the best results to my clients but also the best experience during a difficult time."
Law Offices of David
J. Karbasian, PC
900 Kings Highway N., Suite 308, Cherry Hill
(856) 667-4666 | KarbasianLaw.com
Published (and copyrighted) in Suburban Family Magazine, Volume 13, Issue 13.
For more info on Suburban Family Magazine, click here.
For information about advertising in Suburban Family Magazine, click here.
To find out where to pick up your copy of Suburban Family Magazine, click here.