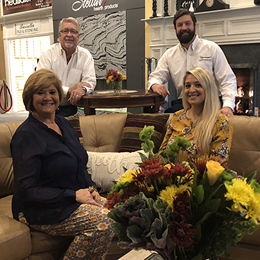 Living a Legacy
Alyssa Rettinger-Smith and her brother Dave Jr. proudly carry on the stellar reputation that Rettinger Fireplace Systems has earned in the decades since their parents began the company.
David Sr. and Alexis Rettinger never pressured their children to be the second generation behind the company they founded in 1995. But, according to their daughter Alyssa Rettinger-Smith, they had a hunch the two would find their way back on their own terms.
Sure enough, after Dave Jr. went to California to learn about running a business and Alyssa spent a decade as a nurse, the younger Rettingers returned ready to apply what they'd learned to the family company they'd grown up with.
"My parents always knew we were going to be back," says Alyssa, now Rettinger Fireplace Systems' CFO and HR director. "It was too beautiful of a business that my brother and I watched our parents grow to ever let anyone else run it."
Dave Jr. returned to Rettinger about two years before his sister. And while Alyssa originally came back in a smaller role and under celebratory circumstances—she and her husband were starting a family as her parents were on the precipice of retirement—it was a family tragedy that deepened her involvement.
"Unfortunately, my mom did pass away very suddenly, so that is really where my role came full force, like 'All right, you're in this now,'" she recalls. "I had a 3-month-old and a 2-year-old, and it was at the very beginning of the pandemic, so I was working from home until 2 in the morning and then waking up and being a mom. … Being part of a family business is a 24/7 job: My phone starts ringing at 4 a.m., and my brother and I and our dad are exchanging emails at 11 o'clock at night."
That torrent of work emphasizes how far Rettinger has come since David Sr. and Alexis ran it from their basement. The company has grown to offer fireplace installation, customization and maintenance—that means working with gas and wood fireplaces, stoves and inserts—and includes selling and servicing outdoor grills and fire features. And everyone on the now-35-people team takes to heart the company mantra: Details make the difference.
"My parents innovated and raised the bar in our industry, and we truly enjoy continuing that legacy," Alyssa says. "This past year, we introduced our concierge program to make these projects, which often have many moving parts, more accessible and less consuming to our busy clients. We handle all trades and permits, white glove from start to finish, and our customers really seem to appreciate this value added."
The added value is also found in the brand-new showroom Rettinger is building on Berlin-Cross Keys Road in Berlin Borough, which the team is "excited to use … to elevate our expanded product offering, including boutique outdoor living products. This will complement our designer showroom in a way that also provides customers with a quick resource for gifts and fast-turnaround products."
After all, part of upholding the Rettinger legacy is always being cognizant of how the company can make a difference in customers' lives.
"My mom's favorite quote was from Frank Lloyd Wright: 'The hearth is the heart of the home,' it's the warmth that families gather around. That means we'll always finish a job," says Alyssa. "We've never walked away from a job."
Paying attention to details doesn't stop with delivering attentive, expert service to the client base Rettinger serves year-round: Ensuring that every single team member feels like a part of the family is a longtime value that Alyssa, her brother and father tirelessly uphold to ensure their company leads with a people-first mentality.
"As CFO and HR director, I'm paying the bills and doing payroll and compliance, but my main goal is the overall well-being of our employees and making sure they feel valued and like they're part of the Rettinger Fireplace family," she explains. "I always want people to have an outlet and, for a lot of our employees, we are a really big source of strength for them."
Going above and beyond for the Rettinger team comes easy to Alyssa, and she credits that network for helping her juggle obligations to her Rettinger Fireplace family, the family she grew up in, and the family she and her husband have made together.
"Women can do it all: Have a family and run a demanding business," she says. "In this male-dominated industry, women are just as valuable—and can be a boss! I never thought I would be in this role, but we women can do incredible things!"
It's a fitting tribute, she says, to the mother whose memory she honors by leading with the kindness, compassion and determination that Alexis both taught and exemplified.
"That was always big with my mom: She always wanted everyone to feel like a part of the family, and that's been a value that I want to stay," affirms Alyssa. "I wouldn't be where I am without my mom and dad, and I'm just grateful for the business they've grown. I'm just honored to carry on this business."
Rettinger Fireplace Systems
476 Centennial Blvd., Voorhees
(856) 783-5501
RettingerFireplace.com
Published (and copyrighted) in Suburban Family Magazine, Volume 13, Issue 12.
For more info on Suburban Family Magazine, click here.
For information about advertising in Suburban Family Magazine, click here.
To find out where to pick up your copy of Suburban Family Magazine, click here.