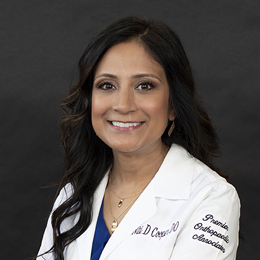 Helping Ease the Pain
With a comprehensive pain management approach, Dr. Niti Cooper and the skilled team at Premier Orthopaedic Associates are giving patients some much-needed relief.
Dealing with pain, whether acute or chronic, is something that any number of folks will experience in their lives. Unfortunately, there are a good majority of people, especially of the older generation, who feel it's simply a byproduct that comes with age and something they are forced to live with.
Dr. Niti Cooper of Premier Orthopaedic Associates would like to change that narrative. A board-certified anesthesiologist with a subspecialty board certification in pain management, Dr. Cooper has more than a decade of experience using different treatment techniques and interventions to help patients improve their quality of life.
This is achieved by the comprehensive pain management approach that Dr. Cooper utilizes to help all types of pain. "Neck and back pain generally stay with you for life. There are times that you may experience minimal pain and times when the pain may be more intense. By recommending certain lifestyle modifications and performing appropriate interventional pain procedures, I am able to help patients live their best life," she says.
Some of the things included in this approach would be routine exercise as well as dietary changes to help maintain a healthy weight. These measures, along with staying hydrated and reducing the psychological stress in one's life, can work hand in hand with the treatments available.
It's this type of partnership between doctor and patient that can really be beneficial, according to Dr. Cooper. "It is a collaborative effort. We have to maneuver their diagnosis together. Having someone there to support them through their journey can really be helpful," she says.
We spoke with Dr. Cooper about some of the more advanced treatment options she provides and how they work to relieve pain and allow patients to improve their function.
Epidural Steroid Injections
One of the most common pain management procedures, epidural steroid injections, provides relief from back pain and pain radiating down the leg (sciatica) by placing steroids in the epidural space that surrounds the spinal cord and nerve roots to help reduce inflammation caused by a disc herniation or spinal stenosis. The injections can be done throughout the spine and are performed under X-ray guidance so that Dr. Cooper knows exactly where the needle is going and can anticipate the level of relief the patient will have afterwards.
Genicular Nerve Blocks
"Genicular nerve blocks and subsequent radiofrequency ablation are an effective treatment for many patients," says Dr. Cooper, adding the patients who would generally do well with them are ones who have severe arthritis and may not be candidates for knee surgery due to medical comorbidities or obesity. Patients first undergo temporary nerve blocks, which are used to identify whether they would benefit from further treatment with a radiofrequency ablation (RFA) that generally provides patients with prolonged relief.
Medial Branch Blocks
Medial branch blocks are similar to genicular nerve blocks in that they are temporary, but the medial branch blocks are geared toward arthritis in the neck or back. Dr. Cooper uses the medial branch blocks to temporarily numb the nerves and interrupt the signals of pain. If the patients experience significant relief, they would be excellent candidates for the RFA procedure. "Much success can be attained with these types of procedures and it is a good option for people with arthritis in their back who have received minimal relief with other treatments," says Dr. Cooper.
Sacroiliac Joint Injection
This injection is for people who have arthritis or inflammation in the sacroiliac joint, which is a joint in the buttocks area, where the lower spine meets the pelvis. This option is good for those who suffer from pain primarily in the lower back and buttocks region. Patients may have trouble with prolonged sitting or standing, climbing steps, or changing positions. Dr. Cooper injects a steroid in that joint to help reduce the inflammation and alleviate pain.
Sympathetic Nerve Block
Patients with diagnoses of complex regional pain syndrome who suffer from debilitating symptoms in either their upper or lower extremity may benefit from a sympathetic nerve block. The sympathetic nerve blocks are designed to reset the sympathetic nerve system in order to address irregular pain signaling. "It's like a reboot; it resets the sympathetic nervous system in order to improve pain and other symptoms associated with complex regional pain syndrome," Dr. Cooper says.
These and other procedures performed by Dr. Cooper are able to be done under light sedation to help alleviate any associated anxiety or discomfort. So, if you are looking to "Ease the Pain," look no further, they've got you covered from discovery to recovery!
Premier Orthopaedic Associates
Serving Southern New Jersey
Text or call: (856) 690-1616
POASNJ.com
Published (and copyrighted) in Suburban Family Magazine, Volume 13, Issue 12.
For more info on Suburban Family Magazine, click here.
For information about advertising in Suburban Family Magazine, click here.
To find out where to pick up your copy of Suburban Family Magazine, click here.