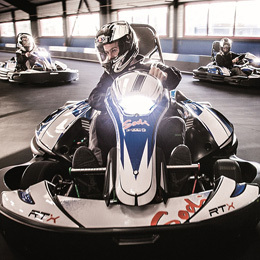 Ready, Set, Race at Monaco Indoor Karting!
Experience the thrill of go-kart racing while you navigate the sharp twists and turns of a Monaco-inspired Formula-1 racetrack. Not to be confused with regular go-karts, these are hand-crafted, powerful electric karts that fly on the track at over 20 MPH.
It's off to the races, as the eagerly awaited Monaco Indoor Karting, located in Berlin, has officially opened its doors to racing enthusiasts of all ages!
Monaco is an indoor go-kart track using hi-tech electric karts to delight even the most accomplished drivers. A signature track geared toward adults and teens is 1/3 of a mile long and the layout is carefully designed with the driver in mind, offering different challenges throughout the course.
"The goal is to give a true ultimate racing experience for each driver," says owner Giovanni Visceglia. "Several track timers are located along the course. You'll get timed by each segment of the track, and on-track screens give you instant updates."
"We wanted a track that was impressive to drive on for car enthusiasts like me," he continues.
Whether you're a beginner or an experienced racer, Visceglia promises you'll find a challenge in the course that's going to match your skill set, including carefully orchestrated turns and straightaways for picking up speed. Soon you'll be familiar with the curves and nuances of the course, and picking opportunities to move past your opponents.
Monaco Indoor Karting uses state-of-the-art technology to manage the track functions, timing and safety aspects. All aspects of the race, from registration to your lap's timing, are fully computerized. The indoor racing track uses electric cars, which are very responsive to the driver. And with no emissions from the engine, they're safe for indoor use—after all, safety is paramount to ensure that every driver enjoys their time on the track.
"We want everyone who comes to Monaco to have a fun and safe experience. All drivers are required to wear helmets and the cars have full harness belts." Visceglia explains.
The massive 62,000-square-foot facility takes over most of what was previously a K-mart retail store. "K-Mart had been closed since 2014 so it took a considerable effort in both time and money to effectively rebuild the space and prepare it for racing, arcade games and dining," says Visceglia. "But we were thrilled to be able to renovate and restore a building that was sitting empty for so many years. We had tremendous support from the community and town officials during the renovation process. It was a welcomed addition to Berlin."
Karting Highlights
The main show of the facility is the large 1/3 mile track, which utilizes the largest part of the mostly open space. Racing at Monaco Indoor Karting is scored in the "fastest lap" format, where the driver gets in the karts in random order and races for a set number of laps. Races are six minutes long and the driver with the best lap time wins the race.
"When your kids start getting a little stir-crazy on the weekends or during the summer months, kick the excitement into high gear with some go-kart racing," Visceglia suggests.
Don't pump the brakes just yet, though: There is even more this facility has to offer.
Entertainment for Everyone
Monaco also offers state-of-the-art arcade games where you can redeem tickets for an assortment of prizes. So if the thrills of racing the F1-Style electric cars aren't for you, you can enjoy arcade games similar to those found at Jersey Shore arcades, as well as a prize redemption center.
Monaco Cafe snack bar is also onsite, where you'll find refreshing drinks, food and snacks. From kid-friendly options like a hot slice of pizza, a tasty hot dog or a warm pretzel, the cafe also boasts elevated options like salads, sandwiches and fresh hummus for those with a more diverse palate.
Private Events
The newly opened racetrack is now booking teen and junior events, corporate events and even adult party packages. With the cafe also providing catering options, Monaco Indoor Karting is a great spot to host corporate team-building exercises, corporate sales outings, reward adventures and VIP customer experiences.
Monaco Indoor Karting can expertly assist groups from 10 to 100 with a wide range of budgets and activities, and is the ultimate venue in the South Jersey area. Arranging your corporate team-building event with one of the event management specialists allows you to customize your event and take advantage of group discount pricing.
The facility is open seven days a week, but you can visit their website (MonacoIndoorKarting.com) for hours of operation and more information on booking races or parties at this exciting and fun destination that can't wait to become an asset to the Berlin area.
"It's a great time for everyone," Visceglia promises. "Come race against the clock, your friends—and coming soon, we will even be offering racing leagues."
Monaco Indoor Karting
328 S. White Horse Pike, Berlin
(856) 846-2729
MonacoIndoorKarting.com
Published (and copyrighted) in Suburban Family Magazine, Volume 13, Issue 12.
For more info on Suburban Family Magazine, click here.
For information about advertising in Suburban Family Magazine, click here.
To find out where to pick up your copy of Suburban Family Magazine, click here.