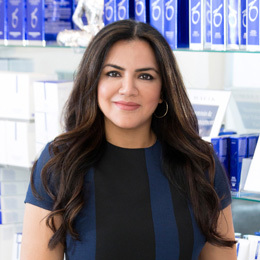 Leading the Way
Providing high quality care that takes advantage of the latest cutting-edge advancements has helped Malik Medical Aesthetics become trusted experts in the field of aesthetic medicine.
Under the direction of Medical Director Dr. Pooja Malik and Practice Director Tina Hawk, Malik Medical Aesthetics leads the way in the field of aesthetic medicine with a focus on continuing education, something they both believe is of the utmost importance.
This is not a team that simply clocks in and out everyday. They are dedicated 24/7. They put the extra work in by constantly staying educated. Hawk has been by Dr. Malik's side for over six years and says the benefits of continuing education are numerous. "The field is always evolving. With so many new treatments flooding the industry being able to research and see clinical studies allows us to bring in treatments that actually produce results is crucial", says Hawk.. "We live and breathe aesthetics".
Dr. Malik is a trainer and has trained other providers all over the country. "To help other providers in this way brings me a great sense of pride and joy," says Malik. "As for my patients, seeing them love my work and appreciate all the time and effort I put into staying on top of all the latest advancements and trends is so rewarding."
"These days patients are looking for more non invasive procedures with less down time and they prefer to look more natural rather than augmented, says Malik. "They don't want to change their look just refresh it." Younger generations are also looking to be more proactive and slowing down the aging process. "Basically it's about prevention versus correction", says Malik.
"We help patients be the most authentic version of themselves", adds Hawk. "Unfortunately social media has added to the misconceptions in aesthetic medicine with filtered before and after photos making unrealistic claims about what non surgical and even surgical treatments can do."
Malik Medical Aesthetics offers just about everything available in treatments from head to toe. "We are seeing more laser devices that provide measurable results quickly with little to no downtime. One example is Morpheus 8 which stimulates skin tightening, collage production as well as addressing fine lines and wrinkles, says Malik.
Some other popular treatments offered by Malik Medical Aesthetics are:
Lip augmentation
"The Perfect Pout" – can be achieved with the "Signature Malik Technique."
Areas that can be worked on are the philtral columns (the lines from the peak of the cupid's bow up toward the nose), the cupid's bow, the vermillion border (where you'd apply lip liner) and the body of the lip itself (where you'd put lipstick).
Botox/Filler
With the advancements in fillers such as Botox, Dysport and Xeomin, procedures are producing more natural-looking results. "They are comprised of a substance injected into the skin that inhibits muscle movement and smoothes out (or completely diminishes) fain lines and wrinkles. The most common misconception is that anyone who gets it will be left with a frozen face stuck on one expression. Such is not the case. When implemented appropriately the patients simply looks rested, relaxed and more youthful," says Dr. Malik.
Jawline Contouring with Fillers
Jawline contouring with fillers is another injectable with focus. "Many women and men now want a more structured jawline and refined profile—without surgery—and are turning to fillers to achieve desired effects. Juvederm Voluma has been cleared by the FDA as a chin filler," Dr. Malik says.
MINT (Minimally Invasive Nonsurgical Thread) PDO Thread Lifts
As we age, loose skin creates sagging and bags that are difficult to cover. A face lift is the only way to permanently rid yourself of these issues, but going under the knife is daunting for most people. MINT threads provide a revolutionary type of facial rejuvenation without surgery. Commonly known as the thread face lift, you can dramatically improve your looks and reduce the signs of aging. This treatment can reposition underlying tissues while also smoothing and softening facial skin. It produces immediate and longer-lasting results than treatments with dermal fillers and Botox.
Malik Medical Aesthetics & Wellness Center
201 Bridgeton Pike
Mullica Hill
856-478-4700
Published (and copyrighted) in Suburban Family Magazine, Volume 13, Issue 12.
For more info on Suburban Family Magazine, click here.
For information about advertising in Suburban Family Magazine, click here.
To find out where to pick up your copy of Suburban Family Magazine, click here.