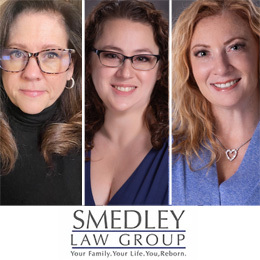 A Vital Support System
The experienced team at family law firm Smedley Law Group make sure each and every client know they have an ally to guide them through the difficult decision to divorce.
When AllynMarie "Ali" Smedley opened her boutique law firm Smedley Law Group in December 2019, she did so with the goal to empower her clients while helping them navigate the very difficult process of going through a divorce.
A trusted advocate who has been practicing law since 2006, Smedley is in the less than 2% of lawyers in New Jersey certified by the state as a matrimonial law attorney, a designation used across all five certified practice areas that includes application acceptance and then passing an eight-hour written exam.
"It means I'm a highly qualified specialist in this field of law," Smedley affirms.
And helping solidify Smedley Law Group's stellar reputation is Alison B. Weinroth, who serves as senior counsel and brings more than 20 years of experience to the firm. Her addition to the firm earlier this year has only further benefitted clients.
"By having significant legal experience, I am able to employ creative non-litigation outcomes to achieve my client's goals and align with Smedley Law Group's family law practice," Weinroth says. "This position gives [the firm] the ability to provide legal services to a larger population as well as offer additional services such as mediation. As a trained mediator, I am passionate about helping others resolve their family issues economically and positively."
"Everybody who is here now in terms of counsel are experienced," Smedley says. "You either get me or you get her, so you're getting top-level representation."
Also helping the firm extends its capabilities is senior paralegal Kathi McCoombe who has worked alongside Smedley for nearly a decade. "I see my role as managing the workflow; in doing so, I can assist attorneys and staff to best serve our clients and allow us to grow as a firm without losing track of where we are in any matter," she says.
We spoke further with Weinroth and McCoombe to get a better sense of how Smedley Law Group is evolving into the future and how that translates into serving the best interest of its clients.
Can you tell me a little bit about the firm's philosophy on family law and how you use that approach to best serve your clients?
ALISON WEINROTH: Our firm's philosophy is to provide our clients with the necessary tools and support to allow them to achieve their desired outcome for their family while educating them on the law. The firm's employees/staff have all had divorce touch them personally and these experiences help us to personalize the client's family law experience so that our clients have control over the outcome of their case.
Divorce is obviously an unfortunate situation for any couple to have to go through, so are there any ways you can make an already difficult process less stressful on a client in such a vulnerable state?
KATHI MCCOOMBE: While nobody gets married thinking they'll one day get divorced, sometimes it's the best solution for all involved. I see my role as educating clients on exactly what's happening each step of the way so that they are fully informed to make the best decisions for their new future and can trust that we are doing what's in their best interests. I like to think that clients know they can reach out to me with any questions and expect an honest and helpful answer.
Does being part of a smaller firm allow you to focus even more on your clients and build those trusting connections with them in order to serve their best interests? Does it become more of a collaborative effort in a sense?
KM: I enjoy working in a small firm as every matter becomes a team effort. Even if I am not working on the day-to-day of a given matter I am well aware, as we all are, of what's happening in each case. This allows for ongoing conversations to address issues as they arise and to find solutions faster. It also means that we are invested not only in outcomes for our clients, but in our clients themselves. We know them and their families, their struggles, and what they want and need as they rebuild a new life. It's very rewarding work.
AW: The intimate size of Smedley Law Group allows a continuing collaborative effort to assist clients with their legal issues. As a firm which devotes our entire practice to family law, we can provide a support system of knowledge and dedicated people to determine the best options for each client and get results. We can discuss individual cases together on a regular basis to ensure that we present the best solution for each client's unique goals. We are more than a client's legal team, our clients become family members.
Smedley Law Group
Woodbury
(856) 517-8450
SmedleyLawGroup.com
Published (and copyrighted) in Suburban Family Magazine, Volume 13, Issue 12.
For more info on Suburban Family Magazine, click here.
For information about advertising in Suburban Family Magazine, click here.
To find out where to pick up your copy of Suburban Family Magazine, click here.