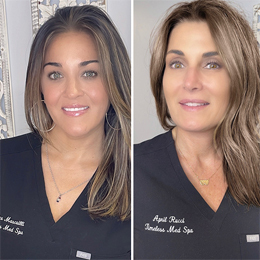 Turn Back the Hands of Time with Timeless Med Spa
The mission at Timeless Med Spa is to provide a unique client experience while helping their clients achieve optimum results, while still promoting overall health and wellness.
Located in Berlin, Timeless Med Spa is an all-women-operated medical spa taking the lead in a natural approach to aesthetic and injectable treatments. Both owners, April Rucci RN, BSN, MSN, a highly trained nurse of over 17 years, and Jessica Mascuilli, RN, BSN, for over 13 years, also specialized in medical aesthetics, take a natural and timeless approach to the world of medical aesthetics.
"Our goal is to help our patients feel like the best versions of themselves, not turn them into a different version of themselves," says Mascuilli.
"Our highly trained staff is truly passionate about educating our clients and providing highly skilled services to ensure each individual's hopes are attained. Our treatments and procedures are successful and center on aging, problematic and sun-damaged skin, as well as enhancements," Rucci adds.
The duo opened the doors to Timeless Med Spa in February 2020, only to have to close them a brief month later, due to the COVID-19 crisis. "Thankfully Jess and I are full-time nurses and were both working in a local hospital, so we both had another career at the time to fall back on. It certainly helped with the anxiety of opening a new business with so much of the future being unknown at the time," Rucci explains.
Fortunately, the world started moving again, businesses eventually reopened and Timeless Med Spa was able to pick back up from where it left off.
The spa employs three talented and experienced estheticians who are passionate about providing safe and conservative care to their patients. "Our estheticians deliver detailed facials and peels, considering and customizing each service to a patient's individual skin type," says Mascuilli. "April and I focus on everything else on the medical side, including injectables, laser hair removal, skin resurfacing and body contouring."
Timeless Beauty is the Standard
In recent years, there has undoubtedly been a surge in the medical spa industry, given the current trends of fillers and Botox, but both Rucci and Mascuilli agree that natural and safe enhancements are what they want their practice to reflect.
"Fillers are great as a finishing product, but we want to help our patients restore the lost collagen and tightness of skin that occurs over time before we inject," Mascuilli points out. "Fillers lay so much more beautifully when the foundation of the skin has been addressed first."
"We truly look at each relationship with a patient as a lifelong journey that we will be on together. Throughout different ages and stages of life, there are options and treatments we can do to help someone look and feel their best, and we want to be transparent about it," says Rucci. "Not to be biased, but one of my absolute favorite patients to see and treat in the office are new moms. As mothers, we always give so much of ourselves, that we often neglect the things that make us feel good."
In addition to skincare, the spa offers body-centered services such as Emsculpt, a body contouring treatment, and Trusculpt, a newer body sculpting innovation proven to clinically, safely and effectively reduce a patient's fat by up to 24%.
The spa also focuses on holistic health, and its services menu has recently expanded to include Reiki massage. For those unfamiliar, it's an energy healing technique in which a Reiki master (who has undergone formal training in this healing art) uses gentle hand movements with the intention to guide the flow of healthy energy (what's known in Reiki as life force energy) through the client's body to reduce stress and promote healing. According to Rucci, "It is really a life-changing experience. It's all about energy and recentering your entire body."
If visiting a medical spa is in the foreseeable future, it is important to remember that every process varies from person to person, and no medical aesthetics procedure or journey is the same. But, when all is said and done, Rucci and Mascuilli always approach every client's treatment with one main goal in mind: Make sure that their clients love the results.
"You may need one treatment and you're happy with what you're seeing in the mirror. Or you may do two or three treatments. It all depends on what your goal is, and what your expectations are," Rucci says. "But we love to be with patients every step of the way to achieve their beauty goals together."
Timeless Med Spa
181 W White Horse Pike, Berlin
(609) 495-0266
TimelessMedSpaNJ.com
linktr.ee/TimelessMedSpaNJ
Published (and copyrighted) in Suburban Family Magazine, Volume 13, Issue 12.
For more info on Suburban Family Magazine, click here.
For information about advertising in Suburban Family Magazine, click here.
To find out where to pick up your copy of Suburban Family Magazine, click here.