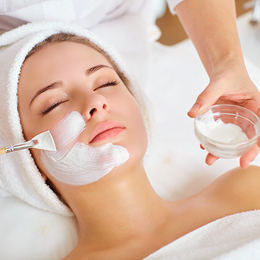 Comfortable in Your Skin
As owner of Skintegrity, Kate Filiberto brings an unmatched commitment to offering the latest skin-care treatments provided by highly skilled estheticians.
Among all the efforts women make in their health and beauty routine, nourishing their skin properly is often a battle of trial and error. Cleansers, lotions and serums are purchased, tried and tossed when results aren't noticeable, and the cycle begins again. Seeking a professional's opinion and services can end up saving time and money, and even provide a much-needed mental health boost.
At Skintegrity, a boutique spa in Haddonfield dedicated to all things skin, clients have access to medical-grade treatments in a relaxing spa atmosphere. Whether you've received regular facials throughout your life or have never done more than washed your face with drugstore soap, Skintegrity checks all judgments at the door.
"I want clients to feel comfortable whether it's their first time getting a facial and they have questions about what to use on their skin, or if they're a seasoned skin care veteran, we're excited to start a relationship with them and provide care that is based on education," says Kate Filiberto, founder.
It's a curated experience built from years of Filiberto's work within the skincare industry. After graduating from Rutgers University, Filiberto was convinced she would become a beauty writer, and in order to gain more knowledge, she went into the Rizzieri skincare program. "I realized then that I didn't want to be a writer because I fell in love with taking care of people and treating their skin in that intimate experience," she says. "It completely shifted my trajectory."
From there, Filiberto worked her way up through the ranks at medical spas and high-end beauty spas in Philadelphia and South Jersey, collecting different experiences and insight on the industry. Her "from-the-ground-up mentality" was the foundation for starting her own business. "I've been in every role, even the front desk, so I understand how to take care of clients. A lot of people want to start their own business just to be at the top, but it's extremely valuable to start from the bottom," she says.
Skintegrity opened over four years ago and Filiberto has incorporated her most important ethic into the name and business model. "Integrity is everything to me," she says. "We're here to help you be as committed to your skin as you want to be. There's no pressure to sign up for facial packages. If you just want a relaxing facial and to ask some questions, we're here for that, and everything we do will be with comfort and education at the forefront so you walk out feeling more empowered about how to feel better in your skin."
Filiberto, who is the lead esthetician at Skintegrity, is responsible for mentoring and training every member of her team, and she has every confidence in their abilities and trusts them with her own clients—an important aspect to note as Filiberto prepares for maternity leave.
She has high standards for her estheticians. "First and foremost, they must have a love for the industry and for people," she says. "They must have a passion for education, and they need to be a steady, calm, loving individual. The company culture is that of a free-flowing community where we share information with each other on the team, as well as with clients. When clients come in they can see that we're truly a work family."
Training is ongoing, both individually and as a group, Filiberto continues. "We don't rest on our laurels. We're always reading about and researching new techniques and practicing them in the treatment room," she says. "Every esthetician works on my skin personally so I can feel their touch and technique and offer my expertise and guidance for improvements."
As opposed to other spas that try to cover every beauty treatment imaginable, Skintegrity exclusively treats skin through a menu of services that includes facials using the latest technology and quality skincare products, as well as waxing.
"Every facial is medical-grade," says Filiberto. "Even if you're getting a classic facial, we're still using medical-grade ingredients and fine-tuned techniques that increase circulation and create a healthy glow to the skin."
The addition of technology is where Skintegrity really differentiates itself. One of its most popular services, the Timeless Facial, uses an electrical microcurrent to charge up the energy of the skin cells, nerves and muscles. "It feels very different and stimulating, but it's highly adjustable for each client. Clients who come in saying their face feels tired or sagging say that this treatment leaves their face feeling activated," Filiberto says. "They can really feel the energy and what it does to change the physiology of the skin, and it's powerful but very comfortable."
Another facial uses microcurrents and adds the benefits of state-of-the-art technology such as ultrasound and LED with oxygen. The Ionix Facial uses multiple modalities to increase the energy of the cells with penetrating ingredients that also increase cellular immunity. "The benefit continues through the course of weeks to months until your next facial," Filiberto says. "You can achieve these results with no downtime and you'll notice it in the mirror immediately with a lifted and brighter appearance. You could go out to dinner with nothing on but mascara."
Filiberto urges newcomers not to feel intimidated by the options. This is when the professional guidance of the skilled estheticians is most valuable. "Our estheticians will evaluate your skin and your goals and determine what service would be best suited for you," she says. "We have a variety of options and technologies that stimulate the skin, or can manage age, acne, rosacea and other skin conditions. Everything can be personalized."
Not only will clients see physical results in their face, they will feel a difference in their mental health. "We've met clients who are so stressed and they carry it in their shoulders. Once they step into our treatment room, we begin with deep breaths, combined with the calming music, low lighting and steam, we bring their energy level down, and they let their guard down," Filiberto says. "From a mental and emotional perspective, clients truly feel a difference after just one visit. And that's what's so special about Skintegrity. They may come in expecting a facial, but what they get is so much more, and no matter what their goals, we're qualified and ready to help reach them."
Filiberto is a firm believer in partnering with premier brands for the products she uses on clients, which are conveniently available for purchase both in-store and online at www.SkintegritySpaNJ.com. She is one of only 18 U.S. Ambassadors for Environ Skin Care, a South Africa-based company recognized around the globe for its commitment to quality, medical-grade products. "Environ is incredibly focused on education and the science behind the ingredients and physiology of how their products work. Their philosophy aligns with who I am as a practitioner and mentor, so it's a natural fit and I'm proud to be one of their ambassadors," she says.
As Filiberto embarks on the joys of motherhood outside of Skintegrity, she feels confident in the path she's paved for her estheticians and expects them to handle clients without missing a beat. She knows that not only will clients leave looking their best, they will feel it, too.
Skintegrity
112 Ellis St. | Haddonfield
(856) 281-9642
SkintegritySpaNJ.com
Published (and copyrighted) in Suburban Family Magazine, Volume 13, Issue 12.
For more info on Suburban Family Magazine, click here.
For information about advertising in Suburban Family Magazine, click here.
To find out where to pick up your copy of Suburban Family Magazine, click here.